Written by Mike Bonanni • Photos by RCH Designs | 17 October 2011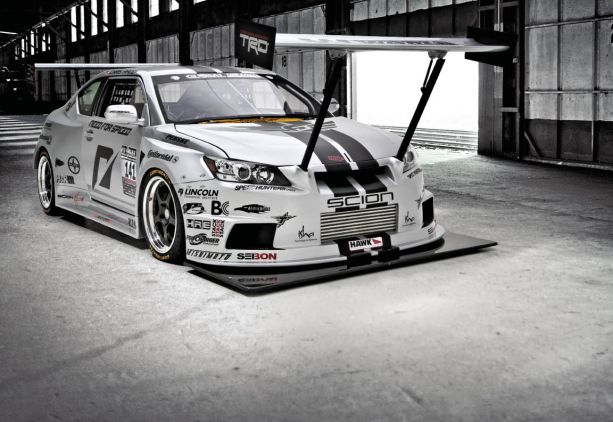 Insane, impossible, incredible- these are the words most commonly associated with WORLD Racing and virtually everything they do. Back in 2009, the time attack world was shocked when Chris Rado and the WORLD Racing team first unveiled their re-worked Scion tC with its now infamous massive front-mounted wing. Many thought these guys were insane. Rado and the WORLD Racing Scion tC, affectionately dubbed the FWING (front-wing), then took to the track and ran lap times that were thought impossible for a front wheel drive car. By now, Rado and his FWING Scion tC owned nearly every front-wheel drive track record across the country and had completely obliterated the previous records, a feat that is truly incredible. So what do you do when you own the front wheel drive track record at every track you've been to? What do you do when you've built a car that re-defines the ideas of what is possible from a front wheel drive platform? Well, if you're insane like Chris Rado and WORLD Racing, you build another one! We are proud to introduce the 2011 Team Need for Speed/ WORLD Racing Scion tC FWING 2.0, a masterfully engineered, pavement-shredding, front-wheel drive beast with a massive front wing, of course! The FWING 2.0 boasts a 2,500 lb. curb weight and produces up to 1,100 horsepower out of its 4 cylinder 2AR-FE engine. Let's put that into perspective for a second. That's 100 more horsepower than a Bugatti Veyron and nearly half the weight. That's nearly three times more horsepower per cylinder than a Formula 1 car makes; insane, impossible, incredible.
| | |
| --- | --- |
| | |
How do they do it, you ask? Let's take a deeper look into this 2011 Scion tC, starting with the heart of the beast. Sitting in an engine bay covered in gold Mishimoto Heat Defence Protective Tape, the FWING 2.0 retains the 2.5L inline 4-cylinder 2AR-FE engine that comes in every 2011 Scion tC from the factory. Gary Kubo, the man behind the engine package, achieves his impressive performance through a WORLD Racing competition-built motor and custom Descendent Racing turbo kit. Air enters the Turbonetics 74mm turbo where it's compressed and forced through a Spearco intercooler. From there, the cooled air goes through a Descendant Racing intake manifold before entering the custom machined engine block. Race fuel makes its way from a fuel cell through a Waterman fuel pump into a Descendent Racing fuel rail before being sprayed into the cylinders by Deatschwerks 2,500cc fuel injectors. JE Pistons compress the air/fuel mixture before it's ignited by the MSD ignition and NGK spark plugs. Brian Crower camshafts push the Brian Crower exhaust valves open to allow spent exhaust gasses to exit the cylinders. Those gasses then make their way through a complete Descendant Racing custom exhaust system wrapped in Mishimoto Thermal Exhaust Wrap that includes a custom turbo manifold, downpipe, and exhaust that spits 5 foot tall fireballs from the hood, where the exhaust exits. The intricate dance the precision race engine performs is all controlled by a MoTec engine management system and kept cool by a Mishimoto dual-pass radiator. With up to 1,100 horsepower and 1,000 ft. lbs. of torque on tap, the WORLD Racing Scion tC needed a drivetrain that could handle the abuse. The team looked no further than an Xtrac 6-speed sequential gearbox complete with a Tilton carbon clutch and Descendent Racing flywheel as their first line of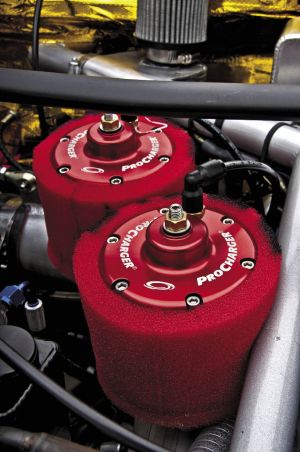 defense against the brutal power and torque coming from the engine. Once through the transmission, the power makes its way through an Xtrac limited-slip-differential and Mark Williams heavy duty axles before being transferred to the ground via 18"x 12" HRE Competition C95 wheels wrapped in massive 305mm wide Continental Extreme Contact DR race tires on all four corners.
Just as a stout engine and drivetrain is essential to make the car a rocket down the straights, a well-designed suspension system is essential to make the car equally impressive in the turns. Revised suspension geometry is one of the major changes for the FWING 2.0 and when coupled with high quality parts, the combination promises to be greatly improved over the previous car. Penske 8300 series racing shocks and H&R race springs are at the center of the equation, controlling the movement of the car and the wheels as it flies around the track. The front suspension has been converted from a Macpherson strut design to a custom dual wishbone setup bY WORLD Racing to allow for better articulation that will result in better cornering and better traction. Custom WORLD Racing sway bars will keep the car level while a custom roll cage and TRD front strut tower brace tie the chassis together. A Brembo GTR big brake kit with massive 16" front rotors and 13" rear rotors coupled with Hawk Performance race pads will be in charge of stopping the Scion tC freight train.
Now it's time to get to the elephant in the room, that massive front wing. Love it or hate it, the 68" wide dry carbon fiber front wing is an essential piece of the puzzle that makes it possible for Rado to continually push the boundaries of what we think is possible with a front wheel drive car. The FWING is part of a balanced and well thought out aerodynamic package that creates a tremendous amount of downforce, pushing the car down into the pavement to increase grip. The front end aerodynamics are helped even further by custom dry carbon fiber front canards and front splitter. A second 68" wide dry carbon fiber wing is mounted at the rear of the car to keep the back end in check and a SEIBON Carbon custom widebody kit finishes the job. The custom paint job mirrors the black and silver paint job of the original FWING Scion tC. The FWING 2.0 features OEM Toyota Silver paint with black stripes and custom graphics by Spin Imaging.
Inside the 2011 Scion tC, it is all business. Rado sits in a Recaro SPA Carbon Kevlar race seat before strapping himself in with Crow 5-point harnesses. A custom made dashboard features a bevy of STACK gauges that allow Rado to monitor boost via a custom 100psi boost gauge, oil pressure, and tire pressure as well as a STACK clock so he can show the competition what time it is. STACK's ST8100 dash display provides Rado with an analog tachometer as well as other vital signs to monitor like oil and water temperature. A MOMO steering wheel, complete with STACK steering wheel display lets Rado know his last lap time, what gear he's in, and how fast he's going. The dash and interior is appointed nicely by black suede to eliminate glare for the driver.
| | |
| --- | --- |
| | |
By now you should realize that the Need for Speed/ WORLD Racing Scion tC FWING 2.0 is a legend in the making. Rado and the WORLD Racing crew are establishing themselves as icons in motorsports history. The innovations they are introducing in present day time attack and production car motorsports racing are reminiscent of the innovations Dan Gurney brought to racing in the 1960s. There are fewer and fewer racing series out there that aren't choked with strict rulebooks, but the sport of time attack fills that void with virtually unlimited freedom. Within time attack, no one is pushing the envelope of what's possible with the sort of creativity and flair that WORLD Racing has shown since 2009. If you want to witness history in the making, be sure to check out the Global Time Attack series and see for yourself what the Need for Speed/ WORLD Racing team is capable of!
ESSENTIALS
Vehicle: 2011 Scion tC
Owner: Chris Rado
Location: Torrance, California, USA
Engine Displacement: 2.5L (2AR-FE)
Horsepower: 1,100 WHP
Website: www.WORLD-racing.com
Club Affiliation: www.WORLD-racing.com
ENGINE / DRIVETRAIN
Port Flow Design Competition port & polished eads
BC (Brian Crower) valvetrain
Turbonetics Billet 74mm turbocharger
Mishimoto Thermal Exhaust Wrap
UNI Filter 48PPI
Descendant Racing air intake
Mishimoto Heat Defense Protective Tape
Accufab 90mm throttle body
Descendant-racing.com manifold / Golden Eagle MFG & Mishimoto Heat Defense Protective Tape
Descendant Racing fuel rail
Aeromotive Fuel Press Regulator
Waterman Fuel Pump
Brian Crower Cams
Spearco Intercooler Cooling System
Mishimoto Dual Pass Radiator & Fan Shroud
Procharger Open Race Valve Blow-Off Valve
HKS GT-II 60mm Waste Gate
Deatschwerks 2500cc Injectors
MoTec M880 Timing Control
NGK Spark Plugs
MSD Ignition Ignition Wires
MSD Ignition HVC-II COIL
Grounding System: MoTeC PDM16
Crank: OEM Toyota
Connecting Rods: Cunningham
Pistons & Ring: JE Pistons
Head Gasket: OEM Toyota
Hardware: ARP Fasteners
Clutch: Tilton Carbon
Carbon Flywheel: Descendant Racing
Transmission & mods: Xtrac 426 Touring Car 6 speed Sequential Gearbox w/ custom pneumatic paddle shifter.
Axles: Mark Williams
LSD: Xtrac
ELECTRONICS
STACK & MoTec
EXHAUST
Exhaust: Descendant Racing Stainless Steel
3 inch Exhaust
DESCENDANT Racing Stainless Steel tubular turbo manifold
Descendant Racing 3 inch race pipe
WORLD Racing custom chassis mounts
WHEELS / TIRES / BRAKES
Wheels: 18" x 12" HRE Competition C95's
Tires: Continental Tire Extreme Contact DR 305/645 R18 (R80 compound)
Front Rotor Size: 16" Rotor, 2 piece, Slotted
Front Brake Calipers: Brembo GTR, 6-piston
Rear Rotor Size: 13", 2 piece, Slotted
Rear Brake Calipers Make / Model: Brembo GTR, 4-piston
Braided Lines: Goodridge -3an Lines
Other Parts: Hawk Performance Brake Pads / Castrol SRF
SUSPENSION
Penske 8300 Series
Springs: H&R Special Springs (Custom)
Sway Bars: WORLD Racing custom built
Front Strut Bar: TRD
Front / Rear Control Arms: front suspension has been converted to a dual A-Arm configuration
EXTERIOR
Body kit / ground effects: Seibon Carbon Wide Body kit
Front Bumper: Seibon
Rear Bumper: Seibon
Fenders: Seibon
Other modified body parts: Custom rear brake ducts
Spoilers: Front & Rear 68" x 12" carbon wings
Aero Parts: Custom front canards
INTERIOR
Customized Dash: Custom built aluminum dash/STACK ST8100 Dash Display
Shift Knob: Xtrac
Steering Wheel: STACK ST8600 Steering Wheel
Dash System
Gauges: STACK 52mm Pro-Control 100lb. Boost Gauge – built custom for Chris Rado by STACK engineers
STACK 52mm Pro-Control Oil Pressure Gauge
STACK TPMS (Tire Pressure Monitoring System)
STACK 52mm Pro-Control Clock (Just in case I have to show you fools what time it is.)
Gauge Pod: Part of Dashboard
Gauge Trim: STACK
Seats: Recaro SPA Carbon Kevlar HANS Race Seat
Harnesses: Crow 5 point harnesses
Floor Mats: Grip Tape!!
SPONSORS
EA Games/Need For Speed, Descendant, WORLD electronics, Continental Tire, Scion Racing, Lincoln Technical Institute, Mishimoto, Seibon Carbon, ProCharger, STACK, Turbonetics, Spearco Intercoolers, JE Pistons, BC (Brian Crower), Golden Eagle MFG, Hawk Performance Brake Pads, HRE Performance Wheels, Penske Racing Shocks, HKS, Deatschwerks Injectors, Alpinestars, Scionlife.com, H&R Springs, MSD Ignition, Goodridge USA, Weismann Traction Products, Spin Imaging, Optomize, TRD, Speedhunters.com