24 November 2011
Page 1 of 2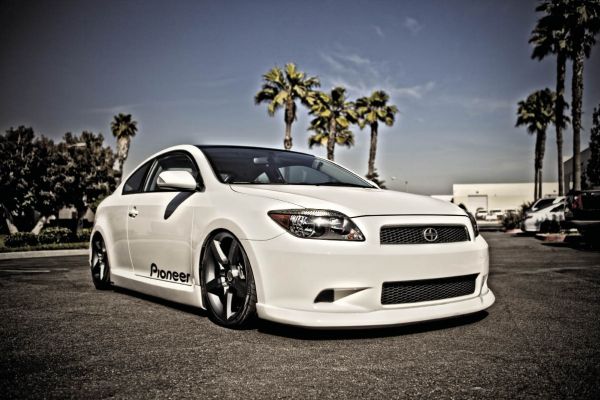 The car was built to not only display Pioneer's well-respected car audio components, but their DJ products as well.
---
Pioneer and Scion have a longstanding relationship in North America. Ever since the Scion brand was launched, they have worked together on custom offerings for Scion buyers and on other special projects. Paul Chongkolnun works for Pioneer as the Car Electronics Senior Brand Marketing Specialist, and one of his duties was to oversee the creation of this 2005 Scion tC for the DUB tour.
An effective entertainment system doesn't need to be complex to be cool. That being said, the system in this tC is designed to impress. A Pioneer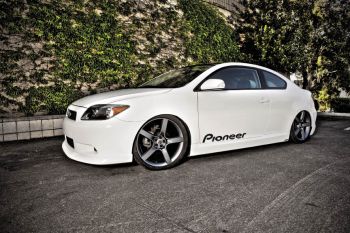 AVH-P4300DVD Multimedia Receiver heads things up from the factory location in the dash. From there, audio is passed through four powerful Pioneer amplifiers. A pair of GM-D9500F four-channel amps provides effortless power to three sets of Pioneer D-Series TS-D6902R co-axial 6x9s while a pair of GM-D8500M monoblock amps provides power to four 12-inch Pioneer Champion Series TS-W3002D2 subwoofers.
The subwoofer enclosure is quite unique. It was constructed from fibreglass and painted white to match the exterior and the theme of the car. There are two separate enclosures, each with a pair of tapered horns rising from the floor – it's awesome, and looks like something from "How the Grinch Stole Christmas" – only much cooler! At the base of the enclosures is a carpet covered trim panel that extends to the very edges of the hatch. Flushed into this trim panel at the rear of the hatch are the three Class-D Pioneer amps previously mentioned.
To keep up with the bass output from the four 12-inch subs, the lower portion of each door panel was reconstructed and customized to provide a home for three sets of Pioneer's TS-D6902R 6x9 speakers. Think about it, that's a surface area equivalent to a 12-inch sub. With these D-Series speakers comes audio reproduction with excellent dynamics and smooth high frequency response.
This car was built to not only properly demonstrate Pioneer's well-respected car audio components, but also to show off their renowned DJ products as well. With that in mind, a custom DJ platform was created. The portable stand housing the DJ products can be transported in the vehicle in the area where the rear seats used to be, making it essentially self-contained as it travels along with the DUB tour. At the disposal of the DJ is a pair of Pioneer's CDJ-350-W Digital Multi players and a DJM-350-W mixer finished in white matching perfectly with the theme of the build. Pioneer calls this the 350-W Digital Performance System, and it's all you'll need to put on one heck of a show. A pair of S-DJ05 Active Reference Speakers and a set of HDJ-500-W headphones ensures whoever is spinning is on top of what's being pumped out.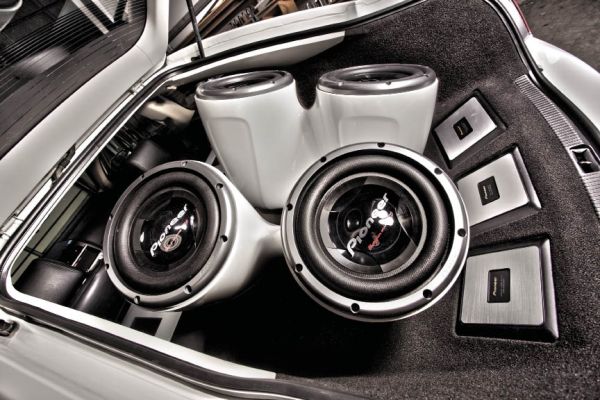 The styling of the car was certainly not ignored for this project. An AirRunner suspension system enables the tC to squat down aggresively on its 19-inch by 8.5-inch FIVE:AD R5:F wheels, wrapped in 235/40 R19 Yokohama S.drive tires. A urethane body kit from FIVE:AD consisting of a front lip, rear valance and a pair of side skirts, gives the car a clean look that matches the audio install perfectly.