Written by Dave MacKinnon l Photos by Todd Crowder | 24 November 2011
Page 2 of 2
Between the subwoofers vents on a custom trim panel behind the seats is a JBL MS-8 Processor. This potent little processor takes signals from the factory head unit and massages, filters and time-aligns them before passing them on to a trio of JBL amplifiers. A JBL GTO1004 4-channel powers the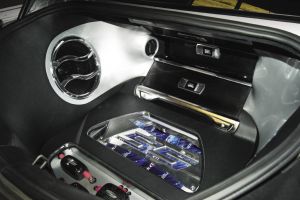 front stage. A 5-channel JBL GTO5255 powers the rear fill speakers and the door woofers. Finally, a GTO14001 drives the pair of 10-inch subwoofers. The battery rack and subwoofers are trimmed in machined and polished aluminum for a detailed look. Painted fibreglass, expertly wrapped vinyl and plexiglass windows round out the meticulous trunk work.
Much of the work in the vehicle is subtle. All hardware was mounted with nutserts or into threaded steel using security fasteners. The OEM trunk harness was completely reworked, as was the rear fuse panel. A fresh-air ventilation system was installed to make long listening sessions comfortable. Touches like these would usually go un-noticed, but attention to these details separate a good installation from a great one.
Crowder has attended several significant sound quality competition events with the Camaro, and has walked away with a few notable trophies, including 1st Place Expert Sound and Expert Install at the 2011 Spring Break Nationals and 1st place Xtreme SQ and Xtreme Q at the 2011 USACi World finals. Two World championship finishes is a good way to start.
In spite of the success, Crowder has more plans for the car. As finances allow, he'd like to install a turbocharger, widen the front and rear wheels, upgrade the suspension and get some custom interior upholstery work done. We think the car looks great now, but far be it from us to stop Todd from upping the ante.
Vehicle: 2010 Chevy Camaro SS/RS

Owner: Todd B. Crowder

Location: Benton, Arkansas, USA

Engine Displacement: 6.2L stock

facebook name: TC Audio

Club Affiliation: Team TCA (www.tcaudio.net)

Exhaust System:

Flowmaster American Thunder 3" stainless cat-back system

Audio / Mobile Electronics:

Stock OEM- Modified H=head unit

JBL MS-8 processor

JBL GTO-14001, Monoblock Grand Touring Series amplifier

JBL GTO-1004, 4-Channel Grand Touring Series amplifier

JBL GTO-5355, 5-Channel Grand Touring Series amplifier

2 JBL W10GTi, 10" subwoofer

Vented subwoofer enclosure

JBL 660GTi 6.5" components (front kick panels)

JBL P662 6.5" coaxial (rear fill)

JBL Gti tweeters (additional pair in a-pillars)

2 Kinetik Audio HC1800 batteries

Tsunami wiring, fuseblocks, & interconnects

Rewound & upgraded to 200 amp alternator

Dynamat Superlite, Dynapad, Dynaliner

JBL, Tsunami, Dynamat, Kinetik