Written by Eric Eikenberry | 29 February 2012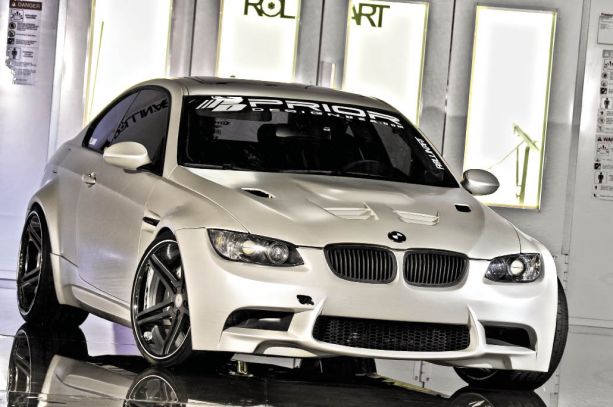 What other explanation can there be for a man who took BMWs elegant 3-Series coupe and converted it to a full show car for the 2008 SEMA show, then promptly tore it apart and began working on a complete revision for the 2011 show? We certainly cannot help but admire the result of his continuous exhortations, as the results of this labor of love have reached fruition. We do dig modified cars here at PAS./p>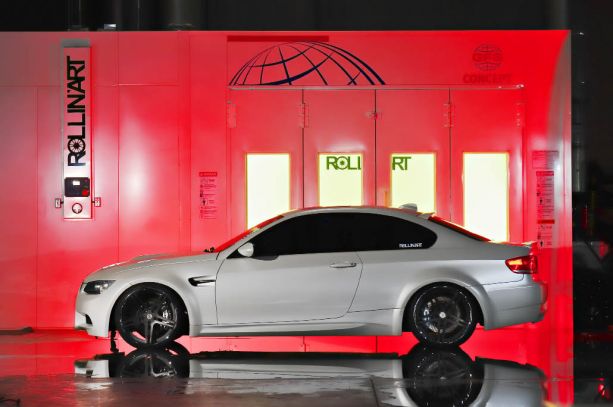 Starting with the obvious would be too simple. Sometimes it is all of the small details which make a good car into a great one. Gaze at the white pearl powder-coated Rotora brakes, as re-envisioned by Mike Borja at Rollin' Art. They are six-piston front calipers and four-piston rears gripping big 355mm saucer plates. Check out the insane 20" wheels from DPE, with their matte grey deep dish forged aluminum centers and fully polished lips. Wrapped in sticky Continental tires they provide ample grip to match the performance of the Tein Super Sport coil-overs and H-Sport front and rear anti-roll bars. He added Powerflex control arm bushings for even more control over steering precision than the OEM rubber bushings could provide, necessary with the 10" wide front wheels and 11" wide rears.
In the engine bay, Molina has picked up some killer product, like the Axis Power Racing carbon fiber engine cover, an NRG carbon fiber valve cover, dual ram air scoops from Race Precision Inc., and a cold air intake pipe from Stett Performance. Molina had a hand in suggesting that Stett produce a stainless steel version of the cheap plastic BMW vacuum canisters. These supply an immediate control signal to the dual waste gates, leading to better performance. He is also using their charge pipe (guaranteed not to pop off the intercooler) and TIAL blow-off valve setup, as it provides built-in bungs for his Nitrous Express system.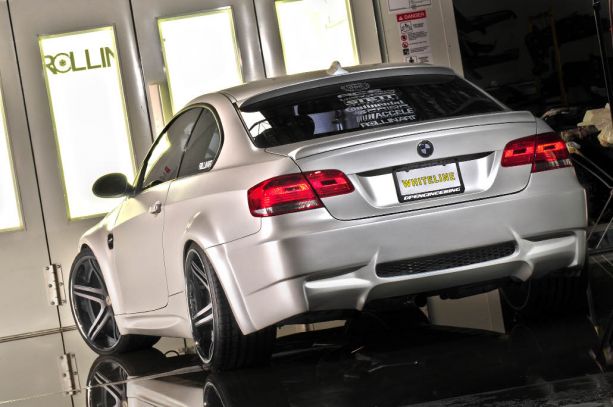 Stett has even worked up a buffed up oil cooling system which outperforms similar units by forty percent. AFE supplied their down pipe and throttle body while Jay at 661 Autosport handled the installation. Race Precision Inc. contributed their new 335i exhaust system, a front-mounted oversize intercooler, and Eloy Way at RPI installed his ESS tuning. Centerforce Clutches backed this motor up with a lightweight flywheel and their weighted pressure plate, which increases clamping force as RPM climbs.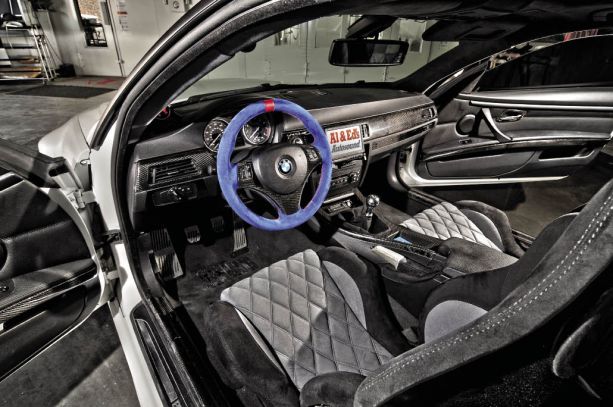 With the engine bay leading the way in the carbon fiber charge, of course the interior needed some too. NR-G supplied their carbon fiber E-brake handle and their full 16-piece trim kit. Carbon fiber Cobra race seats were recovered in diamond-stitched gray cloth and black Alcantera by Rollin' Art. The headliner, A and C pillars, and trunk also received the Ritz treatment, with stitched Alcantera everywhere. The steering wheel comes from Ace Custom Steering, and features a revised rim shape and hand-stitched blue suede leather around the perimeter. Even Molina's visors were rewrapped for a complete "bat cave meets race car" look. Mike at Rollin' Art had these words, "With the evolution of automotive trends, there will always be a conflict between form and function. We at Rollin' Art believe that form equals function.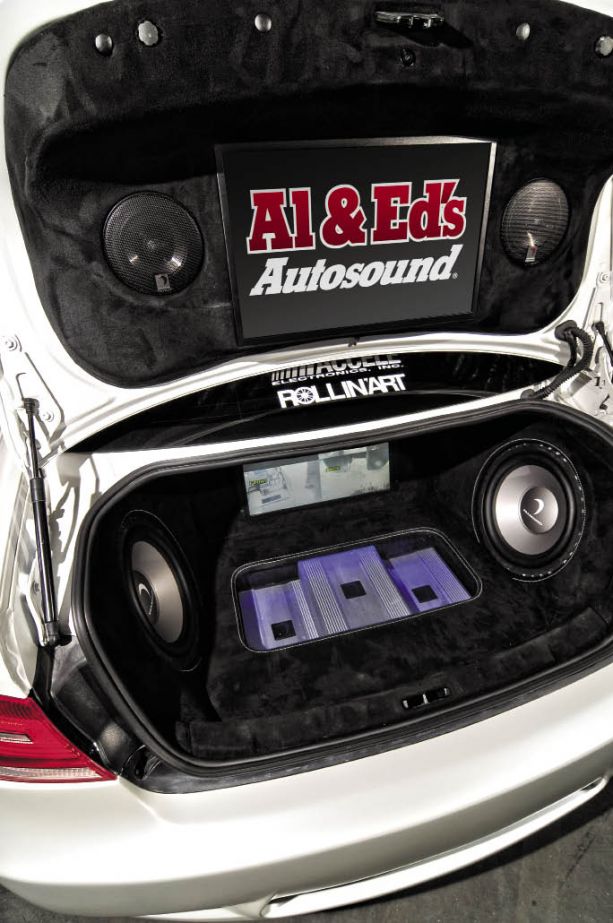 The trunk display doubles up the fun, with dual 19" Accele monitors, one for the 4 cameras mounted discretely around the car, and the other to play movies from the Kenwood slide-out touch-screen equipped head unit. Toss in three Diamond amps under plexi, two 12" Diamond subs, and a hidden Sony PlayStation 3 and a Street Wires 2 farad capacitor, and you have the making for a system that is almost as powerful as the exterior. Al and Ed's Autosound from Pasadena, California did another exemplary job, as is usual for them. But not quite, because, as you can plainly see, the exterior is awesome.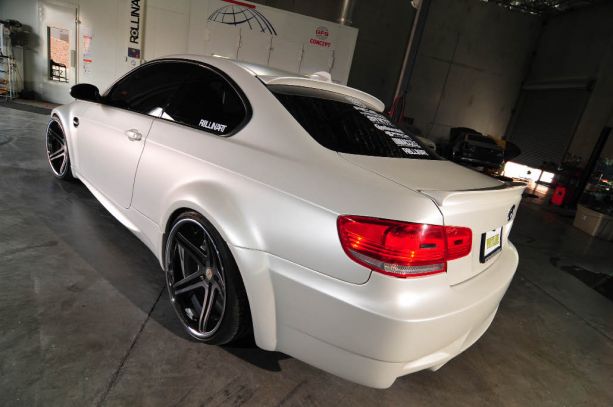 This is how the pros at Las Vegas Classic Coach, the home of Rollin' Art, do it. Rollin' Art is planning to impress the masses at the shows this year with their exemplary dedication to their work. The wide body kit comes from Prior Design USA, and was installed and painted by Rollin' Art's owner, Borja, in a custom Ferrari color called Bianco Fugi White. It is a matte white crossed with a pearl and looks stunning from any view. The Prior kit replicates the much-wider E92 M3 body, down to the muscular vented hood and carbon fiber trunk lip spoiler, plus one more spoiler for the rear glass. It demands a professional- level install; this isn't some bolt-on package of wheels flares. It's the whole enchilada. If you have a 335i, and do not feel like spending the dough on the gas-guzzling 18 MPG M3 V8, this kit is the answer to your prayers.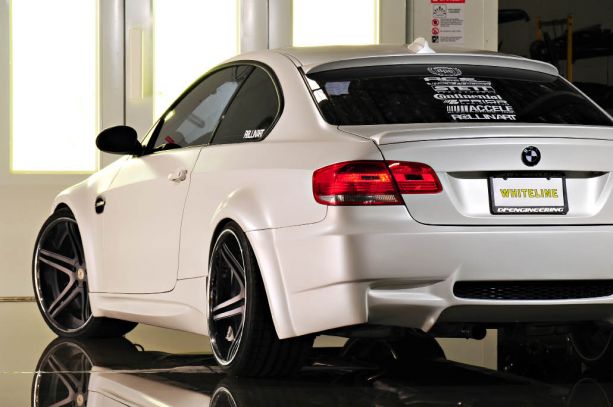 Thanks to the help of his sponsors, Molina has once again delivered a fresh look at the E92 chassis, and one we're sure will draw many eyeballs up in Las Vegas at the 2011 SEMA show. Though he wouldn't mind taking home an award, he'll be the first to tell you its not about recognition or fame, but being true to your own individuality. Here at PAS we've been preachin' that sermon for over a decade now and we are glad to see the spirit is still going strong.
ESSENTIALS
Vehicle: 2011 BMW 335i
Owner: Carlos Molina JR
Location: Las Vegas, NV
Engine Displacement: 3.5L
Horsepower: 455 whp
Website: www.Rollinart.wordpress.com
Club Affiliation: Rollin' Art
Engine Modifications
Axis Power Racing
Custom Carbon Fiber Engine Cover
Centerforce Performance Clutch
Centerforce Lightened Flywheel
Nitrous Express - Remote Bottle Opener
Nitrous Express - Purge Value Kit
Nitrous Express - Bottle Pressure Gauge
Nitrous Express - GENX-2 Accessory Kit
Nitrous Express – IntraCooler Kit
NRG - Carbon Fiber Valve Cover
NRG - Carbon Fiber Bulkhead Cover
NRG - Carbon Fiber PS Loop Cover
NRG - Carbon Fiber Panel Covers
Race Precision Inc.- ESS Tuning
Race Precision Inc.- Full Exhaust
Race Precision Inc.- Front Mount Intercooler
Race Precision - Ram Air Scoop system
Stett - Dual Intake, ver.2 (powder coated Stett Red)
Stett - Charge Pipe, ver.2 (powder coated Stett Red) w/ TIAL blow-off valve
Stett – Carbon Fiber Catch Can
Stett - Oil Cooler System
Stett - Vacuum Reservoirs (powder coated Stett Red)
Stett - Intake Duct Block Off Plate
AFE down pipe, AFE throttle body (installed by Jay at 661 Autosports)
Exterior
Prior Design - Front Bumper
Prior Design - Wide Body Conversion
Prior Design - Boot lip spoiler
Prior Design - Window Wing
Prior Design - Rear Bumper
Prior Design - Hood
Prior Designs- Front fenders, rear fender flares
Prior Design - Side skirts
Rollin'Art - Wide Body Installation
Rollin'Art - Bianco Fugi White
Interior
ACE Custom Steering - Steering Wheel
Rollin'Art - Alcantara Suede Shift Boot
Rollin'Art - Alcantara Suede E-Brake Boot
Cobra - Carbon Fiber Race Seats, re-wrapped in diamond stitch by Rollin'Art
NRG - Carbon Fiber e-Brake
NRG - Carbon 16pc Interior Kit
Rollin'Art - Alcantara Suede Headliner
Rollin'Art - Alcantara Suede Trunk
Rollin'Art - Alcantara A&C Pillars
UUC - Carbon Fiber Race Pedals
Active Autowerks polished aluminum shift knob
Suspension
Tein - adjustable Super Sport coil-over system
Tein - EDFC (to be installed soon)
Whiteline - Front Sway Bars
Whiteline - Rear Sway Bars
Powerflex - Control Arm Bushings
Wheels and Tires
DPE Super Concave three-piece wheels- 20x10, 20x 11
Rotora - Front 6 pot Caliper powder coated white by Rollin'Art
Rotora - Rear 4 pot Caliper powder coated white by Rollin'Art
Rotora - 14" Disc Rotors
Rotora - SS Brake Lines
Rotora - H2 Ceramic Pads
Continental - 20" Extreme DW Tires
Audio & Video
Accele - 19" trunk monitor (split into four sections for the different cameras in car)
Accele - 19" trunk lid monitor
Accele – Rear view mirror with monitor on rear view
Accele – Hidden switches
Accele - Actuators
Accele - FM modulator
Accele - Video amplifier
Accele - Video switcher
Accele - Rear View Camera
Sony - PS3
Diamond Audio - 2 x 12" Subs
Diamond Audio - Components
Diamond Audio - Mono Amp
Diamond Audio - 4 ch Amp
Street Wires - 2* Chrome Cap
Street Wires - All A/V Wiring
Sponsors
Mike Borja @ Rollin'Art for the immaculate paint job and providing transport of the vehicle, Gregg Vandermark @ Continental, and for over ten years of tire support, Tim Andrews @ Whiteline, Will Baty @ CenterForce, Eloy Way @ Race Precision for believing in the build since SEMA '07, Chad Stett @ Stett Performance for continual support and developing the vacuum reservoirs on my recommendation, Andreas Belzek @ Prior Design, Art Blanchford @ ACE Custom Steering, Manu Gill @ DPE, Al &Ed's Autosound - East Pasadena, CA, Brian Paille @ Accele for supporting another BMW build, Bob Chanthavongsa @ Diamond Audio for last minute audio support and Jay @ 661 Motorsports, Santa Clarita, CA