20 April 2012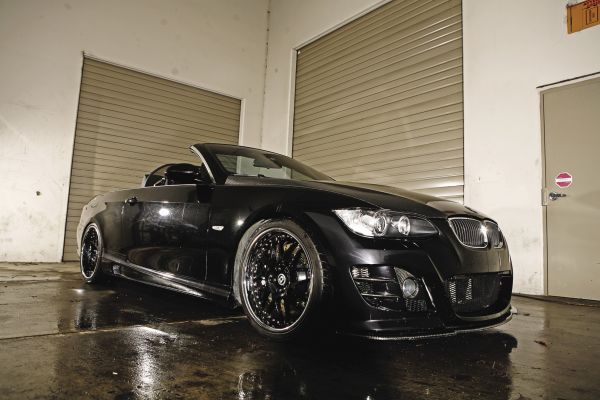 Allie Magyar used to be part of the fast and furious crowd. Her 2000 Honda Civic with turbocharged LS/VTEC motor, custom Lavender paint job and full custom tweed interior was even featured in a tuner magazine back in the day. Despite maturing and starting a family, she's never lost her passion for cars.
So, when BMW announced it was launching a factory turbocharged hardtop convertible a few years back, Magyar just knew she had to have one. Upon taking delivery of the brand new 2010 BMW 335i convertible a few years ago, she immediately began sourcing parts. With wheels at the top of her wish list and, set on the best quality available, a set of 19-inch HRE 590Rs with piano black powder-coated centers, polished lips and Kumho Ecsta tires got bolted on. A set of Brembo Gran Turismo brakes soon found their way on the car with six-piston front and four-piston rear calipers capable of much better chomping force on the larger 18- front and 15-inch rear rotors, respectively. Anticipating some possible future upgrades to her car, Magyar smartly purchased the HRE wheels the with "big brake clearance" sizing when she first got them, so they fit perfectly right away.
A double-sided Vorsteiner carbon fiber hood was to be the only exterior upgrade, but an opportunity arose to buy a full Kerscher Spirit kit and Magyar wasn't about to pass it up. Kerscher's Spirit kit accentuates the OEM body lines whilst adding some subtle styling via a new front bumper with integrated fog lights, side skirts and a rear bumper. The optional carbon fiber accents and front splitter are also on the car to help accentuate its sportier appearance. The exterior of the car still needed some updating, so it has been lowered using Cross's competition series coil-overs. Cross is the European arm of JIC Magic suspension and the 15-way adjustable monotube dampers ensure a comfortable ride at any ride height. Initially, Magyar's black beauty had a few simple upgrades like an Active Autoworks blow-off valve and ECM flash, but who doesn't crave more power? So, naturally, the 3-series soon found itself in the hands of HorsepowerFreaks to get one of its very first 335i N54 turbo kits installed. This kit features a single turbo upgrade centered around Precision Turbo's billet 6265 turbo that is paired here with a Tial 44 mm V-band wastegate. Due to the way HPF builds its kits and, depending on power preferences, the stainless steel tubular T4 flanged manifold can mate with a variety of turbo sizes ranging from 62 mm and all the way up to a 76 mm monster. The intake air is cooled via a HPF front mount intercooler, which fits nicely into the front opening of the Kerscher kit, while a HKS Super Sequential blow-off valve and Evolution Racewerks blow-off pipe provide more of an upgrade compared to the existing parts. Hot fumes race through a HPF down-pipe before running through a fully-polished 3.5-inch stainless steel exhaust system.
Air-fuel ratio, timing and all the important electronic stuff is managed by a Vishnu Performance Procede 3 engine control system. Unfortunately, power is limited by the capabilities of OEM direct injection system to about 500 hp. Too bad because those the turbos will easily push 650 hp. That said, the plan is to upgrade the BMW to stage two during the summer months when HorsepowerFreaks plans to install a new intake manifold, fuel rail as well as 1,100 cc injectors. The stage two turbo kit should be available by the time you're finished reading this with a MSRP under $6,000 (U.S.). The tuner is well known for building some of the most reliable turbo kits on the market; and, its various project cars have hit well north of 1,000 rwhp on the dyno time and time again. With power and looks to kill, this car has become a street cruiser to die for. If you see "FAST GIRL" cruising around the Pacific Northwest, you'll know this car has the balls to defend the bold statement on the license plate!
---
VEHICLE: 2010 BMW 335i
OWNER: Allie Magyar
LOCATION: Portland, Oregon
ENGINE DISPLACEMENT: 3.5L
HORSEPOWER: 500 rwhp
WEBSITE: www.horsepowerfreaks.com
ENGINE MODIFICATIONS
HorsepowerFreaks N54 single kurbo kit (Precision 6265 series billet turbocharger, tubular manifold, down-pipe,
3.5-in. stainless exhaust, front mounted intercooler;
Tial 44 mm V-band wastegate;
Evolution Raceworks blow-off pipe;
HKS Super Sequential blow-off valve;
Vishnu Performance Procede 3 Engine Control System)
EXTERIOR
Kersher Spirit 3 complete body kit
Vorsteiner carbon fiber hood
WHEELS & TIRES
HRE 590R wheels – 19 x 8.5 (f), 19 x 10 (r)
Kumho Ecsta tires – 235/35/19 (f), 285/35/19 (r)
Brembo Gran Turismo brake kit – 18-in. rotors, six-piston calipers (f), 15-in. rotors, four-piston calipers (r)
SUSPENSION
Cross 15-way adjustable competition coil-overs