20 April 2012
Page 1 of 2
This matte black monster comes courtesy of the master fabricators and builders at D3 Cadillac in Signal Hill, California. Sure, they could have given this 2011 CTS-V coupe a blinged-out, boulevard-cruisin' stance and strapped it with a diamond-encrusted Louis Vuitton interior to unveil at the 2011 SEMA Show, but, what fun or challenge would that have been for the world's preeminent aftermarket tuner of Cadillac vehicles?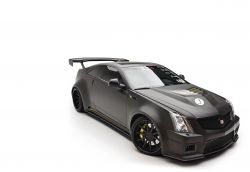 "We wanted to show the potential of this chassis and had a very aggressive engine combination planned," said Timothy Pak, D3 Group's business development director, who oversaw this otherwise extraordinary Caddy's hundred thousand dollar transformation into the boss racer you see here.
With well over 250 man-hours invested, the project has been ongoing since June 2011. The 6.2L Eaton-supercharged LSA aluminum V8 starts life with 556 hp and 551 lb-ft of torque, numbers that arguably put it (or any V-spec Caddy for that matter) into supercar territory. But, the D3 brain trust had bigger plans for this vehicle, much bigger in fact.
Dubbed "Le Monstre" it pays homage to its namesake, a 1950 Cadillac Series 61 Coupe DeVille built and driven by Briggs Cunningham in the 24 hours of Le Mans that year. Contrary to its predecessor, however, D3 wasn't hampered by stringent racing regulations or any rulebooks, and although it is lower, wider and more aerodynamic just like the earlier racecar, the modifications to this vehicle are far more extreme.
For starters, the 427 cc powerplant has been CNC-machined, ported, polished, balanced and stuffed with more manly Manley connecting rods and Total Seal piston rings. It boasts a fortified valvetrain with D3-spec Isky cam, custom rockers, push rods and lifters, everything necessary to replace the standard 1.9L Eaton blower with a much larger, more efficient and more powerful one from Kenne Bell that achieves 17 psi of boost on the street and can go as high as 28 psi for racing.
This highly-efficient D3 Ultracharger upgrade is available in four different stages capable of injecting an additional 2.3, 2.8, 3.6 or 4.2 liters of compressed air into the motor for gains on a scale from mild to monstrous. As indicated by the D3 motorsport vented hood, this is stage three, which features Kenne Bell's 3.6L liquid-cooled supercharger, D3 manifold, air intake system, K&N air filter and a 102 mm throttle body. A larger D3 intercooler reduces the charged air temperature before it gets sent to the combustion chambers while a high-flow Kenne Bell boost-a-pump, D3 billet fuel rails and properly-matched VDO injectors supply a high-octane mixture to NGK TR6 spark plugs aided by MSD ignition wires. The highly-potent fumes exit through a Kooks header and V-band pipe on route to the custom three-inch Borla dual exhaust system that looks and sounds scarier than the stock one.
All told, the motor upgrades nearly double the CTS-V's horsepower and torque numbers, now estimated to tap out at 1,000 hp at 5,900 rpm and 1,000 lb-ft at 3,200 rpm, respectively. (Stage four can produce over 1,400 hp.) So, to handle such an immense increase, D3's competition proven powertrain uses heavy-duty 1,000-hp axles and a few tricks to shore up the six-speed automatic transmission (a CTS-V factory option) for greater durability and reliability.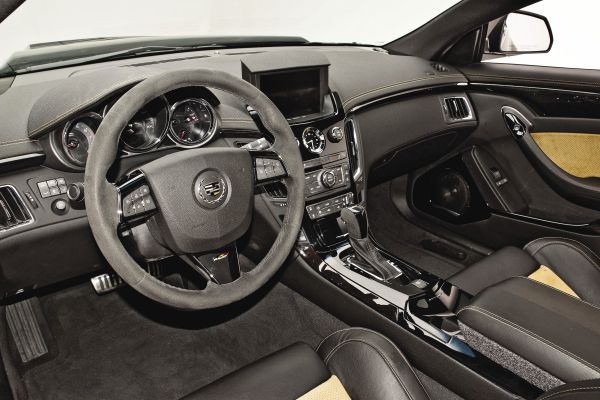 Of course, it's necessary to reprogram the ECU, which includes a full remapping of the ignition tables, fuel, spark and more. As for the OEM traction control functionality, it has been replaced with a custom Racelogic system that retains some daily drivability although that is not the intent of the car.
As the story goes, chassis, suspension, braking and wheel upgrades all followed. Chassis bracing and support comes by way of beefed-up sway bars, custom D3 parts and adjustable end-links that support a set of KW variant three coil-overs. Ride height, as a result, is now two and 2.5 inches lower in the front and rear respectively. Whiteline urethane bushings help reduce shift shock as all that power is transmitted to the staggered-width 20-inch Rennen wheels, which are painted gloss black and wrapped in sticky R-rated Toyo Proxes T1R tires, sized 275/30 and 345/25 in the front and rear. Behind a total of 40 spokes, the CTS-V's high-performance Brembo six-piston front/four-piston rear calipers and vented discs remain intact, though D3's amended setup has Amsoil fluid running through its own stainless braided brake lines.