23 May 2012
Page 2 of 3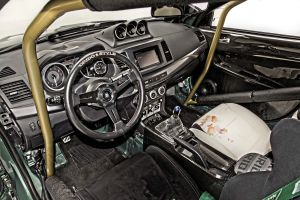 After testing and tuning on the dyno, Road Race Engineering achieves 569 hp and 384 lb-ft of torque at the wheels. Considering a stock 2008 Evo GSR makes 248 hp and 254 torques on the dyno, that's 129 percent more horsepower and 51 percent more torque getting to the wheels now. To make it sing in the corners, the chassis is fully stitch-welded and reinforced with a number of Cusco braces and bars to stiffen the front, rear, floor, sides and, of course, the suspension. The gutted interior also features a 10-point custom roll cage by Huezo Racing for both safety and extra rigidity; and, there's even a Beatrush engine roll stopper to shore up the physical connection from engine to chassis – the benefits are improved throttle control and improved driver feedback as well as better traction during front/back weight shifts.
The suspension is upgraded with Cusco's Zero-1 adjustable coil-over kit working in conjunction with 27 mm front and 25 mm rear sway bars that can help fine-tune the balance. Combined with Wedsport SA-55m 19-inch wheels and grippy Falken FK 452 tires and this thing hooks up to just about anything! Project Mu brakes sporting 13.98-inch SCR Pro two-piece forged rotors and six-piston calipers (stock Brembo discs are 13.8 and 13 inches with four- and two-piston calipers in the front and rear respectively) are installed to bring stopping performance up to par with the rest of the upgrades.
Inside, the atmosphere is all about performance and functional style rather than that cutesy Hello Kitty crap! The Bride Vorga Japan reclining seats are pretty sweet – Special Edition for him and one-off Kimono Edition for her – as is the Orido Style steering wheel from Nardi, that's as comfortable as it gets. The titanium shift knob is from Evo-R along with the crown meter cover and temperature controls cover. Note the integrated electronics found alongside the custom shift boot. The carbon fiber center console is also custom and does have a Bride armrest, but you can clearly see there is little in the way of sound deadening in here, Seibon carbon door panels notwithstanding. There is a Defi boost gauge near the steering wheel and Stri gauges for fuel pressure, oil pressure and temperature housed in an ATI gauge pod atop the center dash at eye and camera height. Since the car is all business, a Beatrush rear bulkhead plate closes off that trunk area for a clean look.
Instead of a racing fuel cell back here, however, there's a complete Rockford Fosgate audio system that looks permanent but can be removed fairly easily for track outings. The trunk is finished using custom carbon and fiberglass panels that display Rockford's T1D212 subwoofer, Power T1000-4ad sub amp and crossovers. There are 6.5-inch Power T3 component speakers mounted in both the front and rear doors with a single source – a Sony XAV-60 – found in the upper dash. Munoz Auto Styling is responsible for the interior.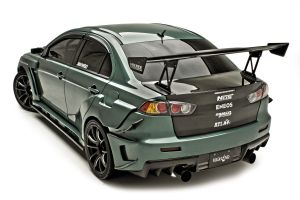 "Patience is the main reason this build is now complete. There were many obstacles encountered throughout the process that almost made me give up and just stop building the car," Estacio admits. "But, with the help of friends and teammates from High End Performance Camarillo and New York and Auto Concept Elite, my family, my mentor Ben Abutin and my fiancée Trisha, I was able to persevere and stay inspired to finally finish the project."
"During the long hours and through all the obstacles, I just kept on thinking why I began this build. The passion and love for cars is what made me hold on and continue. Building this Evo has been an unforgettable experience because with this build I gain more friends, family, meet new faces and attend different car events and shows."
There's all that, of course. Plus, now you've got one heck of a car to drive or show. It's a win-win win!