28 August 2012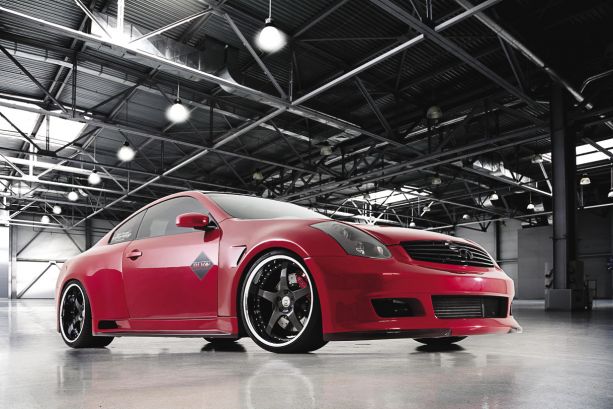 Written by Ricky Chu / Photography by Icon Media
We're raised with the perception that red is a stimulating color and for the most part it's pretty accurate. Models wear red lipstick, fire is red, Christian Louboutin shoe bottoms are red, and red headed girls are known to be feisty. Yup, that's red. Los Angeles resident Dallas Tung's 2006 Infiniti G35 carries on the red tradition because it truly stimulates every one of the senses. It seems like building a car in L.A. would be easier, but it can get more complicated if you want to be original. While there are endless supplies of aftermarket parts, manufacturers and distributors in the City of Angels, there are also a countless number of fixed up cars rolling around that you have to compete with at the shows. And that's not even getting into how many G35 Coupes Infiniti has put on the streets over the years. This wasn't going to be a cakewalk for Dallas, but we Angelinos don't back down from many challenges, which is probably why people don't care too much for us.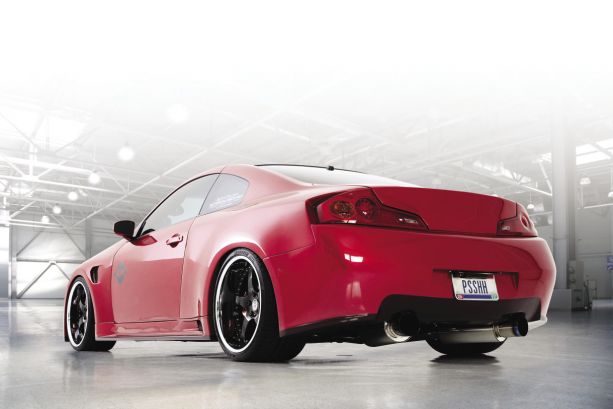 For Dallas, standing out from the herds of sport compacts in a city full of enthusiasts was priority. A Ken Style front bumper matched with an APR rear bumper and wide fenders all custom wrapped in carbon fiber was just the tip of the iceberg. Dallas sprung the extra cash for a Top Secret vented hood, JDM taillights and blacked out headlights.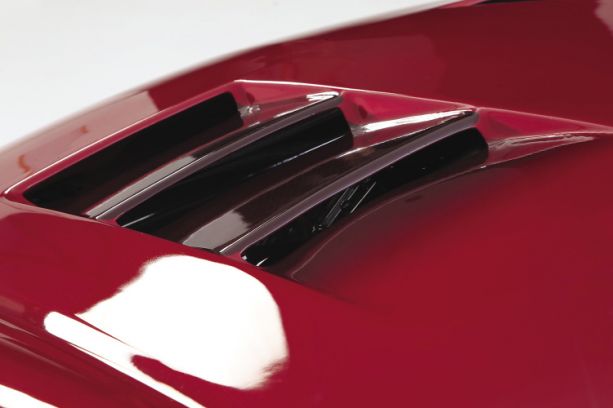 And of course, he had the entire thing sprayed down in a downright vicious red hue based off the Rosso Vik Lamborghini.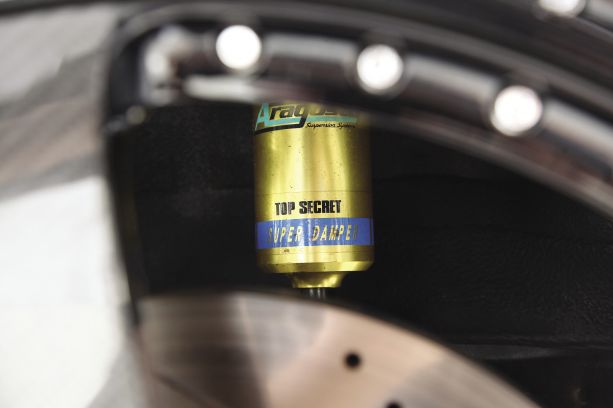 With the extra girth, Dallas needed something to fill up the gapping wheel wells so he ordered a set of custom carbon HRE 545R rims in absurd 20x10 (f) and 20x12 (r) sizes matched with Pirelli PZero tires of equal monstrosity. Though with all these goodies, Dallas has to be careful driving his beauty up the steep driveways and mammoth potholes Los Angeles has come to offer.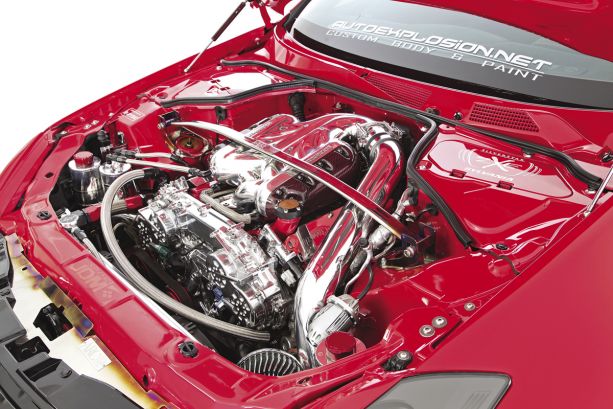 Dallas' next goal was to test the limits of the VQ35DE engine. While the 3.5 liter V6 engine can hold its own, it was left in the hands of SM Motorsport to beef up the bottom end with Brian Crower connecting rods, Cosworth piston rings, and ARP head and main studs. Amazingly, the 745 hp and 660 lb-ft of torque was achieved with a GReddy Tuner Turbo Kit and a ridiculous fuel system.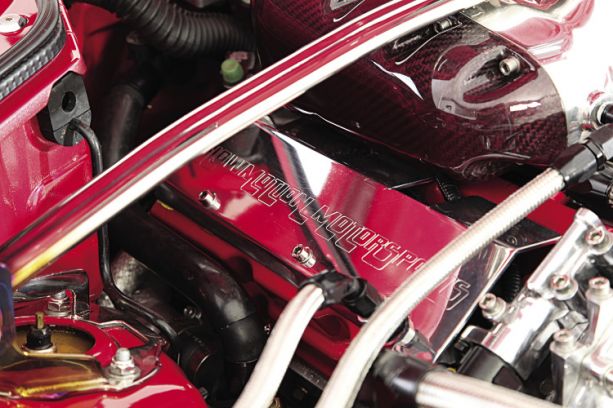 Though it is an off-the-shelf bolt on kit, the GReddy kit still comes with two very ballsy TD06SH turbos to shell out the boost. But often forgotten with forced induction taking the spotlight is a fuel delivery system that can keep up with the flow or else your engine goes boom. Assisting in the delivery are a fuel rail and high pressure pump pushing some very expensive high octane petrol through the 1,000cc Injector Dynamics fuel injectors. All this controlled by an UPREV engine management system makes Dallas' G35 deadlier on the streets than supercars with triple the price tag of his Infiniti, though he did shell out over $100,000 on this build. That could buy 10 houses in Detroit. Just drop in the bucket, yeah?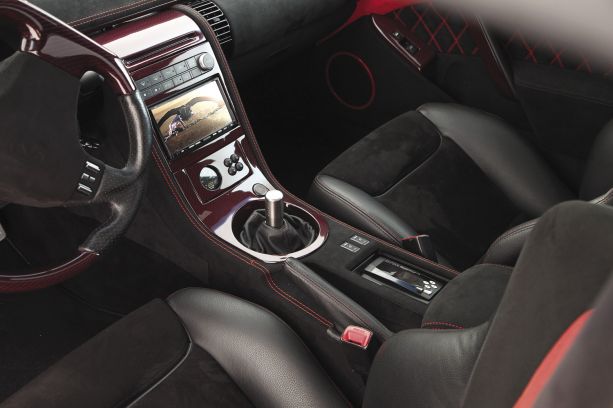 Inside Dallas' G35 is kept simple, but effective. The stock and Recaro racing seats were both custom wrapped in a combination of leather and alcantara making you feel like you're sitting inside a fancy party limo rather than a high performance street car.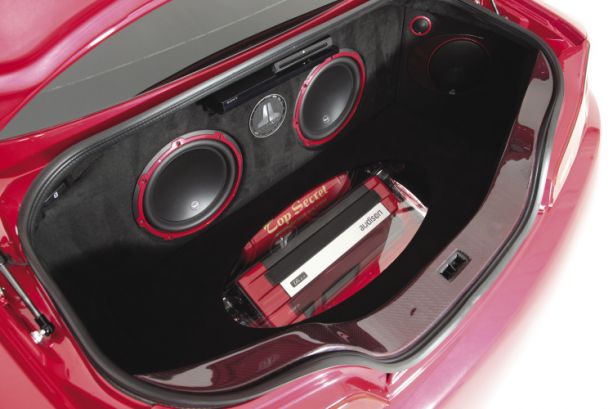 His I.C.E selection is narrowed down to a Kenwood 7100 DVD head unit, Audioson 950 watt amplifier, two JL Audio subwoofers, and three monitors in the trunk all custom installed in their own enclosures.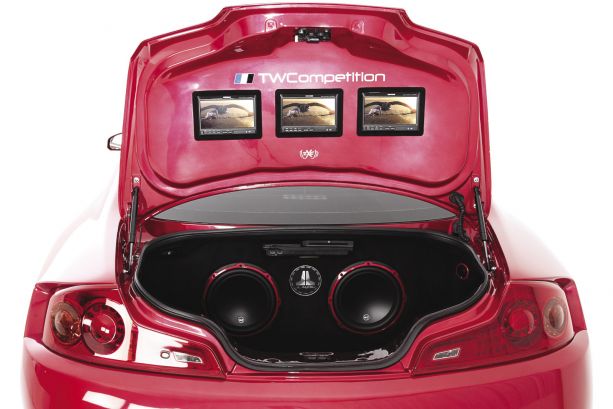 These components work in conjunction with each other trying to battle the already ear deafening roar of an HKS high-power exhaust. Oh yeah, everything is accented in red of course.
Okay, so I lied earlier. The one sense Dallas' G35 doesn't stimulate is taste, but only because we haven't tried to lick it…yet. But four out of five isn't bad and if you're able to track Dallas down at a car show, maybe he'll let you run your tongue across one of the fenders. Don't count on it though, he'll probably just think that you're weird for asking. We're pretty sure Dallas will be busy with other things like adding to his trophy collection where he wins Best in Class at just about every show he enters. For now, just sit back and enjoy this red menace.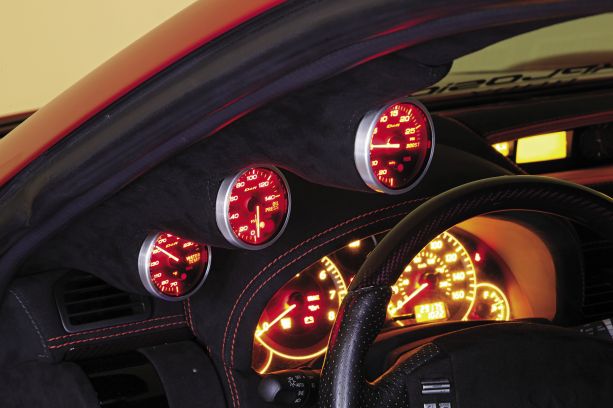 ESSENTIALS
Vehicle: 2006 Infiniti G35
Owner: Dallas Tung
Location: Los Angeles, CA. USA
Engine: 3.5 L VQ35DE
Estimated Max Horsepower: 745 hp
Estimated Max Torque: 660 lb-ft
Curb Weight: 4,000 lbs
ENGINE MODIFICATIONS
GReddy TT 20G tuner kit with twin TD06SH turbochargers
R35 intercooler
HKS SSQV blow-off valve
Cosworth intake manifold
Brian Crower connecting rods
ACL bearings
ARP head and main studs
Turbo XS 5 bar map sensor
Injector Dynamics 1,000 cc fuel injectors
CJM (fuel pump, return system, fuel rail kit)
Koyo radiator
GTM fan shroud
ARC oil and radiator caps
Stillen (oil & power steering cooling kits, oil pan spacer, engine torque damper)
Earl's stainless steel braided lines
Full wire tuck
Nismo thermostat
NRG power steering tank and oil catch can
EXHAUST
HKS Hi-Power 4-inch exhaust with custom piping
DRIVETRAIN:
ACT Streetlite flywheel
Carbonetic triple disc clutch and LSD
CHASSIS / SUSPENSION
Eibach sway bars
Top Secret coilovers
Roberuto cup kit
ARC titanium front strut bar
GTSPEC underbody front and rear tie bars
Stillen front and fear camber kit
WHEELS / TIRES / BRAKES
HRE 545 R wheels – 20 x 10 (f), 20 x 1 (r)
Pirelli PZero tires – 285/25R20 (f), 325/25R20 (r)
AP Racing 6/4 piston big brake kit
Hawk ceramic racing brake pads
Gorilla racing lug nuts
EXTERIOR
Custom carbon fiber wrapped Ken Style wide body front bumper, fenders, APR rear bumper, side skirts
Rosso Vik Lambo Red paint
Carbon fiber trunk
Blacked out headlights
Top Secret vented hood
JDM taillights
Custom gas door
Carbon fiber wrapped roof
INTERIOR
Custom two-tone leather and Alcantara interior
Recaro topline racing seats
Carbon red interior trim
Nismo titanium shift knob
Carbon fiber red kick plates
Sport steering wheel
Three gauge pillar pod
Upgraded black carpet
Razo competition sport pedals
AUDIO / MOBILE ELECTRONICS
Kenwood 7100 DVD/Navigation
Audison LRX 950 watt
JL Audio W3 10 inch
AEM Uego wideband O2 sensor, Defi gauges, Kenwood monitors
SPONSORS
SM Motorsports
Auto Explosion Auto Body
BLK Diamond
SHOPS
SM Motorsport did the engine build assisted by Randy Riggs with the engine details, Auto Explosion did all of the body work on the car also al the carbon fiber work. BLK Diamons did all the interior work.