06 September 2012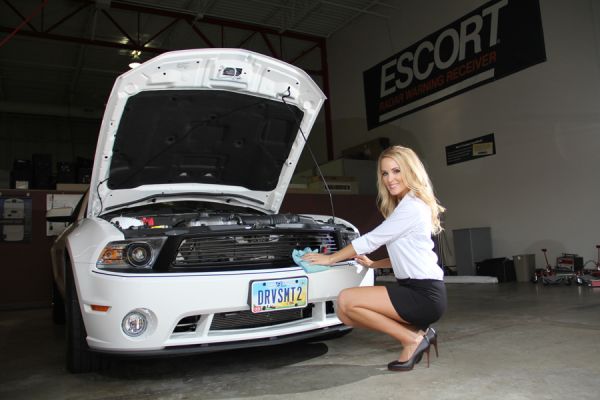 Fill out a form and this baby could be yours!
The Ford Mustang is a pretty solid car right off the dealer lot. Of course, if you're into cars as much as we are, then you're well aware of the potential that exists in this well-established nameplate. This fact has been well-documented through six generations of Mustang thanks to well-known tuners like Carroll Shelby, Steve Saleen and Jack Roush, all of whom made names for themselves by building and modifying the 'Stang for racing and high-performance street duty.
The car you're looking at is a 2012 Ford Mustang GT Premium Coupe. Well, that's actually what it started out as. In fact, this is now a Roush Stage 2 Mustang that features enhancements to the exterior styling as well as the handling package via a host of carefully-selected Roush upgrades. The car is fully-loaded with more than $10,000 in Roush goodies and also comes with an Escort protection package, including a custom-installed Passport 9500ci radar and laser defense system, and more.
We'll go over some of the details momentarily, but I should warn you... this could be yours. That's right! PASMAG and Beltronics have partnered to give this car away to one lucky winner at the 2012 SEMA Show in Las Vegas. Since last fall, Escort and Beltronics show attendees, web visitors, customers and friends have all been given the opportunity to enter into a contest drawing for the ultimate grand prize giveaway. PASMAG is also offering web visitors and readers the same opportunity to enter into the contest drawing.
So, in addition to the Passport 9500ci radar and laser defense system with integrated display, Escort has outfitted the 'Stang with its QuickStart remote start and security system, which allows you to start, track and secure the vehicle from a smartphone, iPhone control interface and/or security key fob. The vehicle is also equipped with Escort's SEMA Award-winning SmartCord Live technology that uses the Escort Live network and version 2.0 app, which works with iOS and Android smartphones and provides many of the features in the radar detector connected version, including red light and speed camera alerts, speed trap locations, live traffic (iPhone), voice alerts and more.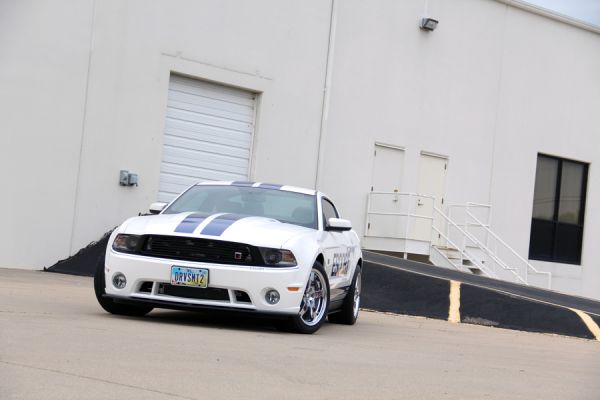 And, it's a good thing the car is equipped with said devices because, although stage two is considered middle ground by Roush standards, the Mustang GT's 5.0 V8 already makes 412 hp and 390 lb-ft of torque and accelerates from zero-to-60 mph in about 4.5 seconds. If this were a stage three Roush job, that would be bumped to 565 hp and 505 torques, which is in between the svelte Boss 302 and powerhouse Shelby GT500.
Styling upgrades include Roush's sixth-generation R6 "aerobody package," which, in the front, consists of a new upper grille, high-flow lower grille, corner fascia aero pockets with driving lamps and a front chin splitter. The Roush rocker panels and rear fascia side splitters give the car a more aggressive, lowered stance punctuated in the rear with a three-piece rear decklid spoiler. Also in the back is a new rear aero valance that features race-inspired diffusers and integrates Roush's new dual-chambered chrome exhaust tips. Rounding out the exterior is a suite of Roush "R" and "Stage 2" badges. Inside, embroidered floor mats, a center console button and dash medallion help identify this as a special vehicle; Jack Roush's signature graphic can be seen on the dash and under the hood on a serialized Stage 2 plaque.
Roush chassis engineers have spent thousands of hours developing and testing to create a performance handling package that includes a larger, stiffer front stabilizer bar, twin-tube shocks with unique valving and increased spring rates. Furthermore, new bushings and a unique upper control arm translate to better contact and grip for the 18x10-inch cast aluminum five-spoke wheels with sticky Cooper RS3 ultra high-performance summer rubber.
"For more than three decades, the Escort and Beltronics brands have always signaled the very best driving technology available for radar and laser ticket protection," said John Larson, Escort president and CEO. "We have established a history of going the extra mile to do more for our customers than anyone else – now we are putting someone in their very own 2012 Escort-equipped Roush Mustang."
Entries are still being accepted at the ESCORT website and will continue to be accepted through the 2012 SEMA Show start (show days one and two). The contest closes at midnight October 31, 2012 (midnight EST, 9 P.M. PST). PASMAG, along with ESCORT, will announce the contest winner at the SEMA Show on day three (November 1), so stay tuned for an annoucement. And, if you haven't already entered the contest, what the heck are you waiting for?

ESSENTIALS
Vehicle: 2012 Ford Mustang GT Premium Coupe
Owner: TBA
Location: TBA
Engine: 5.0L V8
Estimated Max Horsepower: 412 hp
Estimated Max Torque: 390 lb-ft
Website: www.escortinc.com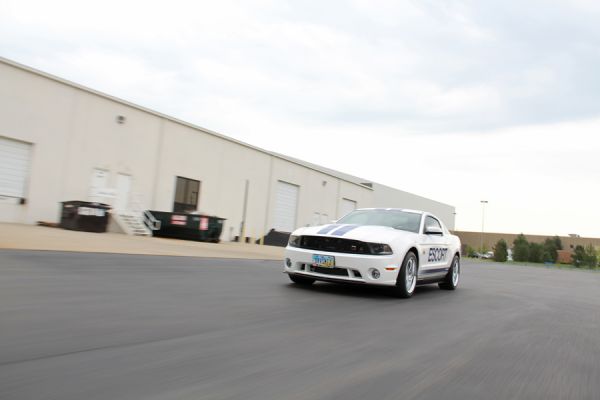 Ford's Mustang GT Premium package:
Auto on/off headlamps

Stainless steel dual exhaust

3.73 ratio limited slip axle

LED sequential taillights

HID headlights

Power leather seats

Ambient lighting

500 W Shaker stereo system

Ford/Microsoft SYNC

SIRIUS Satellite radio

Split fold down rear seats

Electric power steering

Easy access capless fuel filler

Power window, lock, trunk and keyless entry

Universal garage door opener

AdvanceTrac ESC
Roush Stage 2 package:
Front fascia with driving lamps

Front fascia black out graphic

Front bumper splitter

Billet front grill with "R" Roush badge

Side rocker splitters

Rear valence

Rear decklid spoiler

Rear blackout graphic with Jack Roush Signature

"R" Roush gas cap badge

Stage 2 decklid badge

Front windshield banner

Embroidered floor mats

Center console badge

Stage 2 interior medallion

Stage 2 serialized engine bay plaque

Stage 2 suspension upgrade

18x10-inch chrome Roush wheels

Cooper RS3 ultra high performance tires

Supplemental owners guide

Custom Roush blue decal and 'racing' stripe package
ESCORT Protection Package
Passport 9500ci radar and laser defense system with display integrated into gauge cluster

QuickStart remote start and security system