26 September 2012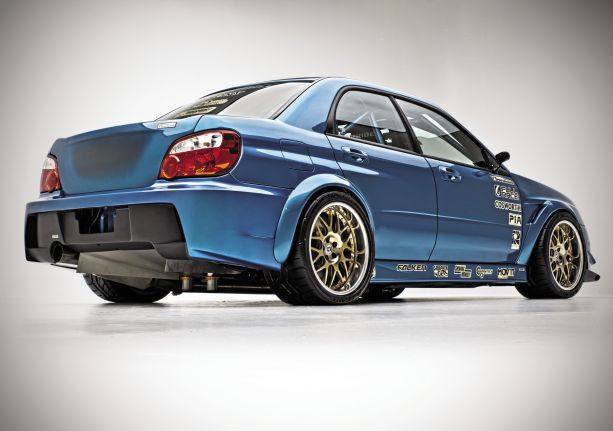 Written by Ricky Chu / Photography by RCH Designs
There are many different things that motivate us to do what we do. For some it's money, many it's fame and a lot of us do things just to get girls. Chris Dunbar of Kennewick, Washington might have had those same factors pushing him when putting together his previous four cars (a 500-hp Honda Civic, JDM Acura Integra GS-R, Ford Focus SVT, BMW 5-Series). This time around, however, Dunbar had a very meaningful reason when starting to get hardcore into the build of his 2006 Subaru WRX – his late father.
When his father passed away, Chris wanted to dedicate the three-year build to the man who inspired him and helped make his car one of the most competitive show cars nationwide. Like many of us, the car started off as a daily driver back in his college days and, again, like many of us, he couldn't leave the car stock for very long as his college apartment started filling up with aftermarket parts like an '80s sketch comedy. After his father passed away, Chris' goal for his WRX was to transform it into something both Dunbars would be proud of. And, since they had always talked about going to the biggest automotive event in the U.S. (SEMA) together, it was important for the car to be SEMA-worthy. Nothing would deter him.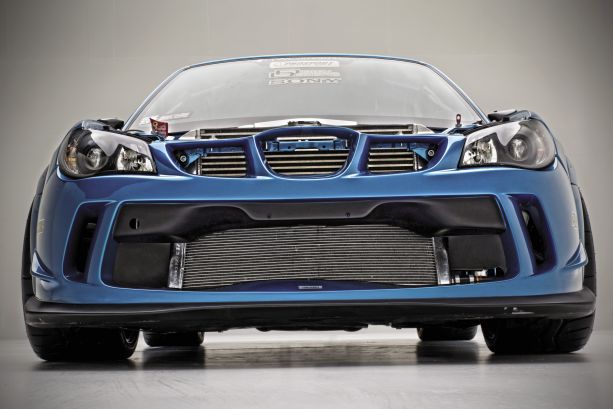 They say that looks can be deceiving, but there's nothing about Dunbar's WRX that gives off a hint of subtlety starting with the eye catching ZR1-Jetstream candy blue custom paint job by Mobworks. He went with a Zerosports body kit that consists of front and rear bumpers and side skirts, but couldn't leave it at that. For those of us that have faced the frustration of trying to jack up a lowered car with a body kit, Dunbar and co. were able to solve the problem vis a vis an AP/Brando-built air jack system.
Seibon carbon fiber wide fenders give the WRX an even more aggressive look than the car has been known to have. On top of those Dunbar used custom Carbon Kartlon over-flares to pretty much ensure he will never be able to park his beauty in a normal-sized parking spot. To enhance the already-dazzling looks of the WRX and lighten-up the chassis as well, more carbon fiber pieces found their way on the car, including the hood, trunk and roof. A custom aluminum rear under spoiler and Zerosports splitter help keep the car planted at high speed.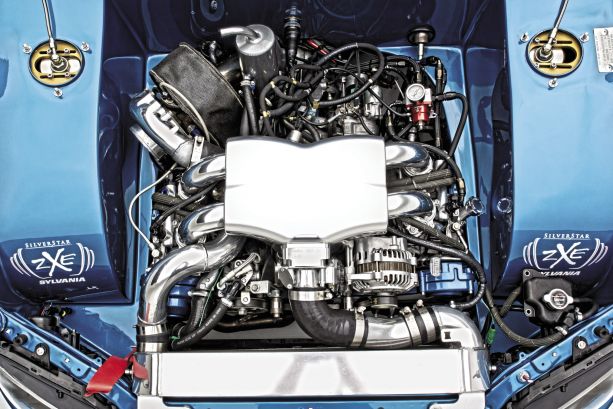 Vlado Jancev of V's Performance went ahead and gave the car an engine bay and trunk shave, leaving the car looking smoother than Scarlet Johansson's legs. But, only true enthusiasts would notice the attention-to-detail Dunbar has put into his car like the '05 taillights, JDM headlights and the Syms windshield wiper blades.
While the stock WRX boxer motor is strong, it was definitely in need of some reinforcement to withstand the 535 hp and 400 lb-ft of torque Dunbar intended to put to the wheels. A Cosworth long block stuffed with the company's billet crankshaft, connecting rods and pistons made the bottom end more than secure for the excess boost it needed to handle from the Full Race GT4088R turbo. Cosworth also got its hands on the top end with a port and polish job as well as a set of 278/280 cams while petrol delivery is handled via a Walbro fuel pump, Corsa Veloce billet fuel rails and massive 2,200 cc Injector Dynamics fuel injectors.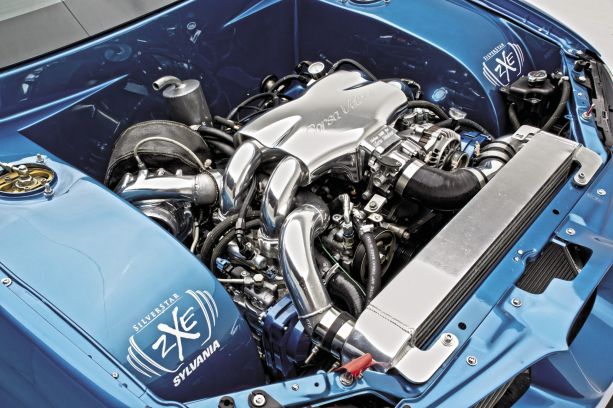 For additional intake flow, a big bore throttle body and intake manifold open up the passageways to the head so the final mixture can be completely atomized inside the combustion chambers. Any engine with this type of work done to it will accumulate and intense amount of heat, so Process West has fabricated a V-mount setup to provide equal cooling distribution to both the intercooler and radiator. On the exit route, the exhaust gases make their way out through a Full Race turbo manifold and custom four-inch exhaust with a Burns Ti muffler. Even with the engine just sitting at idle, surely this combination is enough to wake up the neighbors from three counties over. Tuner Tim Bailey managed to spin the dyno rollers to 490 hp on just a break-in map. Beyond just the scope of creating horsepower, V's Performance and Pacific Import Auto have both done extensive amounts of work to the engine bay to make it look nothing like the clunky mess of its former self.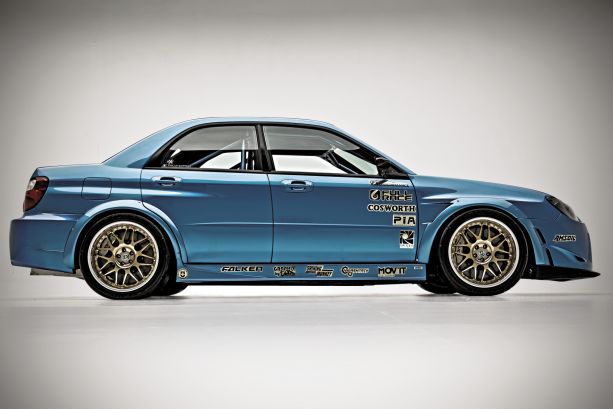 Though Dunbar' WRX collects trophies like Jay-Z collects platinum albums, it's more than just a show car and is more-than-equipped to handle the roughest track conditions. The Stance GR+ Pro adjustable suspension was just the beginning; Whiteline adjustable front and rear sway bars keep the 18-inch 24K gold HRE 590R wheels and ultra-wide 315/30R18 Falken 615K tires planted to the asphalt. And, with 600 hp propelling his WRX, Dunbar was in need of something that could stop the 3,000 pounds of mass at any instant. As such, Movit billet six-piston brake calipers take care of the clamping up front with four-piston units doing it in the rear. Extra stopping power comes from massive 15-inch two-piece drilled and slotted brake rotors, custom braided lines and ceramic pads.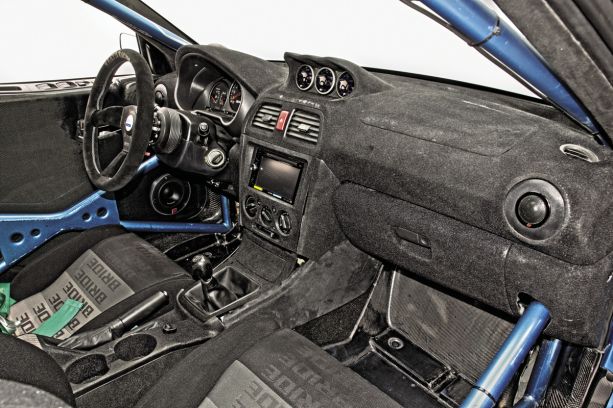 With all the work done to improve performance and aesthetics, many might overlook the interior of their cars, but not Dunbar. BLK-Diamond went to town with custom-flocked and Alcantara wraps around everything.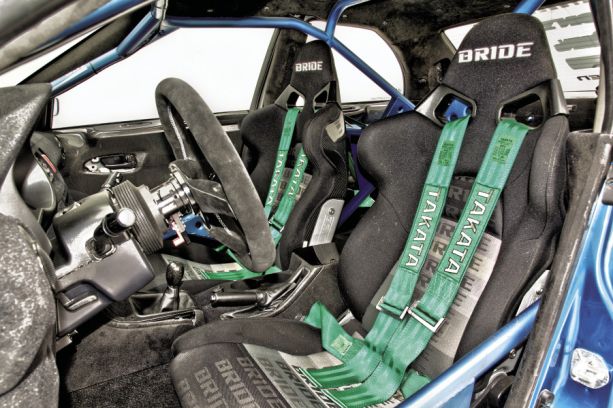 Takata harnesses keep driver and passenger in the two Bride Carbon Vorga II seats while a chromoly steel roll cage surrounds the occupants in case there are any mishaps on the street or track. A Rallytech carbon fiber parcel shelf, rear firewall and rear seat delete are the final touches.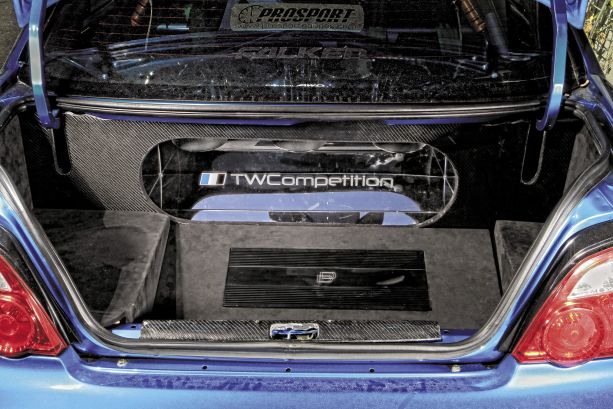 But, Dunbar still had enough left in the six figures he spent on this build to squeeze in a teeth-rattling audio system with Digital Designs subs and speakers. A Sony XAV70BT DVD head unit and rear view mirror monitor can keep things pretty entertaining depending on what flick he has popped in. We'd opt for something from the Vivid Entertainment classic collection or the One Tree Hill series if you're into that type of weird stuff.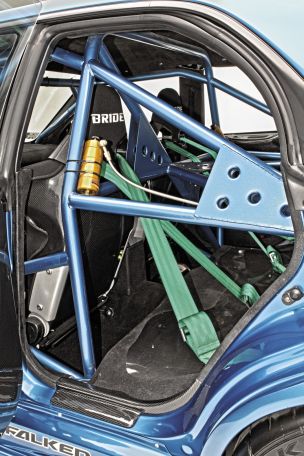 Through his countless efforts and struggles, Dunbar has constructed a car both father and son would feel proud about. It hasn't been as easy as people might think because Chris had to coordinate travel between Seattle and Los Angeles almost every other week in an effort to hit every show in 2012. The year prior wasn't as impactful as he had hoped. But, it's because a majority of the year was spent revamping the WRX. That said, this thing has taken home trophies from all the major shows such as Hot Import Nights, SPOCOM, Nisei Week Showoff and Motion. Along the way, Dunbar has made new friends and strengthened ties with his car clubs Team Sunworks and TW Competition.
Any way you look at it, this is one bad WRX. And, by bad we mean good. Really good! As many do, Dunbar credits his friends for making all this happen. And, while he doesn't plan on stopping just yet, the car might be up for sale by the time this goes to print (just in case there are any readers interested in continuing the legacy of this WRX). What lies ahead for Chris' next project? We hear he's eyeing a pearl white 2012 Nissan GT-R. To be honest, from the history of his project cars, this one could end up being very scary. Scary in a good way.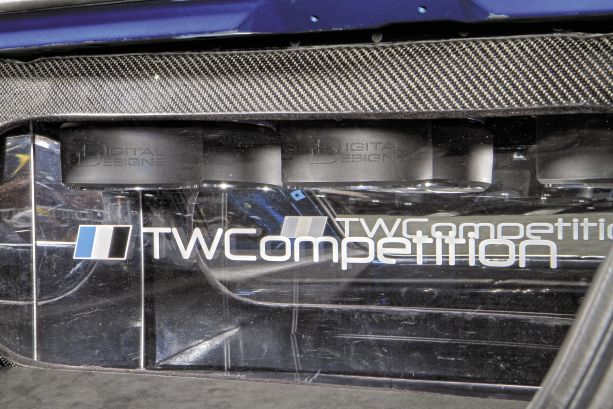 ESSENTIALS
Vehicle: 2006 Subaru WRX TR
Owner: Chris Dunbar
Location: Kennewick, WA. USA
Engine: EJ257 2.65L Turbo
Estimated Max Horsepower: 535 whp
Estimated Max Torque: 400 lb-ft
Top Speed: 195 mph
Curb Weight: 2,960 lb
Web site: www.TuningWerksCompetition.com
ENGINE MODIFICATIONS
Cosworth (long block, port and polish, big bore race heads, 278/280 camshafts, billet crankshaft, connecting rods, piston rings, gaskets, pistons)
Full Race Twin Scroll GT4088R turbocharger
Process West (V-Mount intercooler, custom bored throttle body, intake manifold)
FUKU Works/Samco hoses
TiAL (blow-off valve, wastegate)
Amsoil air filter
Aeromotive fuel pressure regulator
Walbro fuel pump
Corsa Veloce billet fuel rails
Injector Dynamics 2,200 cc fuel injectors
NGK Iridium spark plugs
ARP socket caps
EXHAUST
Full Race (custom four-inch exhaust, twin-scroll headers, up-pipe, down-pipe)
Burns Ti muffler
DRIVETRAIN
Carbonetic (carbon twin-plate clutch, flywheel)
DSS Stage 5 front and rear axles
ACPT carbon fiber drive shaft
Cusco (one-way front LSD, 1.5-way rear LSD)
Andrewtech custom transmission with billet shift forks and carbon syncros
CHASSIS / SUSPENSION
Stance GR+ three-way TrackSpec suspension
Whiteline (bushings, sway bars)
Prodrive billet strut bar
JDM STi control arms
WHEELS / TIRES / BRAKES
HRE 590R (24K gold) wheels – 18x12 (f/r)
Falken 615K tires – 315/30 R18 (f/r)
Movit (six-piston billet front calipers, four-piston billet rear calipers, 15-inch two-piece rotors (f/r), custom braided lines)
Amsoil brake fluid
EXTERIOR
Zero Sports (front bumper, rear bumper, grilles, splitter)
Seibon carbon fiber wide fenders
Custom over flares
2005 taillights
MOBWORKS custom ZR-1 Jetstream Candy Blue paint
INTERIOR
Dunbar Designs custom flocking dash
Key!s suede steering wheel
Zero Sports (shift boot, emergency brake boot)
Prosport gauges (boost, EGT, oil pressure, voltage, water temperature)
Takata harnesses
Carbon fiber WRC floor pans
Bride Carbon Vorga II racing seats
Custom chromoly certified cage
Carbon fiber rear seat delete
Custom Alcantara wrapped interior
AUDIO / MOBILE ELECTRONICS
Sony (XAV70BT head unit, LCD rear view mirror monitor and camera)
Digital Designs (SS5 five-channel amplifier, 1508SC 15-inch subwoofers (x3), component sets (x4)
Optima Yellow Top battery
SPONSORS
V's Performance, Prosport Gauges, Sony, Digital Designs, Cosworth, Full Race, TSS.Fab, Dipped Parts, BLK-Diamond, TW Competition