26 September 2012
Page 1 of 2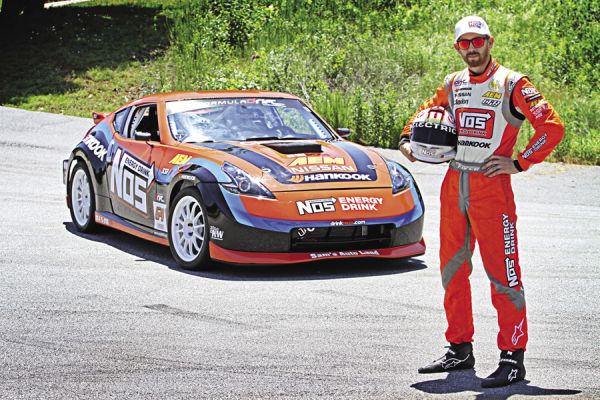 Following his third place finish in the 2011 Formula Drift championship, Chris Forsberg knew he needed to step his up game for the 2012 season. And, while the car you see may look very similar to the one he drove in 2011, the chassis is actually completely new.
---
From the beginning, durability, reliability and serviceability were the focus of the 2012 build. Forsberg teamed up with Ray Shake and Brian Wilkerson at MA Motorsports in Maryland not only to build the car, but also to wrench on it the entire FD season. Last year's car utilized the stock gas tank, a more tame VK56-based motor and nearly all the sheet metal from the headlights back to the taillights. This year's build, however, utilizes a custom fuel cell, boasts a motor with more than 70 horsepower and torque (extra compared to last year's configuration) and features a fairly hefty diet of metal work.
After stripping the car to a bare shell, the MA Motorsports team "back-halved" the chassis by chopping it right behind the factory suspension mounting points (as per FD rules) to leave just enough room to mount a 10-gallon fuel cell and firewall. After seam-welding the remaining chassis for strength, a network of tubing was added to the rear of the car and six-point cage fabricated from scratch to provide protection as well as new mounting locations for bodywork and lighting. To keep the chassis as light and as simple as possible, all unnecessary brackets and metal has been removed from the interior where gusseting is implemented throughout the cage to keep the chassis stiff.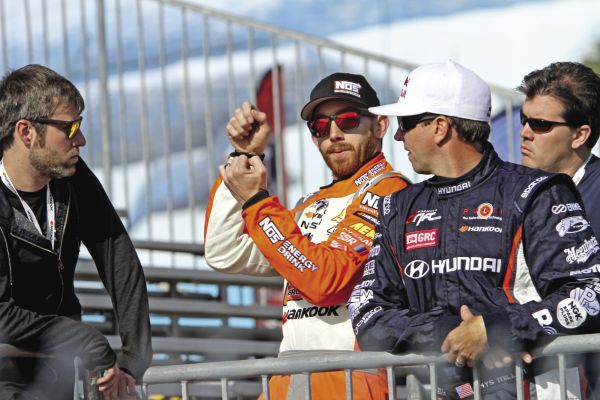 Under the hood, Nissan's VQ37 motor has been ditched in favor of the torque from a V8. Forsberg and his team have decided to stick with the VK56-based Nissan Motorsports 5.6L V8 racing motor that's powered his cars for the past several years. This year's motor, however, runs individual throttle bodies protected by an AEM carbon fiber air box and custom MA Motorsports 4-2-1 long tube headers that expel the fumes to a custom dual 3.5-inch exhaust. An electric water pump and Mishimoto race-spec dual radiator keep things cool while Electromotive ECU and coils take care of the spark.
Internally, the motor is built to unmentionable specifications. It churns out 650 hp and 600 lb-ft of torque to the rear wheels with the power going through an ACT triple plate clutch into a Driveshaft Shop carbon fiber driveshaft and 1,600-hp pro axles. The Tex Racing/G-Force South SR1 racing transmission featuring a Winters quick change differential allows for fast gearing changes at each track that FD visits.
In the suspension department, the front control arms and spindles are replaced with custom Chris Forsberg Racing (CFR) units that maximize steering angle and camber adjustability. Battle Version camber and toe arms take care of the adjustment in the back while CFR sway bars keep the car planted on a set of KW Competition three-way adjustable coil-overs. To further maximize steering angle on the 370Z, the modified steering rack is moved forward and mounted with custom aluminum bushings.
Forsberg has had a long-standing relationship with SSR Wheels and this year's 370Z utilizes the same Type-F wheels he has relied on for the past five seasons. Wrapped with Hankook RS-3 rubber an measuring 18- by 8.5-inches in the front and 18- by 9.5-inches in the rear, braking is handled by the stock calipers with Hawk HP pads all around. To initiate and maintain drifts, a custom hydraulic e-brake with Project Mu D1-spec e-brake pads is used.
The exterior features Nismo front and rear bumpers along with Seibon Carbon dry carbon fiber panels that replace the hood, trunk, doors, fenders and wing. All body and paint work is done by Sam's Auto Land in Gardena, Calif. and is identical to last year's livery. The lighting system is spiced-up by V-LEDs with custom halos, daytime running lights and HIDs.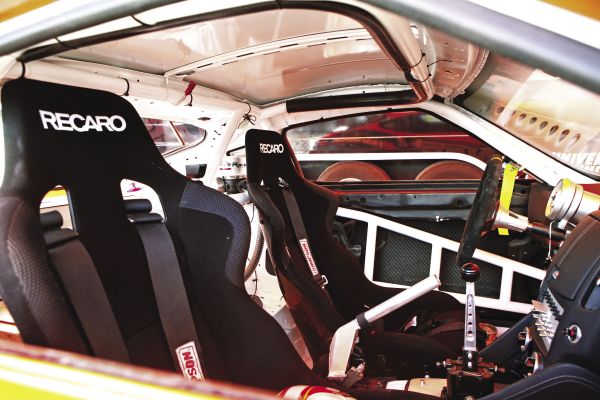 The interior is as minimalistic as it gets while maintaining the requisite safety equipment and engine monitoring. A pair of Recaro SPG seats, Simpson five-point harnesses and FD-spec door bars (for protection when drifting in tandem) keep all occupants safe. All factory wiring has been taken out and a custom race harness built by MA Motorsports powers only the necessary components. Revs are monitored by an AutoMeter tachometer mounted just behind the Sparco steering wheel while a trio of AEM gauges monitoring water temperature, oil pressure and voltage are mounted in the OEM pods on the center console. An AEM AQ-1 data logger and wideband UEGO controller are stashed in the passenger wheel well and keep track of all vital signs.
The new car has proven itself competitive by helping Forsberg earn a second place finish in only its third event. Forsberg continues to chase the championship in the same manufacturer of car that brought him his 2009 championship; and, he hopes to become the first FD driver to win two championships in two different vehicles. You can follow Chris Forsberg and the CFR team at www.chrisforsberg.com or at www.facebook.com/ChrisForsbergRacing.