Written by Dave Pankew | 04 December 2009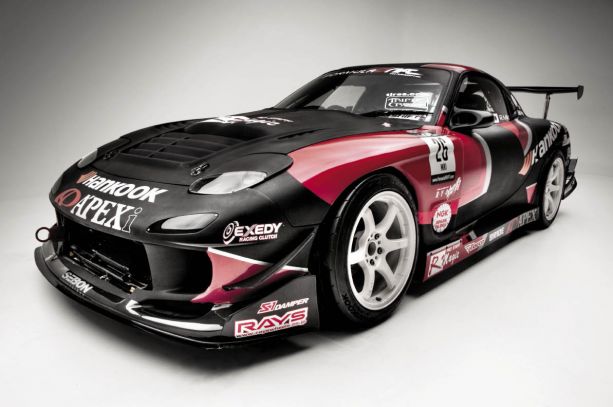 Written by Dave Pankew | Photos by RCH Designs
If you have been in the tuning world for a while chances are you have owned an A'PEXi upgrade of some sort over the years. Although it might not have been one of the super rare electronically-controlled extreme carbon fiber wings you see here adorning your ride, I'm sure it may have been one of their more prolific products like the S-AFC fuel controller or Super Ground kit. A'PEXi has been there for the long haul continuing to innovate despite the challenges. And now, rising from the ashes is one of the cars that made them famous here in North America.
A'PEXi's RX-7 is one rare ride the company has campaigned over the years and is No. 2 of 3 FD3S chassis in their fleet. Built back in 2003 by A'PEXi USA, the No.2 car was built to campaign as a drift car back when D1 Grand Prix drifting first came to the United States. It's sister cars No. 1 and No. 3 were both built in Japan by the A'PEXi Japan staff and campaigned in the D1 Grand Prix Series winning a championship victory back in 2003 with Youichi Imamura behind the wheel. When the D1 schedule became more unpredictable in the US, the No.2 car started gathering dust and we recall seeing it more than once sitting in a solitary corner of A'PEXi's Orange, CA warehouse.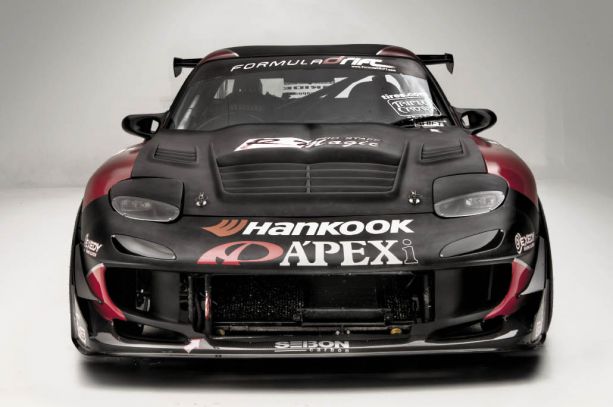 As luck would have it, A'PEXi forged ahead when new partners came aboard. After years of neglect, car No.2 saw full-time action in 2007 in the Formula D Series to attempt to accomplish what A'PEXi had in Japanese professional drifting. Although it had extensive modifications, the car had to be further dialed-in to reach the podium in 2009. It is a rare beast being one of few purpose built cars by a top Japanese manufacturer with a Japanese driver behind the wheel, Ryuji Miki.
When we heard about this car, we knew its history and believed that under the new vinyl, the RX-7 was much of the same. We couldn't have been more wrong since A'PEXi did some major surgery to the car. Originally built as a LHD car, it was converted to RHD to accommodate the Japanese driver's skills behind the wheel. A'PEXi also used this car to develop new products and it truly is a rolling showcase of everything the company offers right down to the oil filter.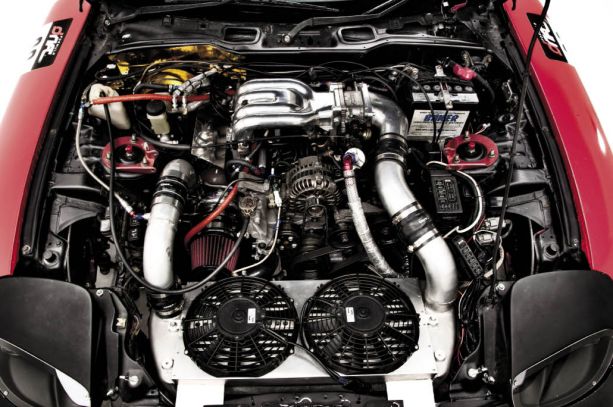 Work got under way on the twin-rotor powerplant, which is a staple of the A'PEXi catalogue. The 5th generation 13B-REW motor was built by R-Magic in Japan using a side port SPL. An A'PEXi RX6 P27 turbine was added to a factory Mazda manifold and is fed by an A'PEXi power intake filter. The compressed air is fed into a maze of A'PEXi intercooler piping and into an A'PEXi Type-B V-mount intercooler. On the hotside, the gases are dumped into an innovative A'PEXi water-cooled wastegate. The spent gases head into an A'PEXi titanium SPL downpipe connected to an A'PEXi N1 ExTi Titanium SPL exhaust with primary 850cc injectors, and secondary 1600cc injectors fed by twin Bosch fuel pumps. NGK plugs light up the mixture all connected with A'PEXi spark plug wires.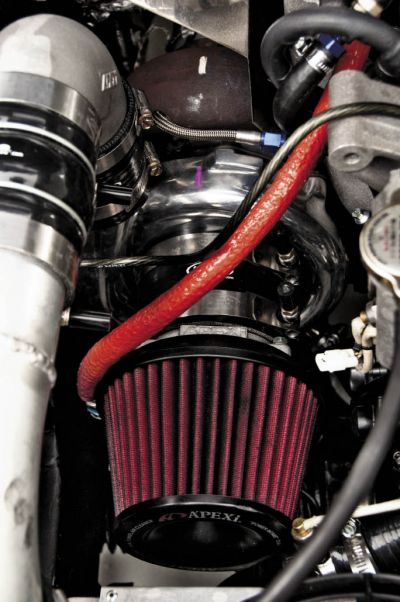 The engine management was a snap using the A'PEXi Power FC, an ECU well known for its ease of use. The boost was regulated using the infamous A'PEXi AVC-R boost controller. The tune was done to achieve decent instant-on power as opposed to just a lofty figure. The dyno yielded 460whp with 390lb-ft of torque, which was going to run through a whole new drivetrain. The A'PEXi team installed a stout G-Force 4-speed race tranny along with an Exedy twin-plate carbon clutch with integrated Chromoly flywheel. The custom lightweight driveshaft spins up an OS Giken Super Lock LSD for a positive connection to the road.
The attention to detail on the chassis and body is evident. An R-Magic GT widebody kit has been installed consisting of front and rear bumpers, fenders and sideskirts to round out the sinister appearance of the car. An R-Magic Type II vented carbon fiber hood was added along with Seibon carbon fiber doors and an elaborate CF rear hatch to reduce weight.
Underneath, the car was fitted with an R-Magic undertray and rear diffuser along with canards to reduce lift. An A'PEXi electronically-controlled Extreme carbon fiber wing is found on the hatch that can be adjusted from inside the car for maximum downforce. The shell was then taken to a shop called Downforce to hit it with matte black, while S&A Design and Graphtech plastered it in vinyl.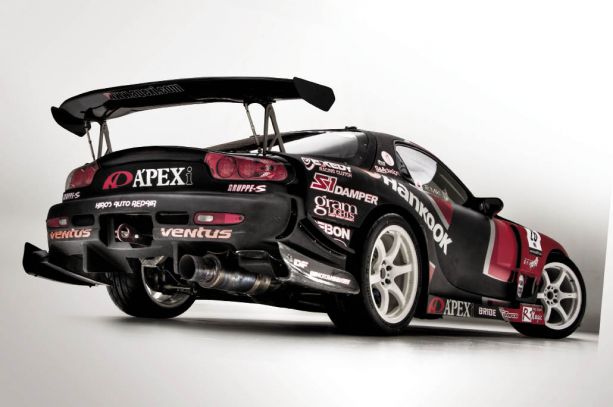 The rolling gear required some careful selection. A'PEXi sourced out some staggered Gram Light 57 Max wheels from Rays in 17x9 and 18x9.5-inch flavors. The multiple sets of wheels are cloaked in multiple sets of Hankook Ventus RS-3 tires with a 225/45R17 up front and a 265/35R18 in the rear.
Keeping the car under control while sideways was again dealt with by opening an A'PEXi catalogue. A set of their off-the-shelf S1 dampers were fitted with N1 springs rated at 22Kg up front and 10Kg in the rear making this definitely not a street machine. Ikeya Formula helped out by providing a set of their front lower arms and both upper and lower arms in the rear. The suspension was all pieced back together with R-Magic bushings pressed in. The steering components were of course heavily modified by A'PEXi to achieve the extreme angle needed in competition. Braking was ramped up by using Hawk HP+ pads gripping Dixcel slotted rotors.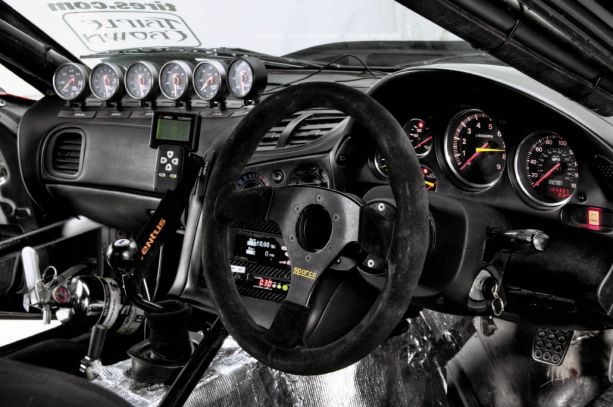 A stripped interior was the perfect canvas for a Formula D-spec cage. Bride Zeta III seats were bolted in and dressed with Sparco 5-point harnesses. A Sparco MOD 383 steering wheel was added in addition to an APR titanium shift knob. All of the vitals relayed to the driver are delivered via gauges from A'PEXi. The ELII System Meters include: boost, EGT, oil temperature, water temperature, oil pressure and fuel pressure. There were also a couple of not-so standard meters in the mix for transmission and differential temperature mounted under the hatch Lexan for the pit crew to view.
After hundreds of man hours, the end result has brought this car back into the spotlight (and podium) once again, and A'PEXi has returned with a fair degree of success. They set out to occupy some podiums in 2009 and they accomplished just that by bagging 3rd place at Sonoma and 2nd place in Las Vegas. At this pace, we should see a first place podium next year and with some consistency we might see a repeat of what A'PEXi accomplished so many years ago.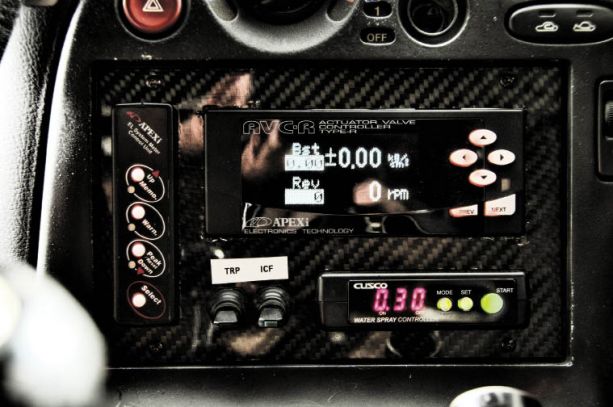 ESSENTIALS // Owner: A'PEXi USA | Location: Orange, CA. USA | Vehicle: 2000 JDM Mazda RX-7 | Power: 460whp with 390lb-ft | Engine: Mazda 1.3L 13B 2-Rotor
ENGINE MODIFICATIONS // Engine built by R-Magic Japan | R-Magic Sideport | A'PEXi RX6 P27 turbine | A'PEXi AX Turbo Manifold SS | A'PEXi power intake filter | A'PEXi intercooler piping | A'PEXi Type-B V-mount intercooler | A'PEXi water-cooled wastegate | A'PEXi Titanium SPL downpipe | A'PEXi N1 ExTi Titanium SPL | A'PEXi 850cc injectors w/ 1600cc secondary | Bosch fuel pumps x 2 NGK | A'PEXi spark plug wires | Setrab Oil Cooler
ENGINE MANAGEMENT // A'PEXi Power FC | A'PEXi AVC-R
DRIVELINE // G-Force 4-speed box | Exedy Hyper carbon twin plate | OS Giken Super Lock | Setrab transmission cooler
SUSPENSION | A'PEXi S1 dampers | A'PEXi N1 springs 22Kg / 10Kg | Ikeya Formula suspension links | R-Magic bushings | A'PEXi SPL steering rack and links
WHEELS, TIRES, BRAKES // Gram Light 57 Max wheels; 17x9-inch +12, 18x9.5-inch +22 (r) | Hankook Ventus RS-3 tires; 225/45R17 (f), 265/35R18 (r) | Hawk HP+ pads | Dixcel slotted rotors
EXTERIOR // R-Magic GT widebody kit | R-Magic Type II vented carbon fiber hood | Seibon carbon fiber doors | Seibon CF rear hatch | R-Magic undertray | R-Magic rear diffuser | R-Magic canards | A'PEXi electronically-controlled Extreme wing | Downforce bodywork & paint | S&A Design / Graphtech vinyl graphics
INTERIOR // Formula D-spec cage by A'PEXi | Bride Zeta III seats | Sparco 5-point harnesses | Sparco MOD 383 steering wheel | APR shift knob | A'PEXi. The ELII System Meters (boost, EGT, oil temperature, water temperature, oil pressure, fuel pressure)
SHOUTOUTS // Hankook Tire (www.hankooktireusa.com) | Exedy Clutch (www.exedyusa.com) | R-Magic (www.rmagic.net) | Mackin Industries (www.mackinindustries.com) | NGK Spark Plugs (www.ngksparkplugs.com) | BRIDE (www.lot-usa.com) | Seibon Carbon (www.seiboncarbon.com) | Torco Oil (www.torcooil.com) | Dynamic Autosports | S&A Design | Downforce