Written by Dave Pankew | Photos by Mike Gazda & Jeremy Glover | 04 December 2009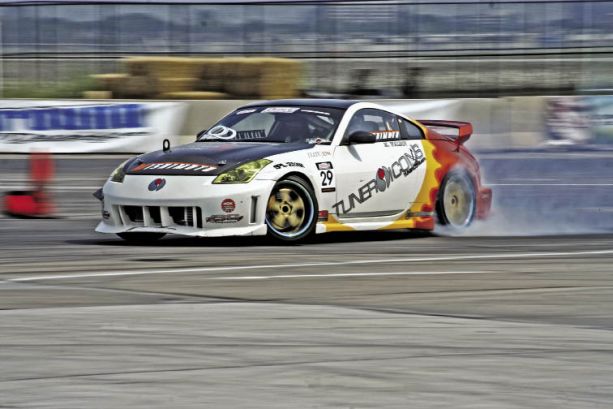 In competition anything can happen. Sometimes the big budget teams disappoint event after event and then pullout altogether or you can have more grassroots entries with no sponsorship, taking down the big guns. That is the case with Matt Waldin in his near-stock Nismo 350Z. As the owner of Import Intelligence, a speed shop in West Chester, PA, he wanted to accomplish two very important goals: get the shop name out there and have fun! Waldin never expected to be a contender for the DMCC championship, but that is exactly what's happened.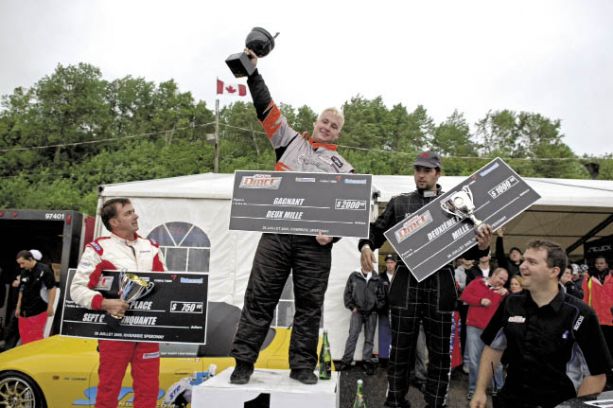 "I don't have the big money that other teams have," states Waldin "but it didn't seem to matter because our hard work has put us in first place and with a legitimate shot at the title," he added.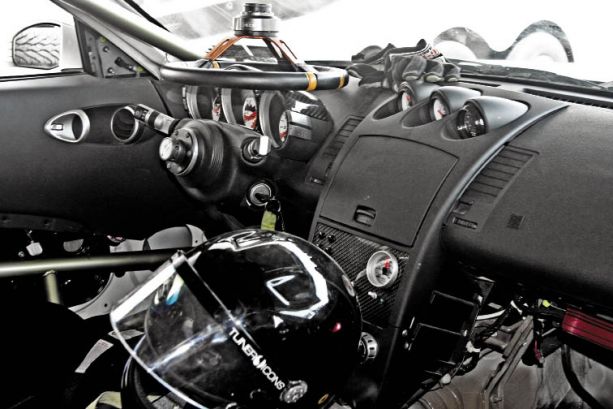 When we quizzed Waldin on how the car has been built to be competitive, we were surprised there is still a lot of OEM Nismo gear in the car that it came with from the factory. However, 305HP at the flywheel wasn't going to cut it, so the team looked at forced induction options. They kept arriving at the same conclusion over and over – APS from Australia. This twin turbo kit has proven gains, superior reliability and required minimal modification to work with the HR engine. The turbo kit was fitted with a TiAL blow-off valve at the throttle body and dual 38mm wastegates to regulate the boost. They added twin 3.5-inch downpipes that branch off into external dump pipes before meeting a custom stainless system. Twin Walbro pumps feed the fire of 14psi in the chamber that is lit up by NGK Iridium plugs. Surprisingly this is all pumped through a VQ35HR engine that is 110% stock.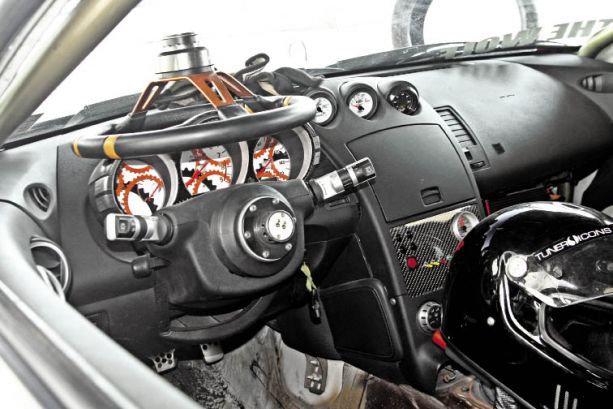 However, Waldin turned to the helpful and very supportive team at Mishimoto to supply the coolers. They supplied an aluminum radiator and electric fans in addition to two oil coolers. Mishimoto also covers all of Waldon's fuel costs too which helps the bottom line. When it came to engine management Waldin turned to Haltech to oversee operations with their Platinum unit. The final numbers were very respectable, netting 464whp with "more than enough torque" according to Waldin. In order to hold it all down, Waldin opted to install a Competition Clutch 6-puck, lightweight flywheel and capped it all off with a Carbonetic 1.5-way LSD.
The focus turned to the suspension where Waldin went with a new player on the scene. BC Racing suspension Type BR coilovers were added for increased adjustability and control. The factory suspension arms were pulled to make way for SPL links including front camber arms, rear toe arms, rear trailing arms, tie rods and subframe bushings. The chassis itself was stiffened with a 6-point safety cage built by MA Motorsports in Baltimore, MD. From there the rear firewall was cut out to reduce weight in addition to all Speed Glass Lexan windows.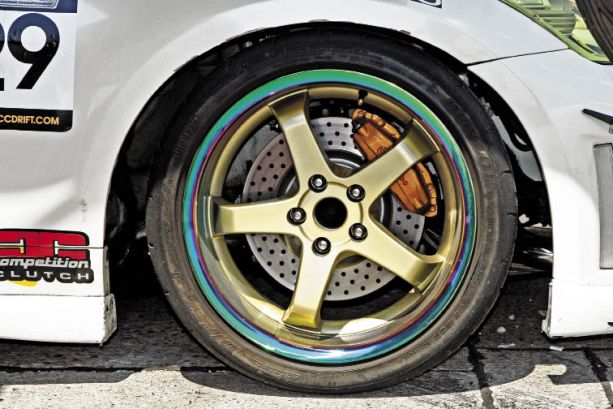 Getting the right amount of control and slide is all about the wheels and tires. Ti wheels stepped in to provide a set of 18x9.5-inch wheels on all four corners but as for the rubber no one has come forward. "What tires do I run?" asked Waldin "Anything that I can find really. Kumho, Falken, BFG, where are you at? I hope you are reading," he laughs.
From the outside, the car is wearing all of the stock Nismo bodywork, but with paint and graphics by Import Intelligence. The inside however has undergone extensive modifications. First the interior was gutted out and a cage was added. Sparco EVO II seats were added along with G-Force 5-point harnesses. Import Intelligence gauges were added to keep an eye on all of the engine functions. A MOMO wheel and NRG quick release was bolted up along with a K-Sport e-brake for the monster slides.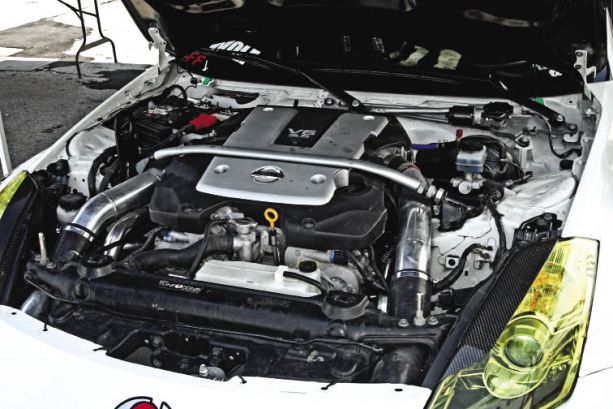 For now Waldin is doing some damage in the DMCC series and has big plans for the future. "We'd love to be involved in Formula D, but that series is too Western focused." Waldin admitted. "The DMCC is awesome, great competition, great fans and all of the events are within a 10 hour drive; it's perfect and cost effective. Plus if I take the championship, I'm headed to the Red Bull World Championships, which would be a dream come true." With that kind of attitude, sounds like we'll be hearing a lot more of Waldin in the future.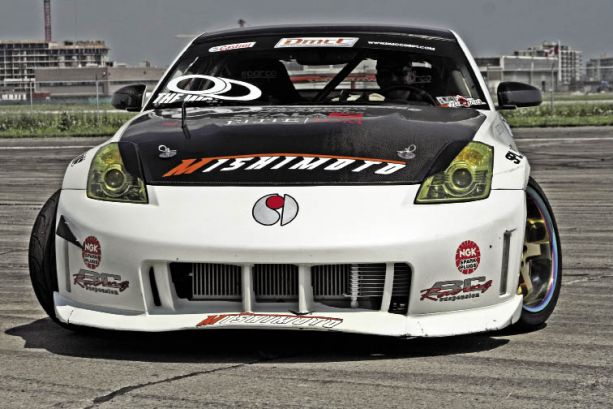 THE ESSENTIALS
Driver: Matt Waldin
Location: West Chester, PA
Vehicle: 2008 Nissan 350Z Nismo Edition
Power: 464whp

ENGINE
Nissan 3.5L VQ35HR V6

ENGINE MODIFICATIONS
APS Extreme twin turbo kit
APS systems dual intakes.
TiAL blow off valve
TiAL 38mm wastegates
Mishimoto radiators
Mishimoto oil coolers
Import Intelligences 8L oil pan
3.5-inch downpipes with cutouts
Walbro 255lph pumps.

ENGINE MANAGEMENT
Haltech Platinum standalone ECU

DRIVELINE
Carbonetics 1.5-way LSD
Competition Clutch sprung 6-puck clutch
Competition Clutch flywheel

WHEELS & TIRES
Ti 18x9.5-inch wheels
Need a tire sponsor...CALL ME!

SUSPENSION
BC Racing BR Type coilovers
SPL arms: front camber, rear toe, rear trailing
SPL tie rods
SPL subframe bushings

EXTERIOR
Nismo Bodykit
Import Intelligence bodywork and paint
Car Optics headlight film
Speed Glass Lexan windows

INTERIOR
G-Force Harness
Sparco EVO II seats
Import Intelligence gauges
Momo steering wheel
NRG quick release
K-Sport e-brake
Summit fuel cell (for Chevy Nova)

SHOUTOUTS
Tony Martin
Dave Pankew
Mike at Mishimoto
Drift Mania