27 November 2012
Page 1 of 2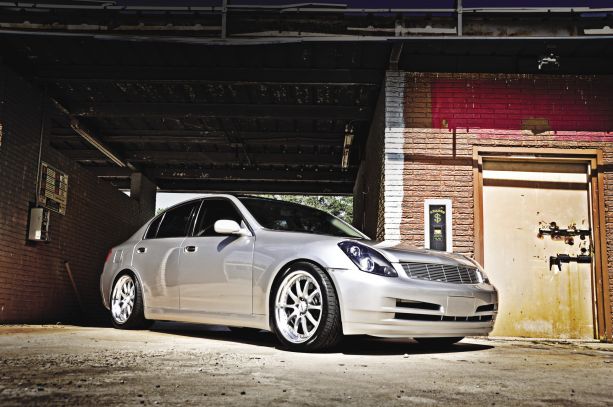 Written by David MacKinnon / Photograohy by Klifton Keplinger
How many of you know of someone who has taken a daily driven vehicle - even one that was used for parts to finish another project car - and turned it into a piece of art? The 2003 Infiniti G35 you see on these pages is one of those vehicles. It was originally purchased as a way to get around, to grab groceries, and most importantly, to pick up parts for "Black Betty" (a $300K Nissan 260SX Spec GT-R project car, shown in these pages exactly a year ago). Scott Buwalda owns this G35, and after deciding to perform a simple upgrade to improve his travels, it quickly expanded into a competition vehicle project. After all, when you are the founder and owner of Hybrid Audio, one of the world's top mobile audio speaker manufacturers, your car's destiny is always in question.
While the heart of this car lies in its audio system, Buwalda likes his performance just as much. He upped the output of the VQ35 engine to nearly 300 hp with the help of products from Jim Wolf, Greddy and Z1 Motorsports.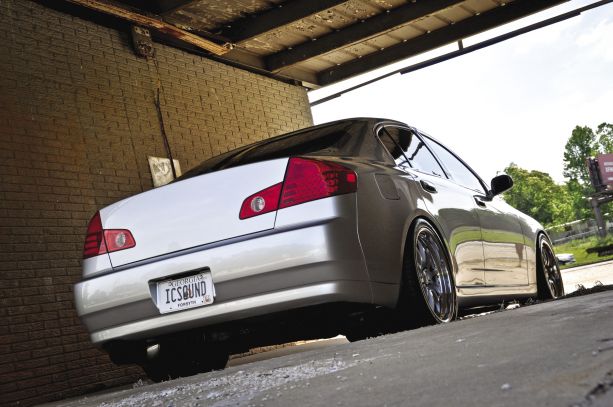 He cleaned up the exterior by removing the side moldings, and coating it in a Brilliant Silver with a bold black roof. JDM-spec lighting is installed throughout the G35, which rolls on 19-inch Forgeline ZX3R racing wheels wrapped in Hankook Ventus V12 rubber – 275s in the front and 305s in the rear. BC Racing coilovers keep the tires on the ground and Willwood brakes give the car some much needed stopping power.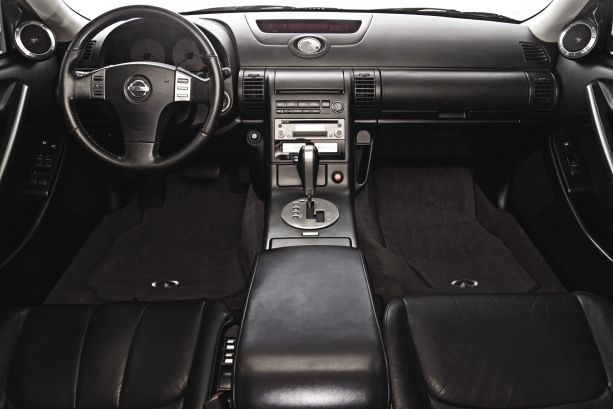 The audio system starts with a McIntosh MX5000 head unit into a processor that Buwalda refers to as a "Franken-Processor." In a previous life this was an Audison Bit One, but nearly everything has been upgraded to bring the performance in line with the rest of the components, including a JK Labs digital volume control interface. The signal then travels to six JL Audio 750/1 monoblock amplifiers.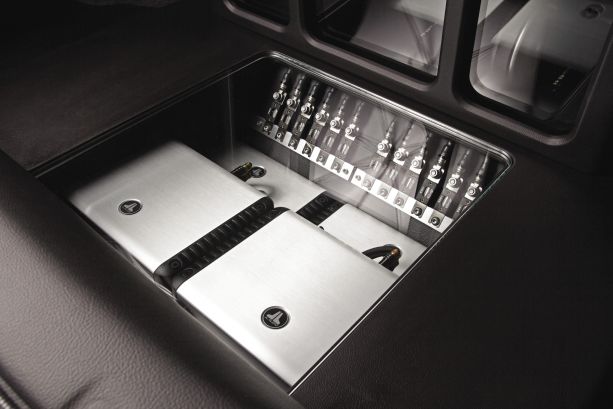 One pair of amplifiers feeds a set of Hybrid Audio Technologies Legatia L3SE 3.7-inch wide-bandwidth, high-frequency drivers. A second pair of amps feed Hybrid Legatia L8SE 8.85-inch drivers to produce midbass. The final pair of amps each feed a pair of Hybrid Imagine I6SW 6.5-inch subwoofers. Yes, Buwalda put a 750-watt mono block on every front-stage speaker. That's 3,000 watts to the front four speakers. Talk about headroom!
In case you thought there is a crucial component missing, you're right - there are no tweeters in this system. Buwalda purposely did this, as the Legatia L3SE drivers are capable of playing frequencies to 20,000 Hz when installed less than 30-degrees off-axis. This is truly a remarkable feat of engineering. It also means that there is no crossover in the ever-so-delicate midrange group of frequencies, which can cause phase errors and distortion. This means smooth response and no phase issues throughout the audio spectrum.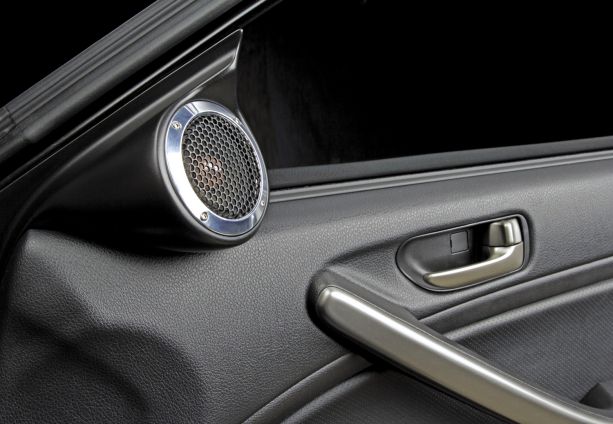 The mids are installed in custom pods in each door near the mirrors, with an infinite baffle in the door frame. Each of the pods was treated to a cosmetic finish to match the interior, from color, grain, and texture, and protected by custom CNC perforated mesh grills.