Written by Steven Loung. Photography by ICON Media | 27 November 2012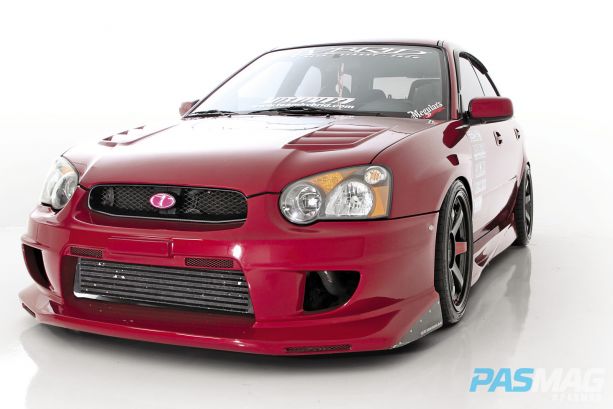 When Joseph Bacigalupi got his 2005 Subaru WRX he had no intention of modifying it. While he convinced himself that the wagon would be good to get him and his wife through the snow and take his dog around town, he had no idea what was in store for this five-door hatch. A member of the esteemed Team Hybrid car club, he couldn't help but give into his tuner soul after his wife first bought a set of GramLight 57 rims for the car. He says they looked awful. Lucky for us, this opened the modification floodgates – he started by lowering the car, then turned it into one hell of a finished product.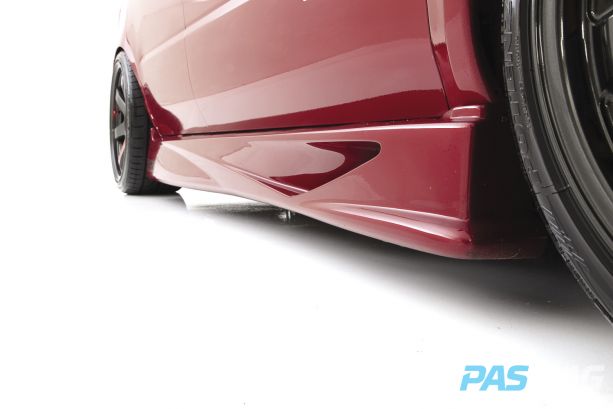 Off the bat, the most noticeable part of it is the unique body style - the entire car is wrapped in a Voltex Racing body kit. Everything from the front bumper and side skirts, to the rear diffuser and front splitter has been covered in the Japanese racing armor.
The hood was actually a Christmas present to Bacigalupi from his wife after she vetoed his request to get a Seibon carbon fiber hood. Instead, she ordered a painted Voltex hood with a carbon fiber scoop-delete, giving it just the right amount to match the body.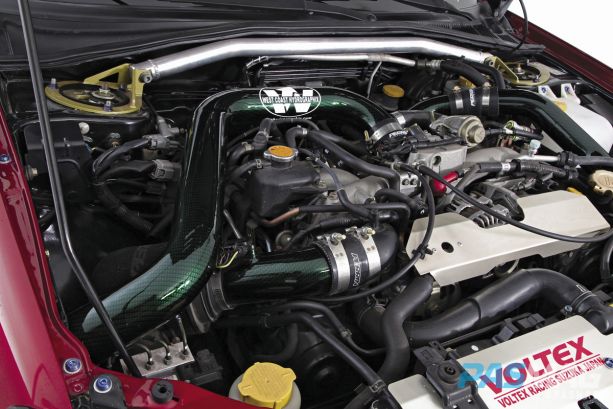 Underneath the hood it's easy to see this is no ordinary 2.0L Subaru EJ20T engine. Bacigalupi managed to squeeze out 290 whp after swapping the stock turbo with a Tomei ARMS M7760 turbocharger and Power Enterprise 800cc injectors.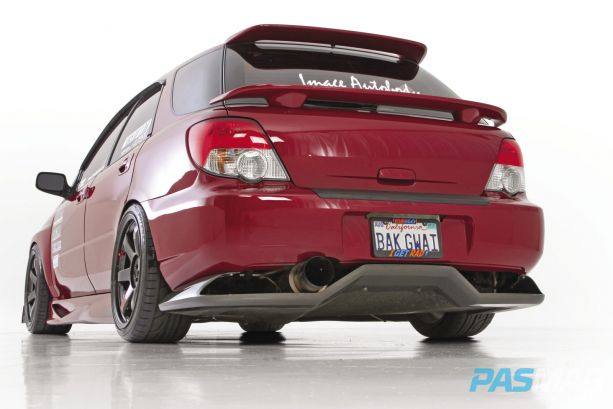 A "stealth" version of a Perrin intercooler has been installed, and a Trust full-titanium exhaust and exhaust tip amplifies the engine's throaty howl.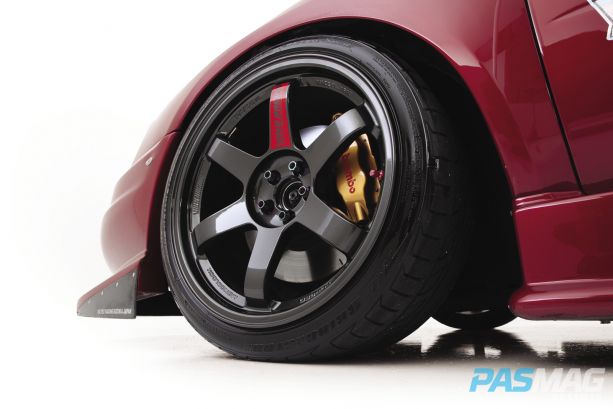 Putting the added muscle to the ground are 18-inch Diamond Black painted Volk TE37sl rims, wrapped in Bridgestone RE0760 tires. Stopping power is accommodated by a set of Brembo STi calipers - four-piston in the front, and two-piston in the rear.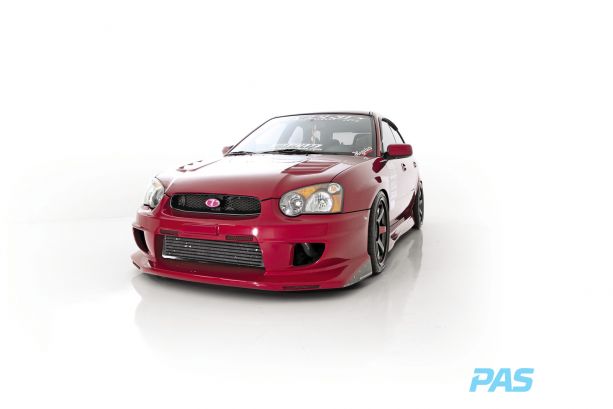 A Cusco swaybar, Whiteline endlinks, and Beatrush strut bars keep the suspension tight but comfortable, while Stance GR + Pro coilovers and camber adjustments give it a menacing and aggressive stance.
A tedious three-stage Matador Red Mica paint job complements the Subaru's almost weapon-like look and feel, and the interior takes the WRX to the next level, matching the exterior color scheme with black suede and red highlights. A Sabelt four-point harness keeps the driver in place at all times, while the steering wheel is a special Vertex 20th anniversary model with mounted to a Works Bell Rapfix II quick release hub.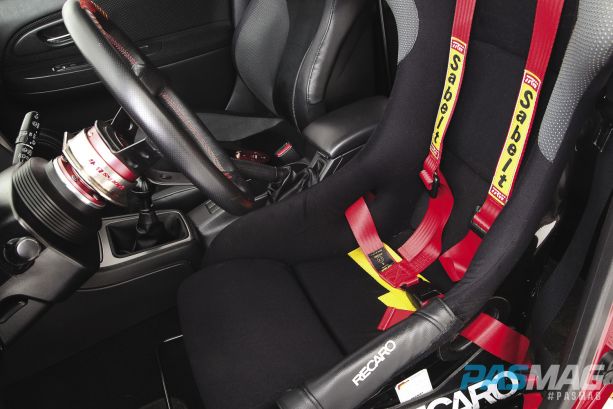 The OEM seats have been replaced with Recaro Mitsubishi Lancer Evo IX bucket seats with suede inserts.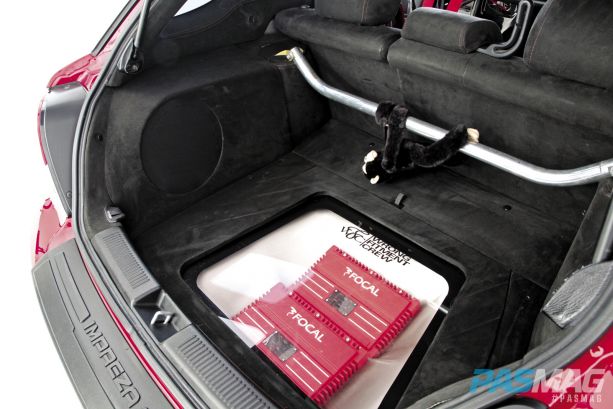 Going to the back of the car, a custom amp rack and subwoofer enclosure features a Focal Solid1 sub amp and a Solid 4 high frequency amp, and a JL Audio 10-inch W6 sub. Focal speakers are used throughout the car and an Alpine INA W900 head unit acts as the master control.
They say great things happen when you least suspect, and when it comes to Bacigalupi's WRX that's exactly the case. What started off as nothing more than a daily driver, this Subaru has seen multiple podium finishes since he began showing it in 2010.
With that said, he still uses the car for one of its original intentions. While he's never driven it in the snow, Bacigalupi still takes it out with his dog for the occasional drive. So while this WRX is one awesome tuner, it's also probably the world's most pimped out dog kennel!
ESSENTIALS
Vehicle: 2005 Subaru WRX Wagon
Owner: Joseph Bacigalupi
Location: Pacifica, California
Club Affiliation: Team Hybrid
Engine: 2.0L Subaru EJ20T
ENGINE MODIFICATIONS
Tomei ARMS M7760 turbo
Perrin stealth intercooler
Perrin (intercooler piping that has a hydro-dipped carbon look then sprayed green over the top, air filter, big MAF intake)
Walbro 255 fuel pump
Power Enterprise 800cc injectors
NGK Iridium spark plugs
Mishsimoto (WRX aluminum radiator, WRX aluminum fan shroud, WRX aluminum upper radiator hose, WRX silicone radiator hose kit, oil filter sandwich plate, two-inch heat defense tape, aluminum coolant tank)
EXHAUST
Trust (Ti-R PE full titanium exhaust, exhaust tip)
GT Spec header
Helix (flex up-pipe, catted down pipe, high flow cat)
CHASSIS / SUSPENSION
Stance (GR + Pro coilovers, front and rear camber plates)
Cusco (adjustable rear sway bar, rear diffuser bar)
Whiteline (wagon-specific front sway bar, front and rear endlinks, roll center adjustment kit)
Beatrush front and rear strut bars
Ingalls front and rear camber bolts
WHEELS / TIRES / BRAKES
Volk TE37sl wheels in Diamond Black – 18 x 9.5 +22 (f), 18 x 9.5 +22 (r)
Bridgestone RE0760 tires – 245/35/zr18 (f), 245/35/zr18 (r)
Brembo (STi four-piston front brake calipers, STi two-piston rear brake calipers)
FastWRX.com rear Brembo conversion kit
Hawk HP Plus brake pads
DBA (4000 series one-piece slotted and drilled STi front rotor, 4000 series one-piece slotted and drilled conversion rotor)
Goodrich braided lines
Endless brake fluid
EXTERIOR
Voltex Racing (full body kit, front bumper, custom fit carbon fiber rear diffuser, side skirts, GT hood with carbon fiber scoop delete, front under tray)
Hydro-dipped carbon fiber grille
OEM Subaru STi front fenders
Custom widened rear fenders
JDM STi wagon roof rail delete
Three-stage Matador Red Mica paint job
JDM Subaru rain guards
Windows tinted 35% all around
Body work done by Image Auto Body
INTERIOR
Black suede upholstering with red stitching
Vertex 20th anniversary 330mm deep core steering wheel with red stitching and lettering
Recaro (SPG, mount/slider, slide mounts, Evo IX seat)
Sabelt driver seat harness
WorksBell (Rapfix II quick release in red, splash short hub, steering wheel lock)
Apexl turbo timer
HKS harness
AUDIO / MOBILE ELECTRONICS
Alpine INA W900 head unit with seven-inch touchscreen double-din deck with navigation, DVD and Bluetooth
Focal (Solid1 sub amp, Solid 4 high frequency amp, 165 KR2 6.5" component set, 100 KR2 four-inch component set)
JL Audio 10-inch W6 subwoofer
Stinger Red Top battery
Custom (A pillars, amp rack, subwoofer enclosure by Dave Chan)
SPONSORS
Mach III, Image Auto Body, Meguiars, NOS Energy Drinks, Mishimoto