Written by Dave Pankew and Jacob Leveton // Photos by Jacob Leveton | 07 December 2009
Page 1 of 2
Ask any Nissan enthusiast and they will tell you an S-Chassis cars should be powered by a turbo-4. Not an NA truck motor and certainly not a V8 but an SR20 with a small,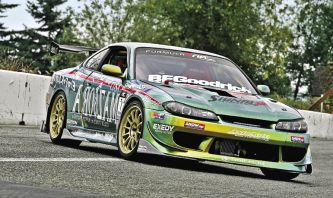 responsive turbo hanging off it. But at the competition level, drivers complain that these motors make less torque than a rider mower and turbo'ing the KA24 makes some twist but often fails at the most inappropriate times. There are a select few pros that have utilized the massive engine bay in these cars and sleeved in a V8.
Last year, the boys from Drift Emporium ran a successful 2-car team for Signal Auto at the selected Formula D events. With their success, Signal gave the Drift Emporium guys a big green light to pursue the entire Formula D schedule with a 4-car team. PASMAG already gave you the inside scoop on the V8-powered G35 twin drift cars driven by Jodin Lejeune and Ron Ewerth. The crew at Drift Emporium also gave us first crack at this 1999 Silvia S15 drift car, piloted by FD veteran Kenji Yamanaka. While at first glance, this may look like a cookie-cutter Signal Auto MAZiORA painted Silvia but you'll soon find out that this car has far more guts than your average Silvia.
At the beginning of the year, the plan for the Drift Emporium team was clear – high displacement, torquey V8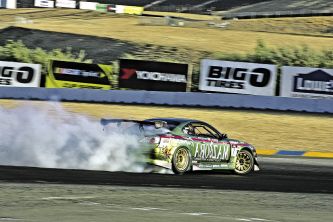 motors were going to be the theme under the hood. Originally, both G35's and Kenji's S15 were converted to Nissan-powered VK56 engines, a motorswap pioneered by Chris Forsberg just three short years ago. While the 300hp that the VK puts out isn't much to hype up, the 400 lb-ft of torque which kicks in around 3000 RPM is perfect for slideways action. Of course, Drift Emporium wasn't happy with just dropping a stock motor into the car – Jim Wolf Technology cams and valvesprings upgraded the rotational mass, with custom headers, transmission adaptor plate, motor mounts, and oil pan placed the motor into the Silvia engine bay nicely. Never seen this engine and chassis combination before? That's because this is believed to be the world's first Nissan V8-powered S15!!
One of the known issues with the VK56 engine in the S-chassis is the clearance of the intake manifold. Drift Emporium teamed up with the folks at Extrudabody to develop a prototype individual throttle body system mated to a custom adaptor plate and tuned with a Haltech ECU to make some jam from the V8 engine and greatly improve throttle response. All the power is driven through a custom Exedy triple, custom one-off aluminum driveshaft, and Tomei 2-way LSD. Although a lot of custom work went into the engine setup, the whine of this V8 coming from under the hood of the S15 and the equally head-turning drivability makes this car a serious threat to the competition!
On the outside, the car is hard to miss. Color-shift MAZiORA paint was laid by none other than Kenji Yamanaka himself – that's right, he's a driver and the artist behind this project!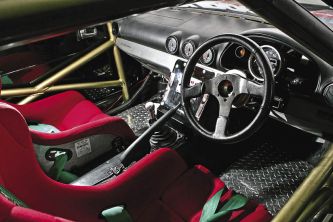 Here is a bit of trivia; Kenji has painted nearly every car he has driven over the past few years, and this job is his favorite. Walking around the car, the Vertex bodykit is one of the baddest on the S15 chassis and has been accented with a Buddy Club carbon fiber wing. The SSR Type-F 18-inch wheels make for a timeless combination running BFGoodrich g-Force T/A KDW II tires with JIC FLT-RS coilover suspension that make the magic happen on the track. Mothers Car Care provides the entire Drift Emporium team with cleaning products to keep the tire rubber off the amazing paint, and Ultimate Auto Boutique takes care of any body damage and repairs between rounds, which can and will happen!
Inside the cockpit, BRIDE racing seats hold Kenji in place while he drifts, Takata 4-point harnesses keep him strapped down, and the custom Drift Emporium gold-painted fully-welded roll cage keeps Kenji and any lucky ride-along participants safe. A'PEXi gauges monitor the engine vital signs up front and a custom switch panel keeps everything in easy reach. A custom battery box holding an Optima red-top and fuel cell are secured in the trunk for safety. Going over this car with trained eye, it's clear to see that every aspect of this drift car has been carefully planned from start to finish.
Kenji Yamanaka is still a force to be reckoned with in the drifting world. When his ITB'd V8 S15 starts up, the sound is unmistakable and the power is there to cause a real disturbance. With partners like Jim Wolf, Signal Auto, and BFGoodrich behind them, Drift Emporium is sure to be one of the most stylish and most innovative teams in US drifting! The 2007 Formula D rookie of the year Michihiro Takatori will be piloting the car in 2010.

Read on for Full Spec Sheet