Written by Dave Pankew // Photos by RCH Designs | 07 December 2009
Page 1 of 2
Many enthusiasts forget that Infiniti actually makes quite a few different luxury cars, SUVs and crossovers. There were some highlights over the years like the G35 coupe and some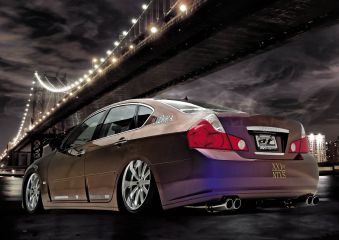 low points like the old school J30. There were also some great cars that never gained any traction like the legendary Q45. Over time, the lack of interest spelled the end of the luxurious Q and by default the M became the flagship (well, sedan anyway). Not to jinx the platform, but they are still a rare sight on today's roads too.
So, it isn't often that a tuned-out VIP style M35 pops up (read: never). It was well worth a second look because the builder, David Huang is a recognized tuner who's earned a reputation for building several feature worthy projects in the past. Huang's first major builds involved Lexus and Scion branded platforms, so this was a departure toward a more upscale direction. Infiniti execs believed in him and his proven track record enough to offer him this Infiniti as a canvas to build upon and tour to events.
Originally, Nissan North America was supposed to give Huang a brand new Nissan Cube to build after they recognized his achievement with the Scion Tuner Challenge from 2006 to 2007. "The Cube was not released until the L.A. Auto Show last year," says Huang. "So my plan changed and I decided to shift focus toward this demo-VIP project aiming to strengthen the aftermarket capability for the Infiniti brand," he explains.
Sounds easy enough, free car and all… but they only gave Huang 50 days to finish the build, "The team finished in 40," smiles Huang. We got the skinny on what makes this car unique directly from this talented builder. The car was taken to AutoFashion USA in San Diego, where the turbo install would begin. A GReddy twin turbo kit featuring: TD06SH-20G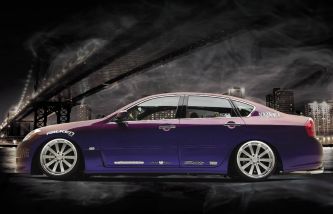 turbos, AiriNX filters, intercoolers and all piping was installed. The fuel system was ramped up with GReddy rails, 440cc injectors and FPR. The cool side is vented with a GReddy Type-S BOVs while the hot gases flow into GReddy manifolds and are regulated by GReddy wastegates before dumping into a rare Junction Produce Type III quad exhaust. The whole ensemble was organized by GReddy's e-Manage Ultimate piggy back-ECU. The sum of the parts equalled 420awhp on the AWD dyno and 310lb-ft of twist.
Huang turned to popular VIP-specific tuner brand, Junction Produce for some visual inspiration. Since the M35 is a JDM Fuga (that name would flop here) there were loads of parts in stock. A full Junction Produce VIP widen aero kit was added in addition to wider door caps to complete the look. K&W Autobody fabricated a flat black grille and they moulded the entire widebody. The paint is imported from Japan, five layers of a special color-shift MAZiORA hue called "ShowOpt VIP" named after Huang's company to coat the whole car. The paint scheme has generated so much interest, that Maziora has just made the paint an addition to their latest 2010 catalog known as Amethist.
The decidedly JDM appearance could only be complimented from some of Japan's finest – Rays wheels. The model is the Progressive TS, a stunning wheel with a 20x9.5-inch front and 20x10-inch rear. Some Falken FK452s are carefully stretched and undersized at 225/30R20 up front and only 245/30R20s out back. Huang wanted the car to lay frame too and the only way that was possible was to get some air ride under it. He turned to the experts at Air Runner of Japan for the product and technical know-how to make this all work. Everything from the struts, to tanks and controls were supplied and installed by the very experienced team at Air Runner.
The final touches would be made on the inside of the M. Since Huang is a car show veteran, he knew there would be many points left on the table if he didn't spend a lot of time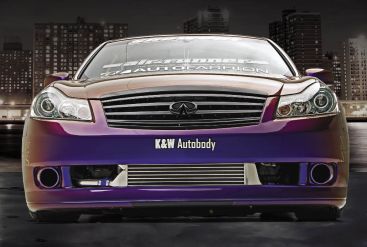 here. AutoFashion was put in charge of converting the interior to a custom black and cashmere 2-tone. Everything from the diamond stitch seats to the suede recovered panels found throughout the car is from the San Diego-based shop. Accessories from BELAZZA of Japan found their way throughout the interior including: floor mats, shift knob, steering wheel and the trademark motif of VIP cars – rear window curtains!
The mobile electronics specialists at Soundstream then stepped in to hook up the audio and video in Huang's custom VIP creation. The entire system is orchestrated by a Soundstream 6500 head unit integrated with the OEM navigation system screen and two additional Soundstream 11.5-inch LCDs. The subwoofer amps are Soundstream Tarantula monoblocks and a pair of 4-channel amplifiers run the mids and highs. A pair of Soundstream SCX6 subs are in an AutoFashion custom sealed enclosure to drive the lows. Inside the cabin, a pair of Soundstream Tarantula components were installed in the front and rear doors, complete with separate tweeters and a center channel to ensure this high end system sounds just right. The entire multimedia system is connected with Soundstream wiring, fuses and distribution blocks and lit up by Optima's powerhouse, the blue top.
Although Huang didn't get his Nissan Cube project to happen as planned, we're sure glad he got his hands on this Infiniti M35X and transformed it into one of the hottest VIP projects on the scene. The M-class cars might not be as popular with enthusiasts, but thanks to the bright future of VIP tuning and Huang's strong efforts it's just a matter of time until we see many more examples. Huang has proven and demonstrated his automotive passion and this project is another mission accomplished, as he's shown the customizing world what can be achieved. Don't be surprised if you see other car builders jump onboard following suit.
Read on for Full Spec Sheet