Written by PAS Staff | 28 January 2013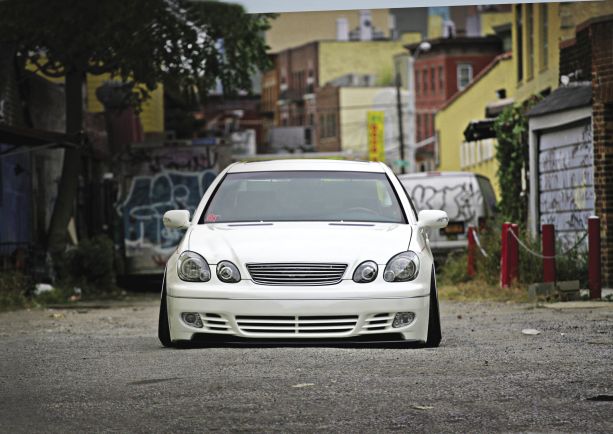 In the Fall of 2011, the fate of New York's Tyrone Pertab's 2000 Lexus GS 400 was left to hang in the balance. Pertab put the car up for sale, unsure if he was destined to keep it and continue the build he always dreamed of. As a buyer was ready to place the check in Pertab's hand, he couldn't come to terms with selling his pride and joy. For Tyrone, this Lexus was one of his dream cars. "I've always liked the second generation GS and I have always wanted to build a VIP car," he said. And build one he did, bringing him to the top of the VIP scene and crowning a new king in the local show circuit.
It all started in October 2007 when Pertab acquired the 2000 GS. He made numerous modifications since he bought the car, but they always included the finest and freshest products available. If they weren't available that was never an issue. Pertab would simply build it to match his vision of what he wanted the Lexus to be.
The 4.0L V8 GS power plant was more than enough for Pertab's VIP build so he got to work, envisioning exactly what he wanted the car to exude. The fascias were replaced with Mode Parfum front and rear bumpers and side skirts and a 2013 Lexus GS diffuser was molded into the rear, for that extra-custom touch. The rear quarters were pulled for better flow with the rear doors while keeping the same stock, sleek lines. With the help of Nate from Dream Makers Kustom in Endicott, New York, a custom white paint was mixed and sprayed over the body to create a classy look, which Pertab's Lexus wears so well.
Polishing the exterior while maintaining a clean look, Pertab paired a JP Roof spoiler and Junction produce rear wing with a custom rear bumper which houses the fully-custom GS 400 exhaust. Eight pod lights illuminate the underside of the car, accenting the luxury feel of the Lexus. For Pertab, stock headlights simply were not acceptable - to be a king, this car needed projectors fit for one. Pertab sourced out the Q45 projector for the larger headlamps, which boast amazing size and color and remain one of the most difficult retrofits to accomplish. To keep things sharp and clear, Morimoto Mini H1 projectors were fitted into the light unit, coupled with HID kits for the utmost in clarity and style.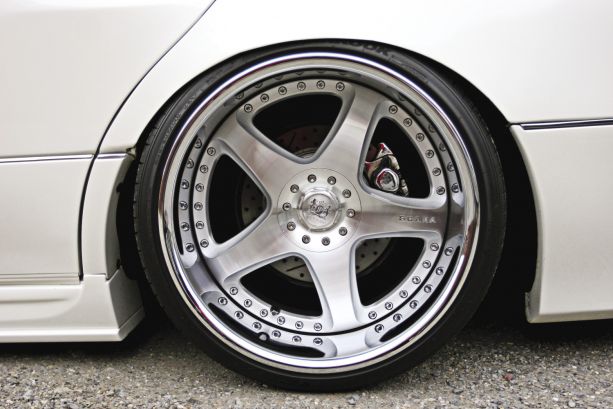 Pertab refused to cut corners on suspension and wheel upgrades too. Placing BC Coilovers in the front suspension and UAS Airbags in the rear for adjustability, he keeps things tight on the car with chrome Rod Miller strut tower bars and T & M Urethane bushings. The wheels were upgraded to one-of-a-kind Junction Produce offsets with 19s up front, sporting a five-inch chrome lip and 19s in the rear with a six-inch chrome lip. Pertab says, "These are the only Junction Produce wheels with these lips ever made." With big wheels the Lexus needed big brakes and, what better than chrome upgrade Lexus LS four piston one-piece calipers with Akebono pads and cross drilled and slotted rotors.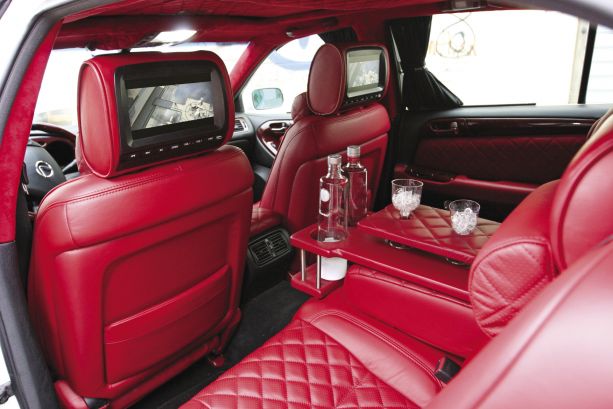 With an exterior full of so much sex appeal, the interior deserved a luxury treatment like no other and Idealistic Design of New Jersey was up for the challenge. Upon first inspection, the luxurious red diamond-stitched leather seats and custom pillow headrests catch your eye. Scanning the interior, a custom suede headliner and leather-wrapped dash softens the upper-half of the interior In true VIP style, a custom wood grain steering wheel, shift knob and Circo beverage bar provide royal treatment for both driver and passenger.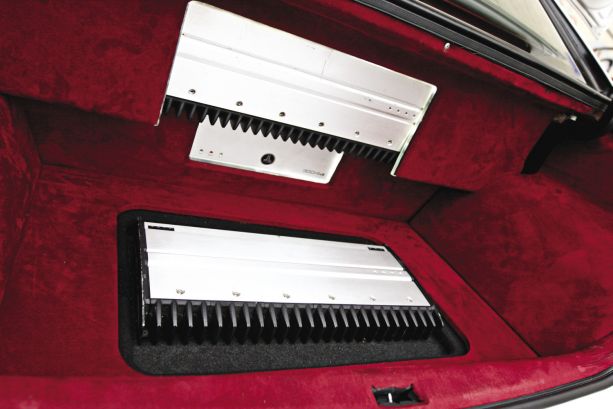 Pertab wanted crisp, clear and balanced sound when it came to building the audio/visual system. Using an array of products, Pertab worked with Xclusv Autosports Auto and Infiniti Auto Sound. A hefty JL Audio 1000/1 amp powers the 12-inch JL W7 which lies vented in the trunk. Balancing deep bass of the W7 are JL Audio midbass eight-inch speakers and JL Audio six-inch midrange speakers, powered by a JL500/1 amp and a high frequency Rockford Fosgate amp. Cadence Tweeters were added to balance the sound and XS power fuse holders and d3400 batteries with 0 gauge wire assures that power reaches the source with minimal voltage loss. The mighty Pioneer AVIC 30 sets the stage in the front and two nine-inch Pioneer screens were placed in the rear for passengers to enjoy while sipping fine beverages from the Circo bar.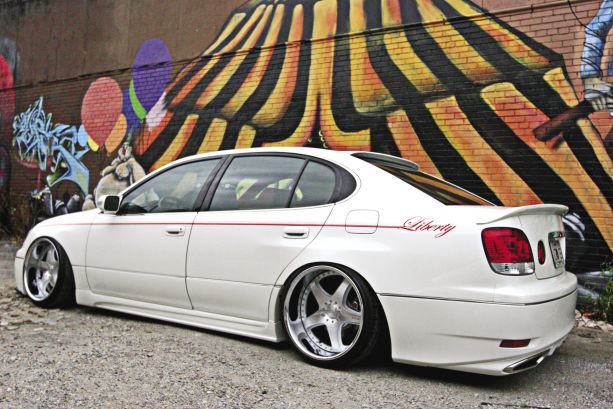 This "Best in Show" car and multiple-award winner is a truly fine example of clean VIP styling today. Turning heads at every event it attends, the Lexus commands attention and respect from auto enthusiasts alike. Pertab is living his dream with this Lexus and continues to keep on top of the show circuit by changing his game. "Every year for the past three years, I've remodeled the car to have a different style." While it may seem out of sorts for some people, this is what makes this car, and it's owner, King of the VIP.
ESSENTIALS // Vehicle: 2000 Lexus GS400, Owner: Tyrone Pertab, Team: Liberty VIP, Built by: Idealistic Design: NJ, Dream Makers Kustom: Endicott, NY, XClusv Autosports Audio, Infiniti Auto Sound, Engine: 4.0L V8, Horsepower: 225 hp, Torque: 220 lb-ft
EXHAUST // Full custom exhaust
CHASSIS / SUSPENSION // BC Coilovers (front), UAS Airbags (rear), T&M urethane bushings, Rod Miller chrome front strut tower bar, Rod Miller chrome rear strut tower bar,
WHEELS / TIRES / BRAKES // Junction Produce 3-pc 19x10.5 (f) with 5" lip, Junction Produce 3-pc 19x11 (r) with 6" lip, 235/35/19 (f), 245/35/19 (r), Akebono brake pads, Goodyear Stainless Steel Brake Lines, Chrome 1 piece LS front calipers, 4 piston, Slotted and drilled rotors
EXTERIOR // Mode Parfum body kit and front bumper, Custom rear bumper with 2013 GS Diffuser, JP roof wing, Junction Produce rear wing, Pulled Rear 1/4 to flow with rear doors, Custom white paint, 8 pod puddle lights, Dual Retrofit Q45 and Morimoto Mini H1, K Break fibreglass hood
INTERIOR // Custom black leather dash and suede headliner, Custom wood shift knob and steering wheel, Custom black mats, Diamond stitched red seats with neck pillows and rear bar
AUDIO / MOBILE ELECTRONICS // Pioneer AVIC 30, JL 1000/1 Amplifier, JL 500/1 high frequency amplifier, Vented box with 12" JL w7 subwoofer, Rockford Fosgate rear fill amplifer, JL 6" midrange speakers, JL 8" midbass speaker, Pioneer 9" monitors in rear, Cadence tweeters, XS Batteries d3400, XS Fuse Holder with 0 gauge wire, DC Power alternator and distribution blocks
Contributor: Terence Gamble