24 April 2013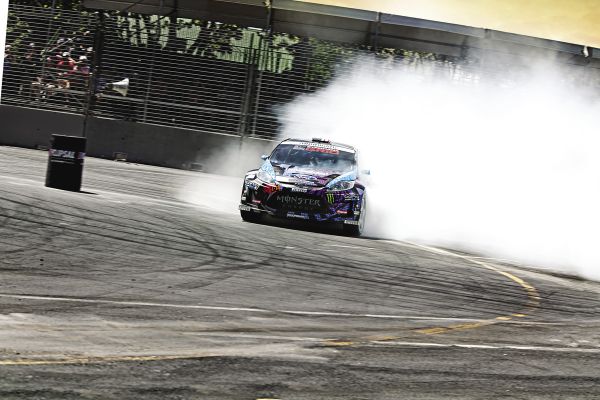 How Ken Block changed everything
There's a moment in Gymkhana FIVE where Ken Block is airborne in a Ford Fiesta over a flat-out right-hander on a San Francisco street (5:34). When his wheels make contact with the ground, the car slides sideways to the edge of the road, hooking up just a fraction of a second from impact and growling toward the next stunt. It's Block at his best: big air and lurid slides, captured for YouTube with production value befitting a major motion picture. It's the kind of moment that has made him one of the most popular drivers in the world.
"I think if I hadn't done Gymkhana, there would still be some sort of recognition for my driving," says Block between practice sessions for a gymkhana demonstration at the V8 Supercars event in Adelaide, South Australia where we caught up with him. "But the videos have reached way more people than I could have dreamed of."
Block didn't so much burst onto the North American rally scene as create it, his competition career transcended by a series of viral videos that turned motorsport on its head. In less than a decade, he has progressed from pay-to-play driver competing in a backwoods car racing discipline, to one of the most influential people in motorsport. "Rally without Ken would not be considered cool," says former teammate Travis Pastrana, an action sport star who recently scored his first Top-10 result in a NASCAR Nationwide race. "I get kids all the time who ask me: 'Have you ever met Ken Block?'"
Collectively, Block's gymkhana series of videos have been viewed more than 250 million times. His branded DC TeamWorks apparel collection is ubiquitous, the Ken Block #43 worn by fans at every racetrack in the world. His liveries – the early snow camouflage looks, the green and white paint spatter scheme, and the current Miami Vice vibe – define what's cool. "What I'm doing in motorsports stands out so much because no one else does it," says Block. "But it's typical of what I've done in the rest of my life in skateboarding and snowboarding."
Block was a latecomer to racing; when he started driving competitively he was already 37 and had a wildly successful career in the action sports business behind him. Fresh off the $87 million sale of his popular DC Shoes brand to Quicksilver in 2004, he did what many men of means do: he took up motorsport. But instead of tarting up a Porsche for track weekends or hiring a Ferrari for a run on Le Mans, Block – a lifelong rally fan who grew up enamored with TV coverage of the Group B era – booked himself into the Team O'Neil Rally School in New Hampshire and arranged an arrive-and-drive rental from the top rally shop in the United States. "It had never been my goal to be a celebrity and be in front of the camera when I started this," says the now 45-year-old. "I just wanted to race cars. I wanted to do what I'd dreamed of doing when I was a kid."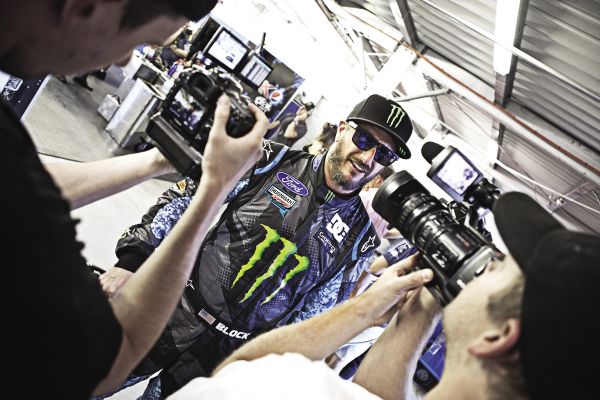 Block's first race, in November 2004, was the Tall Pines Rally, a notoriously difficult contest where attrition often takes out more than 50 percent of the field. Nobody was surprised when he crashed out on the fifth stage and he would have been forgiven for giving up right then. But crashing has never deterred Block who, over the past eight years, has put in more balls-out performances than any of his contemporaries in the sport. "Ken loves to drive rally cars to the absolute limit," says co-driver Alex Gelsomino, who has competed alongside Block in more than 100 stage rallies worldwide. "If you put Ken on a proper stage road, in a proper car, in conditions he enjoys -- and if he drives the stage to the limit -- then at the end he's going to be the happiest person in the world."
But driving at the limit is risky. As teammate Pastrana won four consecutive titles between 2006 and 2009, Block developed a reputation for driving flat-out and crashing out of races nearly as often as he won them. His career best championship title finishes are a pair of runner-up results in the year-end Rally America rankings, behind Pastrana, scored in both 2006 and 2008. "Winning championships is about managing risk; about calculating how much is too much and knowing when to back off," says Pastrana. "Ken never backs off and that's why crowds like him so much."
Block started racing a stylish snow-camouflage Group N rally car in 2005 as an arrive-and-drive customer of the factory Subaru team. His results were moderate in a season dominated by a raging battle between 1984 WRC champion Stig Blomqvist and North American champion Pat Richard. He finished fourth in the points that season and scored Rally America's Rookie of the Year title. He could have left it at that: a gentleman driver living the dream. Instead, he has gone on to build a brand that has transformed motorsport. "If I wanted somebody to look back at my legacy, I'd want them to say I gave 110%, and that I made rally cars and everything that surrounds rally cars fun," Block says now.
At first, critics were unkind. They said they didn't see anything special in the skate-shoe millionaire's win-or-crash-trying driving performances and, when Block first began receiving manufacturer backing in 2006, they accused him of taking a career shortcut to a factory ride. The truly sour grapes grumbles implied that his Rookie of the Year achievement was due to apparently limitless funds that put Block in the position of being the rare rookie who could afford to contest the entire championship season. "Anyone can buy the equipment," counters Pastrana. "But you can't buy speed, you can't buy skill, you can't buy rally wins – and he's got them."
When Block scored his first points on the World Rally Championship in 2010, the haters finally had to give the driver his due. More Americans have walked on the moon than have scored WRC points and prior to Block's ninth-place finish in Spain, you have to comb through nearly a quarter-century of rankings to find another American driver: the legendary John Buffum.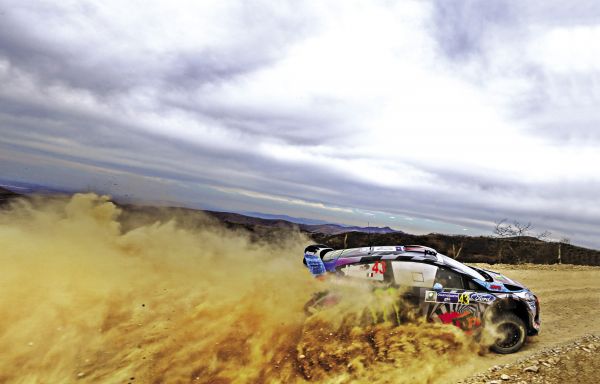 Those points are a credit to Block's total dedication to being the best he can be. Whether he's at a low-stakes regional race or the WRC, he holds himself to an incredibly high standard. With minutes to go before a stage start, while other competitors might be fiddling with brake bias settings or adjusting their seat belts, Block is out of the car and throwing down calisthenics to help keep his mind and body focused for the coming battle. He brings a trainer to races. He adjusts his diet to optimize his energy burn over multiple days of high-intensity competition. "His greatest strength is preparation," says Pastrana. "He has a willingness to go above and beyond what everyone else does in order to be the best he can."
Block, who moved from Subaru to Ford in 2010, belongs to a long list of fan favorite drivers whose maximum-attack styles produce uneven results. He cites one of the greatest examples of these as a personal idol: 1995 WRC Champion Colin "McCrash" McRae, who was no stranger to big off-road excursions. But more than the Scotsman's reputation for no-holds-barred driving, Block points to the late McRae's approach to the business of motorsport as a source of inspiration. "It was a package with him of things he was doing -- more than just getting in the racecar and racing," says Block. "All the different things he did in the sport and everything he did around it: the video game, promotions and experiences."
And that is where Block has undoubtedly left his mark. "Hey, maybe there's some old guy who's scored points in the WRC before," observes Buffum, an early mentor to Block. "But there is nobody who has been able to put themselves out there like Ken has."
The breakthrough moment was the release of DC MTN. Lab 1.5, a direct-to-DVD promotional film featuring DC athletes shredding a New Zealand snow park. The video was a fine example of a marketing tool that's standard in the skate and snow industries, but the inclusion of Block behind the wheel of his rally car made it extraordinary. Fans couldn't help but love his showy slides, massive airs and icy roosts. It was Block doing what any action sport athlete would do, but it was revolutionary for rally and it would set the stage for the gymkhana franchise that followed it. "So much of what I do comes from skate and snow and how those markets work," says Block. "Most athletes in rally or Formula One don't think about making videos and having fun with their cars but that's what we do."
That nobody flinches when Block references Formula One illustrates just how widespread his influence has been. Block is a Monster Energy drink sponsored driver who campaigns a highly-modified Ford Fiesta in rally, rallycross and gymkhana. By all rights, he should inhabit a place in the culture that is worlds away from F1 or rival energy drink Red Bull. But, without him and the motorsport marketing revolution that he spawned, none of us would have ever seen a Red Bull F1 off-roading through cow pastures in Texas or keening through the Lincoln Tunnel. "People in Formula One know who Ken Block is," says Buffum. "Is it because of his rallying? Maybe not. But through his gymkhana videos they know him and that's awesome."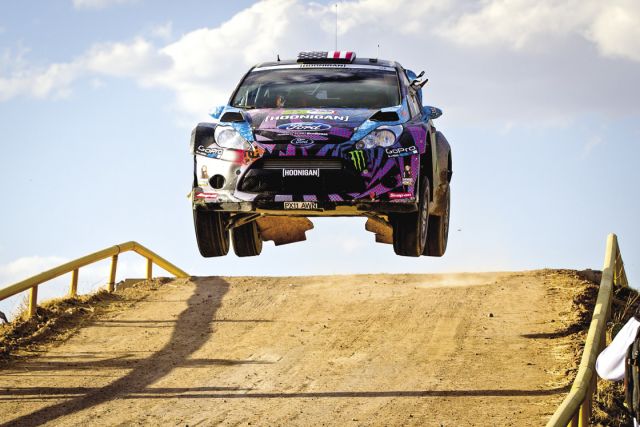 The success of Block's first gymkhana video, Gymkhana Practice, took equal parts luck and skill. In the tradition of skateboarding, Block and some friends had filmed some practice sessions for a nascent series of precision driving contests that never got off the ground. They crafted the first video in the wildly popular franchise for fun, and in late 2008 they dropped it into a culture starved for compelling content. It spread rapidly through an evolving social media grapevine that was growing faster than it ever will again. "People really appreciate what we have done with the videos," says Block.
"They've appreciated not just the great production values, but also the fact that we make the driving as real as possible, and as technical as possible. It blows people away."
In the latest installment, Gymkhana FIVE, Block's playground is the city of San Francisco. He drifts the Golden Gate bridge, engages in trolley car tomfoolery and gets plenty of sideways, airborne action in his Ford Fiesta. It is a masterpiece of skillful driving, high production values and creative stunts that rival the best car chases in film. That single video has been viewed more than 42 million times on YouTube, an astonishing number that proves the franchise hasn't lost touch with what makes it great: the videos express Block's genuine passion for cars and driving. That's the ethos that guides their production, and it is also the viral contagion that compels an ever-growing audience to watch. As Pastrana puts it, "they make you want to go out and do something rowdy."
From Block's flashy new team headquarters, the Hoonigan Racing Division, in Park City, Utah, fans can expect more of the same. His calendar is packed with competition and demonstration events, including X Games, Global Rallycross, Rally America, Gymkhana GRID and the WRC. The gymkhana videos have been released on a roughly annual schedule but Block, never one to miss a promotional trick, is keeping mum on the next one, saying only: "The hardest part of my job and what keeps me up at night is figuring out how to make things more and more interesting."
As he embarks on the 2013 competition season, Block is still pursuing his first championship title. But that kind of recognition hardly seems to matter. Success isn't only measured by the size of one's trophy collection and what Block has contributed to hundreds of millions of fans around the world is far greater than a few shiny cups. "He's virtually without peer," says Buffum. "Is there anyone else in motorsport who has name recognition like that who didn't win a whole bunch of championships? I don't think so."
In that respect, Block is without a doubt on the top step of the podium.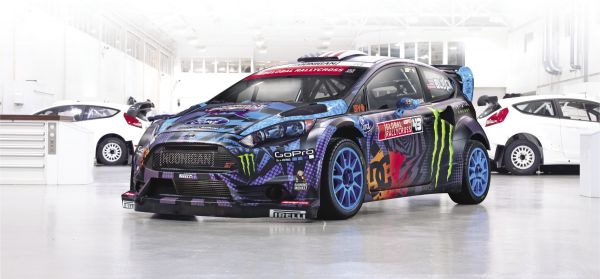 Essentials
Vehicle: 2012 Ford Fiesta H.F.H.V.
Driver: Ken Block
Team: Hoonigan Racing Division
Built by: Base chassis designed by M-Sport, UK;
Engine: Ford base block and development by Pipo Motors in France
Horsepower: 600 bhp
Torque: Confidential but more than 515 lb-ft
Cost to build: $500,000
Length (time) of build: 4 months
Engine Modifications
Pipo Motors (crank, camshaft, connecting rods, piston rings, machining)
Ford throttle body and cam gears
Garrett turbocharger
M-Sport intercooler and hoses
Bosch fuel pump
NGK spark plugs
Cosworth/Pi EMS
Exhaust
Pipo Motors (down-pipe, custom exhaust)
Drivetrain
Sadev (France) transmission, axles and LSD
AP Racing special design clutch
Chassis / Suspension
M-Sport uprights (f/r)
Reiger dampers (f/r)
Eibach springs (f/r)
M-Sport sway bars, strut bars and control arms (f/r)
Wheels / Tires / Brakes
Fifteen 52 wheels (gymkhana) – 18x8 (f/r)
Speedline wheels (rallycross) – 18x8 (f/r)
OZ wheels (rally/gravel) – 15x7 (f/r)
Brembo brakes (12.4-in. two-piece solid rotors, four-piston calipers (f/r); NS pads)
Goodrich stainless lines
Endless brake pads and fluid
Exterior
M-Sport, UK (body kit, bumpers, grilles, fenders, spoilers, headlights, misc.)
Ford Motor Company taillights and door handles
Custom design vehicle wrap design by Ken Block
Interior
Cosworth/Pi gauges
Recaro WRC seats
Sabelt six-point harnesses
Check out a time-lapse video of the transformation process by Ford Racing