24 April 2013
Page 1 of 2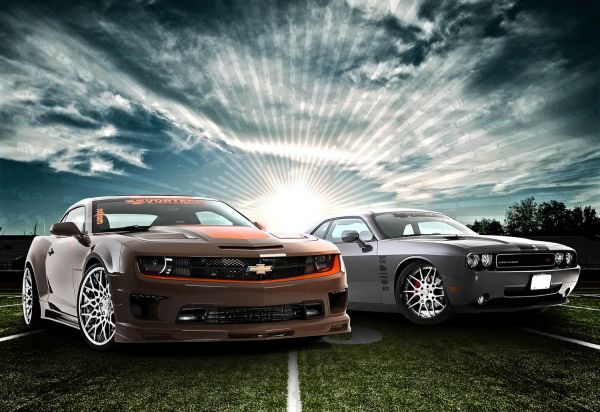 Imports have been the spotlight of the sport compact scene over the past couple of decades, so it's easy to forget that good old American muscle is where racing bloodlines started. This is North America, so a little refresher course on large displacement engines and a few extra cylinders wouldn't hurt; but it's a new day and age, so gone are pushrods and carburetors and in come overhead cams and fuel injection. Technology can be a wonderful thing.
In terms of styling, American design teams have worked overtime to stray away from the steel sardine can-look they were once notorious for. The cheap plastic interiors have been tossed into the dumpster as well. This 2010 Dodge Challenger R/T is a prime example of the new muscle car movement, with a sleek, classic body design that's backed by a 5.7-liter V8. It's safe to say this isn't your grandfather's Dodge anymore.
A short trek an hour northwest of Los Angeles brings us to a city called Oxnard, known mainly for its naval base, strawberry festivals and, uh, lima beans. That might pull the attention of some people, but for the gear heads we found something even more enticing. Tucked in the corner of Ventura County is Vortech Engineering, one of the industry leaders in forced-induction supercharger performance. Trying to dig into the technical aspects of what the masterminds at Vortech actually do would be like taking a crash course in AP chemistry, so in short we'll just say that they make horsepower – and lots of it. Though it's hard to imagine that anyone could improve on a 372 hp from the factory, at Vortech they'll get it done.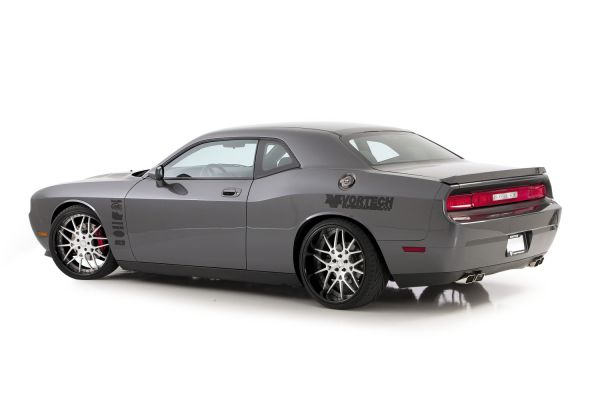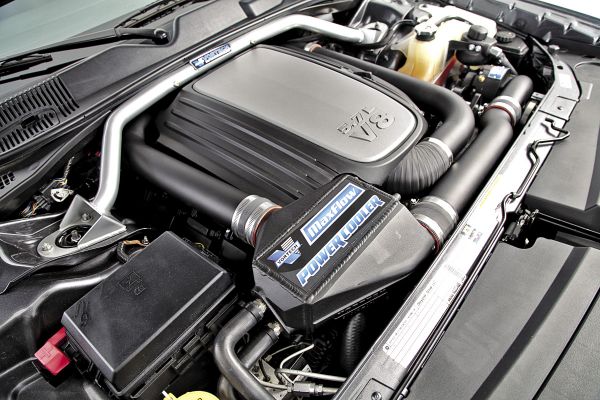 With the addition of an air-to-water intercooled V-3 Si supercharger setup, the engineers were able to push 420 hp down the dyno rollers. At the crankshaft, that's close to 520 hp and enough to make you get a "wettie" at wide open throttle. Though American engines are built tough, a little extra insurance is always nice. A Fuel Pump Voltage Booster and Stage 2 Mopar injectors ensure that the boost from the supercharger is matched with a sufficient amount of overpriced gasoline. If you've never heard the whistle of a supercharger combined with the roar of a Borla exhaust expelling the gases of a 500+ hp V8 motor, we highly suggest experiencing it at least once in your lifetime. "Euphoric" is the only word to describe it, though small animals and car alarm shock sensors around the world might not agree.
To further shed the old myth of muscle cars not handling well in anything but a straight line, the Vortech team trashed the stock suspension setup and replaced it with some track-ready pieces from KW. Whiteline sway bars, strut bars, and urethane bushings round out the footwork checklist. And of course, when you have a 5,000 lb. giant being propelled by 475 lb-ft of torque, there needs to be some serious stopping reinforcements. Baer Extreme + six-piston brakes tackle those duties with jumbo Toyo T1R tires wrapped around 22-inch, custom-painted Forgiato Maglia wheels. Drag race ready? Yes. Road course ready? You bet your sweet behind.
Both the interior and exterior of this Challenger have been left fairly untouched minus a few subtleties, like the grey-flake custom paint job and racing stripes (if you consider a custom paint job subtle). Some say that racing stripes are played out, but when you have the fortitude to back them up, who can really debate that?
It's possible this Vortech Challenger is slick enough to give import and domestic enthusiasts something to bond over, but we won't wager our house on that. If anything, just sit back and enjoy this street version of a roller coaster ride.
Vehicle: 2010 Dodge Challenger R/T
Team: Vortech Engineering
Built by: Vortech Engineering
Engine: HEMI 5.7L V8
Horsepower: 420 hp
Torque: 475 lb-ft
Engine Modifications
Vortech (V-3 Si supercharger, Maxflow air-to-water intercooler, blow-off valve, fuel pump voltage booster)
Mopar Stage 2 fuel injectors
Exhaust
Borla S-Type exhaust
Chassis / Suspension
KW Suspension front and rear
Whiteline (sway bars, strut bars, urethane bushings)
Wheels / Tires / Brakes
Forgiato Maglia wheels – 22 x 9 (f), 22 x 10.5 (r)
Toyo Proxes T1R tires – 265/30 R22 (f), 295/25 R20 (r)
Baer Extreme + big brakes with six piston calipers
D3 stainless braided brake lines
Exterior
Custom Grey flake paint job with black stripes
Sponsors
Baer Brakes, Toyo Tires, Borla Exhaust, KW Suspension, Whiteline