24 April 2013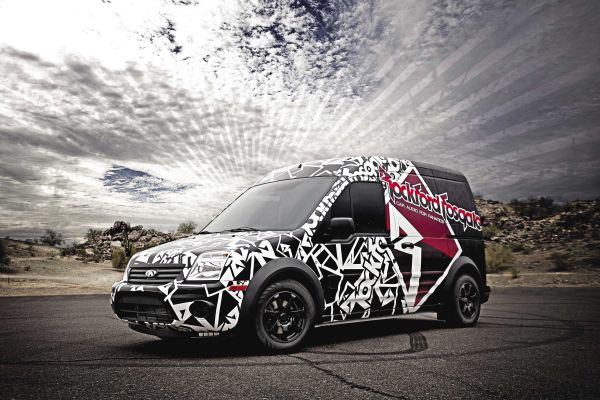 If you want to make a splash in the audio community and you're as big as Rockford Fosgate is, it is important to think big when it comes to making a demo vehicle. How to best support its dealer network and sales representatives, as well as balancing the two with the approach best suited to connecting with customers are amongst the key considerations. After carefully weighing its options, Rockford Fosgate opted to launch an ambitious scheme that would see the construction of 10 "SoundLab" vehicles to travel the country with regional representatives to bring the "Rockford Fosgate Experience" to events nationwide.
For the 2013 CES, the in-house Rockford Technical Testing Institute (RTTI) put all its years of extensive knowledge and impressive products into a rolling rock concert that's disguised as a 2012 Ford Transit Connect. Being the smaller of the Transit van offerings, it has been dubbed the mini SoundLab. And while the box might be short on style, but it's very big on substance and state-of-the-art audio performance.
Built primarily by Mark Lowe, Director of RTTI, and Wayne Connolly, the Transit did present some interesting challenges. The concept: to create a "listening experience" inside the vehicle while keeping volume levels manageable outside.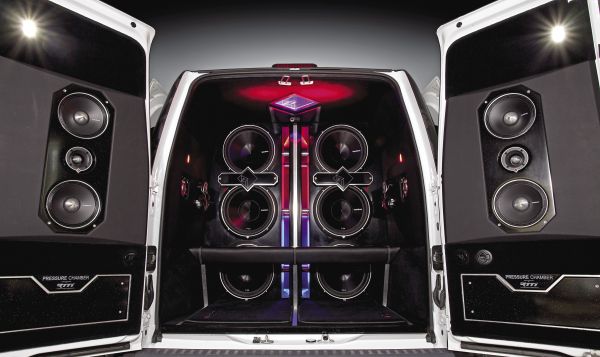 "We knew before we started that it would have to be as quiet as possible," says Connolly. "Before we started building the interior, we designed an internal rib structure with three-quarter-inch MDF ribs epoxied to the inside of the van walls and roof approximately every six inches," he explains. "In between these is a layer of DeadSkin rubber-backed sound deadening material that goes throughout the entire van."
Rockford Fosgate is all about loud pounding bass, clear and crisp mids and highs… and feeling like you're experiencing the music, not just hearing it."
Space was also at a premium for this build. "We had lots of equipment, very large enclosures and a chamber to hold two people to fit into this build." There are six aluminum cone P3D4-15 dual four-ohm subwoofers mounted in two single-chamber 11.2 cubic-foot slotted cabinets that form the back wall of the "listening chamber." Each of the enclosures is tuned to 32 Hz, and each is being driven by three stout P1000X1BD mono sub amplifiers running at a one-ohm load for maximum efficiency. One amp per pair of subs running in an all-parallel configuration on the voice coils stomps out an honest 1,000 watts each. That's 3,000 watts total, just for the subs.
Four Pro PPS8-8 midrange speakers are epoxied to a similar rib structure that's attached directly to the rear cargo doors. These are perfectly positioned along with two PP4-T tweeters to apply the right mix of frequencies, which is a characteristic of the Rockford Fosgate experience. Power is fed to the mids and tweeters from a P600X4 with the twin eights in each door running in parallel on separate amp channels. Each tweeter has its own dedicated channel.
The power for the "pressure chamber," as RTTI calls it, is completely separate from the rest of the vehicle. Integrated into the sides on 48-inch drawer slides, the battery rack has allowed RTTI to install three Optima batteries and three 60-amp Progressive Dynamics power supplies that shift voltage through dedicated circuit breakers to each component. The locations of everything makes for easy servicing.
Precise control of the frequencies and timing is obtained via a 3SIXTY.3 – an impressive eight-channel signal processor that's almost too good to be true – that is capable of A2DP Bluetooth wireless input, USB input, RCA inputs, 248 channels of equalization, integration with OEM audio systems, phase and speaker timing control, multiple crossover curves, and is completely programmable from a Windows PC or laptop.
An Apple iPad Mini mounted behind the passenger side sliding door serves as the source, and plays seven 45-second clips that show off the capabilities of the system via several different musical genres. A dedicated micro-controller controls the shows while strategically placed "panic buttons" on the side walls of the listening chamber can be accessed for those with less tolerance. A sales rep can also be start and stop the demonstration by remote control using a smartphone.
As amazing as all this sounds, there is more. The front cabin, for example, has been built as a "sound quality" listening center complete with its own dedicated head unit, iPad Mini and 3SIXTY.3 processor mounted behind the driver side sliding door. This iPad can be also be set to display photos from the eight-week build process, or be locked onto a dealer website when on display. Either source can be selected by the 3SIXTY.3 and supplied to the Power series T600-2 amplifier.
The dash speakers are the impressive T3652-S 6.5-inch components with compact, neodymium magnets for both the mid and tweeter, which provides a compact mounting footprint and precise speaker control. The bass comes from two Power series T0D410 subs, each in a sealed enclosure mounted behind the seats. In stark contrast to the massive performance carried in the rear, the cockpit is a pleasant place to spend time when cruising from show to show.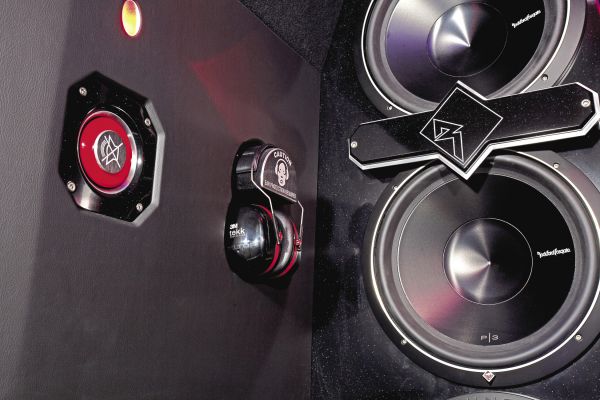 Our eardrums had the opportunity to witness the SoundLab in person at the Rockford Fosgate CES showcase in January. I must say, it delivers an amazing show! While Lowe states that SPL isn't being measured, hearing protection is mandatory for anyone bold enough to test the pressure chamber in person. According to Theresa Hephner, the Senior Director of Products and Marketing, "Rockford Fosgate is all about loud pounding bass, clear and crisp mids and highs… and feeling like you're experiencing the music, not just hearing it."
There's no debating this SoundLab delivers an audio experience to behold. And, with the help of RTTI's fleet of other SoundLab demo vehicles, you can look forward to experiencing this in person at shows and events in your area this summer. Check out events calendar on the Rockford Fosgate website.
Essentials

Vehicle: 2012 Ford Transit Connect
Built by: Rockford Fosgate RTTI
Audio / Mobile Electronics

Rear Pressure Chamber – Rockford Fosgate (P600X4 amplifier, P1000X1BD amplifiers (x3), P3D2-15 subwoofers (x6), PPS4-8 midrange speakers (x4), PP4-T tweeters (x2), Optima Batteries (x3), RFCB200 fuse holder, 1/0 main power wire, RFD1 distribution block, 360.3 processor), Apple iPad Mini
Front SQ Demo – Rockford Fosgate (Power T600-2 amplifier, Power T3 component speakers, T0 10-inch subwoofers (x2), Power T1000-bdCP amplifier), Apple iPad Mini