Written by by Sam Dobbins. Photography by Sam Dobbins. | 25 June 2013

10 Years in the making, and Mike Houck's GTB is as fresh as ever
In the modified car world, it's safe to say that every person vividly remembers their first endeavor into modifying. In some cases it started with intake or exhaust, others with wheels and a drop, but ultimately it was usually something minor, leading to major modifications down the road. Some of us pine for our first car, others revel in their demise, saying good riddance to the embarrassment that resulted from rookie mistakes. But rarely does a person have the good fortune of holding onto their first love and seeing it through a variety looks and phases.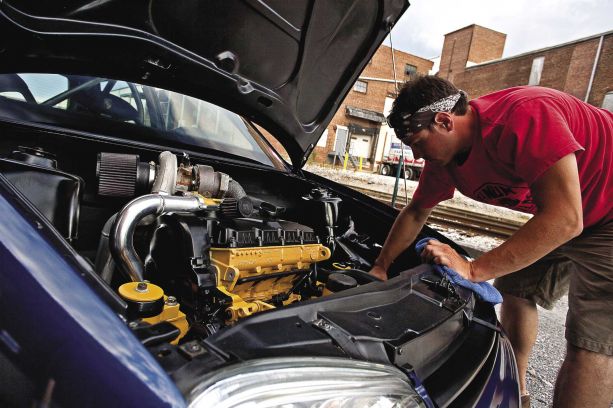 In Michael Houck's case it started back in 2002, when he acquired the Volkswagen GTI 1.8T seen here. It had only 13 miles on the clock.
"It was all I could have wanted," Houck remembers. "As they pulled the protective plastic off, a small piece of paint came away with it!" Not exactly the greatest first experience with a car, but definitely a memorable one for Mr. Houck.
"It wasn't long after buying the car that the modding bug bit me," Houck explains when asked about the car's first modification that opened the flood gates. "With the help of 20vturbo.com, all the normal bolt-ons started to show up – diverter valve, three-inch down pipe, three-inch cat-back, chip and so on."
If it's not apparent yet, Mike is somewhat of a 'go big or go home' type of guy. We can definitely appreciate, given the masterpiece you see here.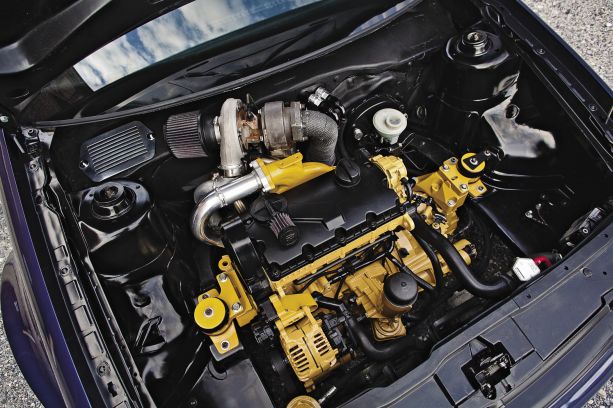 After graduating from university, the GTIs progression was suspended temporarily while Mike focused on competitive waterskiing for a few years. It was only a matter of time though, before a daily driver was purchased and the fourth-gen Golf was back under the knife. An Oettinger body kit, H&R suspension and Corbeau Racing seats and harnesses defined the car's next revision, but to Houck's dismay, it was only for a limited time. "I ran over a big rig tire re-tread and it completely destroyed my illustrious Oettinger kit, leaving me with nothing other than cracked and hacked up OEM bumpers," Houck remembers.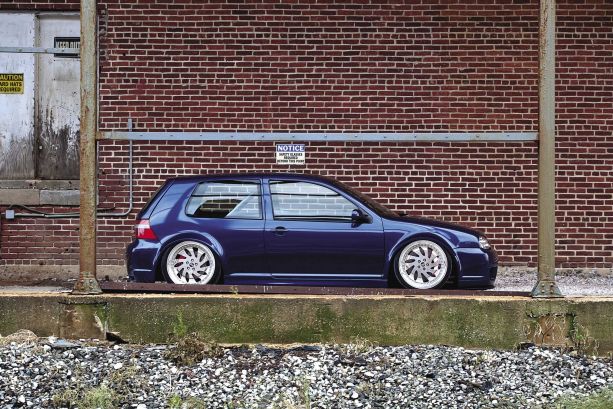 "At that point all the hot Mk4 cars were getting pulled fenders to fit super wide tires," Houck says about the arches that define the stance of his Golf. Trying his hand at fabricating, he bought a fender roller and hammer/dolly set and started hammering away. A miscalculation on some widened steelies, mixed with the roughly extended arches, led him to retire his hammers and dollies, handing the task over to some professionals. In the interim, a GT2871r turbo and the associated components were acquired to "freshen things up," and Mike was finally ready to bring the car to its first show at Southern Worthersee in 2009. To his surprise, Houck was selected by the hosting club, H2O Tuning, for the Club's Choice Award. That set the next build stage in stone.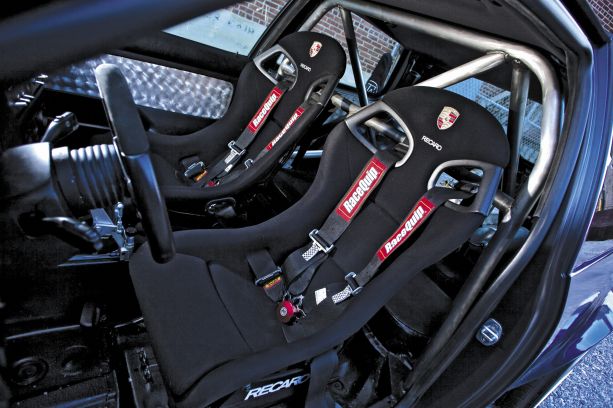 Having only one major show under his belt by fall of that year, Houck couldn't resist the urge to change it up in time for H2O International. Sitting on black BBS CHs, the primer body was re-sprayed in satin black with a thin red stripe at the perimeter of each wheel, completing the GTIs new sinister look just hours before the 600 mile journey back home to Ocean City, Maryland. With an overwhelming excitement and a nine hour trek home to let the new ideas stew, Houck had the next staged planned even before he parked the GTI for the night. When it was taken apart for the previous turbo upgrade, Houck stumbled upon an array of Haldex AWD components that he couldn't pass up, so he finally decided it was time to give the Mk4 a little more traction.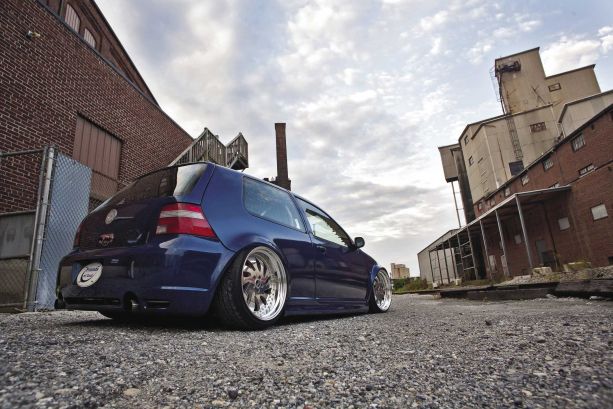 Assessing the Mk4 GTI body, Houck was convinced that the AWD setup could work without its original floor pan (from an R32 Golf), so he mocked it up and tacked mounts in place. Barber Raceworks was enlisted to construct the rest of the components and build an extensive cage to help maintain rigidity. Porsche GT3 seats were delivered and added to the lot of parts awaiting installation.
After attending a couple events in 2010, Houck's heart was set on converting the big-turbo 1.8T motor over to its diesel counterpart, so the old power plant was parted out and the search for a replacement began.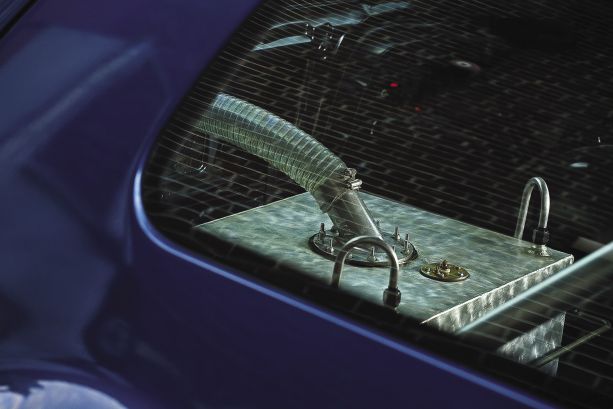 "Compound turbo setups are very common in the US within the truck tuning world," Houck says. "But very little has been done with VWs."
Working in the fiber optic field as an applications engineer, Houck is no stranger to research and innovation, so it wasn't long before he found another like-minded soul (care of tdiclub.com) embarking on a similar adventure into the world of compounding turbochargers. Darkside Developments was contacted to source the high pressure turbo, while Bullseye Performance handled low pressure counterpart. His friend's brother, Jesse Brozyna, was an exhaust manifold fabricator in the JDM world and was going to be in town for Christmas. To simply say Jesse is a fabricator is a crime, because the intricacy and vision that has gone into the creation of this manifold is nothing short of amazing.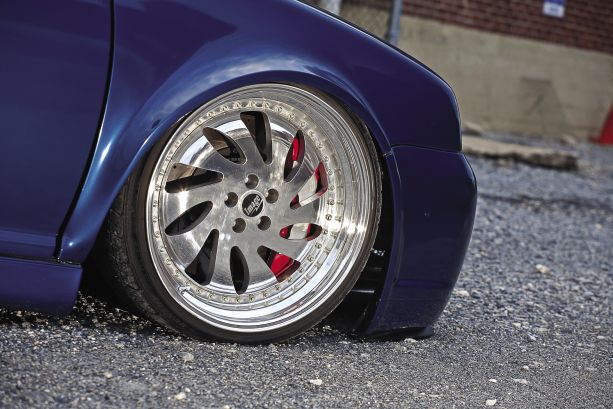 In the haze of bringing his compound turbo diesel to life, Houck happened upon a set of extraordinarily rare Image Billet 88 three-piece 19-inch wheels. With a little grinding on the Porsche 6-piston calipers, they fit perfectly inside the widened arches. The matte black paint was wrapped with a metallic blue vinyl to transform the car and better compliment the mirror-polished wheels, while certain parts of the diesel motor were painted Caterpillar yellow. Fitting, given the power it produces.
Despite being over a decade in the making, Houck is sure the car will never be completely done. He already has plans for the next stage of its life. While it's the first car he's ever modified, there are a couple other projects challenging the GTD for his attention, so who knows what we'll see next!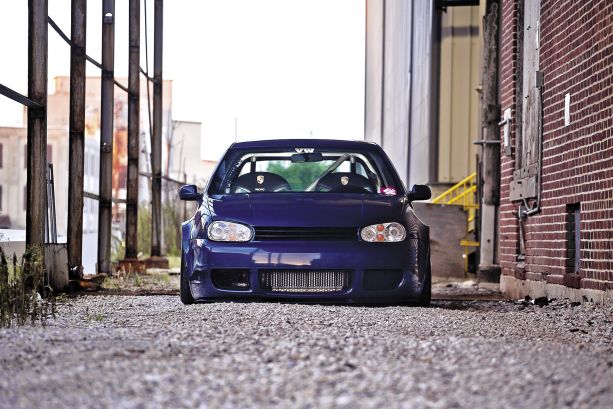 ESSENTIALS
Vehicle: 2002 VW GTi
Driver: Michael Houck
Engine: Pump Deuce TDi w/Compound Turbo
Horsepower: TBD (not yet dyno'd)
Torque: TBD
Engine Modeifications
1.9L BEW Pump Deuce TDI Block
2.0L BHW Pistons (machined to lower compression to 17:1)
Total Seal gapless second ring
Rosten rods
Performance Diesel Engineering ½-in. girdle
BRM Oil Pump
Balanced rotating assembly
Port, polished & gasket matched heads
Bosio R783 nozzles
PD150 intake manifold
Darkside Developments EGR delete pipe
Malone Tuning custom Stage-5 tune
Garrett GTB2056vk high pressure turbo
Bullseye S247 low pressure turbo
Precision 46mm X-over waste gate
JDL Auto Designs custom compound turbo manifold
Custom FMIC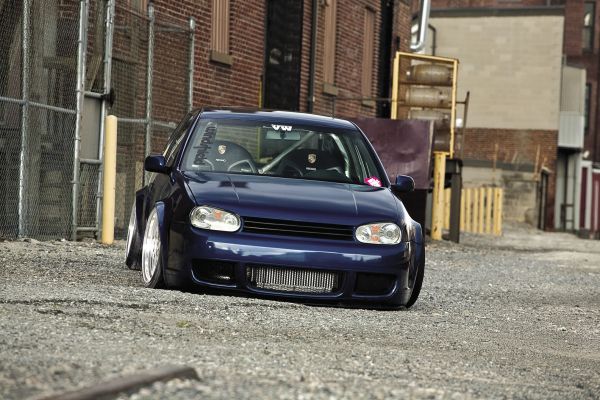 Exhaust
Custom 3-in. straight-pipe exhaust
Drivetrain / Chassis / Suspension
02M 6MT (Quattro Gearbox, TDI gearing swap)
Pelican front LSD
South Bend OFE SS Stage-5 clutch
Single mass flywheel
Raxles axles
Haldex rear end swap
F-Town Street Machines stand-alone Haldex controller
R32/TT (sub frame & A-arm conversion)
RideTech e3 Air Ride Management
Bagyard Bombers front struts
Slam Specialties RE-5 rear bags

Wheels / Tires / Brakes
Image Billet 88s wheels – 19x9 (f), 19x10.5 (r)
Tires - 215/35 R19 (f), 235/35 R19 (r)
Brakes (Porsche six-piston calipers (f), Wilwood four-piston calipers (r), ABS Delete w/custom hardlined brakes)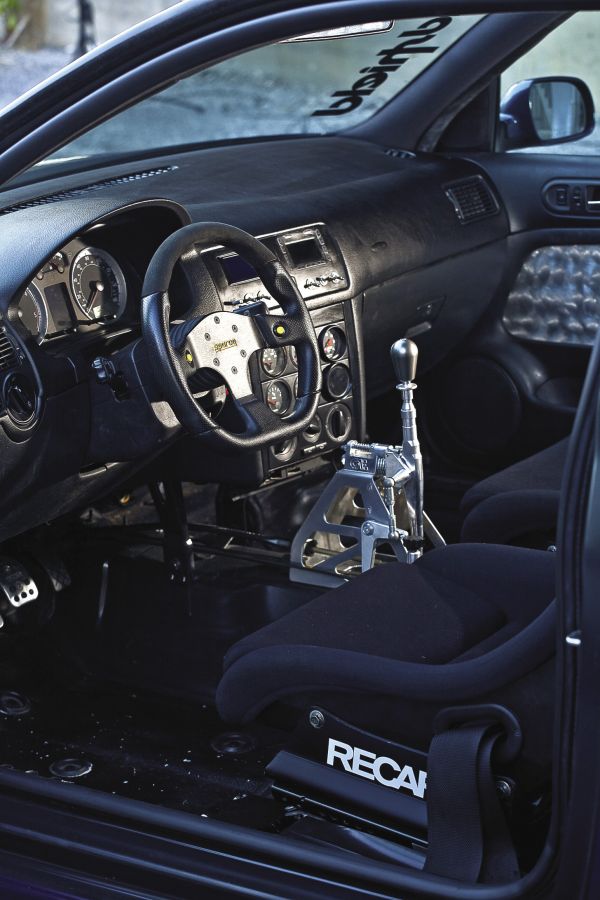 Exterior
Custom (all metal wide body)
OEM R32 bumpers (front and rear)
OEM R32 side skirts
Seat Cupra lip
Stubby mirrors
OEM shaved notch carbon fiber hood
2bar grill
Carbon fiber hatch
OEM HIDs
Ocean tails
Shaved (fender markers, bumper turns, side moldings, bay)
Interior
Recaro GT3 cloth seats
RaceQuip five-point cam-lock harnesses
CAE shifter
Sparco steering wheel
Barber Race Works custom four-point welded cage
Custom (metal rear seat delete, smooth hatch area)
Aluminum fuel cell
Dual 3-gallon air tanks
R32 black headliner
Sponsors
Malone Tuning, Protech Motorsports, JDL Auto Design