Written by PAS Staff | 18 December 2009
Page 2 of 4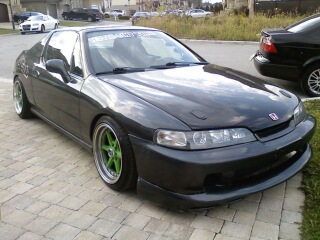 Owner: ALEX VANLIAN
Location: LAVAL, QUEBEC
Website(s): WWW.TEAMREFUGEE.COM
Vehicle (Year Make Model): 1993 HONDA DELSOL
Power: 240 WHP
PAS: How long have you been a car enthusiast?
Owner:  IVE BEEN INTO CARS FOR ABOUT 10 YEARS NOW, I SORTA GOT INTRIGUED BY IT WHEN MY BROTHER ARDO (AV FABRICATIONS) STARTED WORKING ON HIS BUDDIES CARS IN THE DRIVEWAY FOR FUN.
PAS: What was the first vehicle you ever owed? Did you modify it? If so, what modifications were performed?
Owner: THE FIRST CAR I EVER BOUGHT WAS A 93 HONDA CIVIC. MY BROTHER IMMEDIATELY SUGGESTED THAT I THROW A K20 IN IT, SO WE DID IT WITHIN THE FIRST WEEK OF ME HAVING THE CAR. BESIDES THAT I SLAMMED IT TO THE GROUND PUT A SIMPLE LIME GREEN PAINT JOB ON IT AND THAT WAS MORE OR LESS IT.
PAS: What is your dream car? Why?
Owner: MY DREAM CAR WOULD HAVE TO BE A SKYLINE R34. I GUESS OTHER THEN IT BEING SORT OF THE FERRARI OF TUNER CARS, I WOULD LOVE TO HAVE THIS CAR JUST CAUSE IM NOT ALOUD TO HAVE IT IN CANADA LOL
PAS: "All Show", "All Go" or both? Why?
Owner: IM ALL ABOUT THE GO!!! I HONESTLY COULD CAR LESS WAT A CAR LOOKS LIKE… CAUSE EVEN IF UR DRIVING A RUST BUCKET, WHEN U GOT MASSIVE POWER UNDER THE HOOD U STILL GET THE SAME REACTION OF THE JAW DROP WHEN U BLAST BY PEOPLE.

Read on for More Reader Rides