Written by PAS Staff | 18 December 2009
Page 3 of 4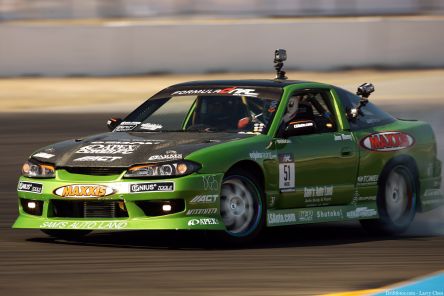 Owner: Joon Maeng
Location:  Buena Park, CA
Vehicle: 1991 Nissan 240sx ( S13.5 )
Power: 360whp/310lb-ft

PAS: What was the first vehicle you ever owed? Did you modify it? If so, what modifications were performed?
Owner: 1991 Toyota Corolla. Yes, I ended up converting it to a 5spd transmission with a 4age engine at S-Empire.
PAS: What other vehicles do you currently own?
Owner: 2007 Nissan Titan, 1985 Toyota Corolla GTS and a 1993 240sx hatch as a back up car.
PAS: Will your next visit be to a tire/wheel retailer, auto parts retailer, or a car dealership. Why?
Owner: MAXXIS warehouse to pick up 30 tires. Will be competing in the Formula Drift final round @ Toyota Speedway in Irwindale.
PAS: "All Show", "All Go" or both? Why?
Owner: Performance is the priority. Need the S13.5 to be on it's tip top shape to perform well at the Formula Drift Championship.
PAS: Any Shout-outs?
Owner: I couldn't live my dream and passion as a drifter without my family, friends, fans, sponsors: MAXXIS Tires, LSauto, CFR, GENIUS Tools, SAM'S Auto Land, APEXi, DG-5, TOMEI, ENJUKU Racing, ACT, SEIBON, AIT racing, Mishimoto, ER and MA-Motorsports. Kevin Well's, Chris Forsberg and Sergio Ramirez helped rebuilt the entire car during the off season. Now the S13.5 is 300 lbs lighter, handles like a champ, and is reliable! Thank you very much for your amazing support! See you at the track!
Read on for More Reader Rides