Written by PAS Staff | 18 December 2009
Page 4 of 4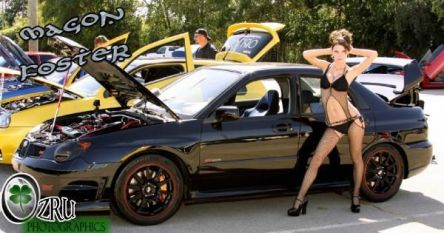 Owner: Ranger Batterson 
Location: Smyrna, Tennessee
Website(s): www.myspace.com/celtain , www.facebook.com/pure_evil
Vehicle: 2006 Subaru STi
Power: 510whp on a dynojet 93octane and 100% meth
PAS: What events have you competed in? Where?
Owner: Wow, thats a list as long as Paris Hiltons bedroom guest list. I try to compete in every show in my state, that accomodates the type of car I have, antique shows usually arent the best for me. The "big ones" I have competed in are HIN Nightshift Nopi Nationals Slammin and Jammin Hunters Custom auto show and southern Mini Truckin.
PAS: What is your dream car? Why?
Owner: As Muchh as I love EViL, I would have to say there are two others Id love to own keys to. 1969 boss 429 and a Porche Carrera GT Gumbella. The 429 is just a beast, all natural big HP and a thunderous sound and demands respect. The Carrera GT is sex appeal on wheels, with the perfomance to make you have to carry and extra pair of boxers every ride.
PAS: Are you a shop owner, work at a shop or have been previously? Describe your experience(s)
Owner:Never been a shop owner or worker, for a breif period I was sponsord by a local shop and helpped turn wrenches every now and then, but I have to be honest I'm not a huge fan of shops. I have had some really bad experiances with shops and cannot stand my car having to go to a shop for anything. I can do alot on my own or with friends but there are just some things you cant do. So now if there is somthing a shop has to do, I have to watch it happen from strat to finish, and there has only been one shop to be okay with that, Delk Performance.
PAS: "All Show", "All Go" or both? Why?
Owner: All show with plenty of go. I started out on the race scene and it was a blast, but you quickly learn racing all night everyweekend will quickly break stuff. It gets expensive fixing what you break alone not to mention the game of catch up you constantly have to play to be the "fastest" and for what? "street cred"? to me not really worth it at the end of the day so I started showing. It was rough at first to show because I had nothing but go fast goodies that may not have looked the best show wise, but the more I showed the more I enjoyed it so I started adding some sex appeal to it and after time started taking home alot of gold, but dont get it twisted if somthing rolls up on me I will spool that snail...
PAS: Any Shout-outs?
Owner: Most def. First I have to shout out to My club Dominating Designz, they are like a family to me and taught me everything I know about showing especially Holly (windows). My buddy Matt who was down to help me with any project, Chris from Meca for his promotions, My beautiful girlfriend Stephanie for her understanding, support, involvement, and love for my passion, My family for their support, The 1/75th Ranger bat., The random sponsors I've had over the years, all the people whove come up to me saying my STi is the sickest thing they've ever seen, it makes me very proud and happy to know other people love or appreciate what I have built and have tried to accomplish by being a 1 of a kind subie, all the girls who said "You love that dam car more than you love me!" that eventually kicked rocks, and last but not least PAS for this sweet interview and taking intrest in my EViL.