08 February 2015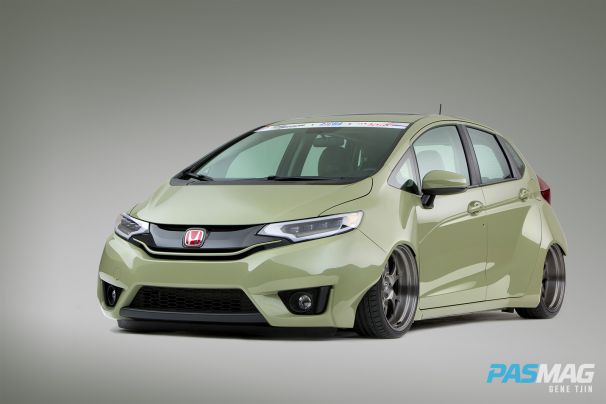 Written by Micky Slinger / Photography by Gene Tjin & Honda
With the 2015 Honda Fit being so new and not having the aftermarket support of a seasoned chassis, most SEMA exhibitors kept their Fits fairly safe. If you wanted to see what could really be done with these little guys, you had to head over to Honda's corner of the show.
All lined up, six in a row, were the crazy creations of the builders who had been chosen by Honda. Shining in a pale green paint and crouched on its bosozoku-like haunches was Tjin Edition's rendition of the Japanese commute-it-all, which came away with the Performance Project Fan Favorite Fit award. Try saying that five times fast.
With over a decade of tight deadline experience, six weeks to build a showstopper is the usual for Tjin Edition. Reaching out to his list of trusty partners, Tjin sourced a first-of-its-kind air suspension from AirREX, custom brakes from Baer, wheels built to spec from iForged, and fiberglass fender flares. Everything was quickly on its way to be bolted up. However, it turns out that great minds think alike.
"We found out someone else – some of the other builders – were doing [the fender flares]," explains Tjin. "We wanted to go a different, more unique route."
Luckily, metal mastermind Josh Freeman stepped up to the plate. It was decided that Freeman would give the Fit a custom, all-metal widebody. Unfortunately, this daring move soon gave way to another issue.
"Getting wheels built in time for the flares never happens," Tjin says bluntly. "We ended up using my brother's Fiesta ST wheels and worked off of spacers, estimates, and measurements."
They got incredibly lucky, and the fit on the Fit was dead-on, which Tjin credits to the cooperation and flexibility of all parties involved.
Amongst all of the drama and deadlines, Tjin Edition has always been about family. Since his daughter got her hot pink brakes and name on the car, Tjin showed support for his son's budding basketball career by installing some game day essentials, as well as audio in the cavernous trunk.
"In the rear, we actually fit an amp, we fit a sub, we fit two shoe racks, bracelet holders, and the three floating basketballs," Tjin says proudly.
The Tjin Edition Fit is scheduled to make an appearance at Osaka Auto Messe and Tokyo Auto Salon, and then come back to be added to the Roadshow and tour the States. It was all hands on deck to get this Fit finished for show, which is fitting, because this Fit is all-in.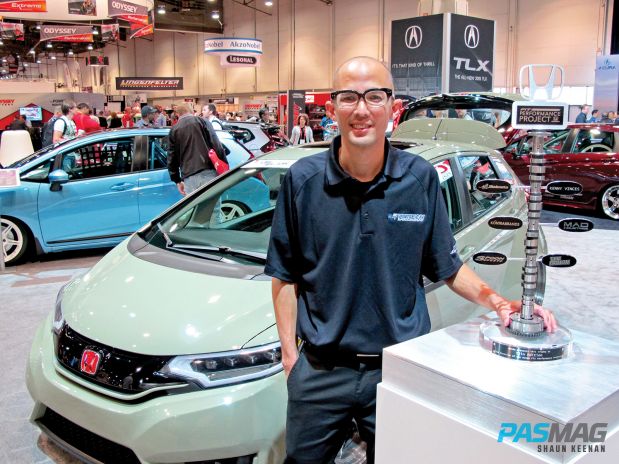 ESSENTIALS
2015 "Kylie Tjin Edition" Honda Fit EX
Owner: Neil Tjin
Built By: Tjin Edition, Unique Fabrication, L&R Autobody
Engine: 1.5L L15A I-4
Horsepower: 108 hp
ENGINE MODIFICATIONS
Optima battery
EXHAUST SYSTEM
Bisimoto pulse chamber
WHEELS / TIRES / BRAKES
iForged wheels – 18x8 -23 et w/ 4-in. lip (f), 18x8 -35 et w/ 5-in. lip (r)
Falken FK435 tires – 215/35 R18 (f/r)
Baer brakes – Hot Pink Kylie Tjin Edition 6-piston front calipers, 355 mm brake discs
Unique Fabrication (custom brackets, brake lines)
SUSPENSION
AirREX (air suspension, air management)
EXTERIOR
Custom all-metal fender flares by Josh Freeman
Axalta custom paint by L&R Auto Body
Coplus (headlights, fog lights, front lip)
Honda JDM red emblems
Webasto sunroof
Bisimoto tow hook
DIK LED taillights
INTERIOR
Katzkin (seats (f/r), door panels, center console)
SoCal Elite 94Fifty basketball and sporting equipment
MOBILE ELECTRIONICS
Scosche (Magic Mount, audio wiring)
Sony (subwoofer, amplifier, mid-range speakers, high-range speakers)
SPONSORS
AirREX, Baer, Coplus, Sony, Gurnade, Katzkin, Optima, Viair, SoCal Elite, Axalta, Bisimoto, iForged, Falken, Webasto, Wheel Warehouse, Royal Purple, Meguiars, UTI, Escort, GlowShift Gauges, LEDGlow