Written by Jordan Lenssen. Photos by Dave Thomas (www.stanceiseverything.com) | 21 April 2015
Sleepers. You can't pick 'em out from a crowd. They look like your everyday rides. Perhaps they've got a set of wheels, some suspension work, or a loud set of pipes, but their intention is to creep out from the woodwork and just obliterate any overly enthusiastic competitors. Case in point, George Dimitriadis' 2005 Hummer H2 is a beast – without any work. The hulking frame alone sits higher than most compacts and is able – and perhaps sometimes, willing – to drive over any snails lurking on the road ahead. It's intimidating without the 24x11 Fuel Offroad Hostage D531 wheels and Toyo Open Country M/T treads, but to unsuspecting viewers, this is little more than a fancy Humvee.
That is, until their cars suddenly shake and vibrate like they're at ground zero of an instant earthquake.
For those out of the loop, Dimitriadis had been building his Hummer from the bare steel up for the better part of four months, covered in depth in his "Project Ground Pounder" mini series featured in these very pages of PASMAG. (If you haven't heard of it, we've included a brief synopsis of each stage here, but you can also find the full stories online at PASMAG.com.)
The short of it: his audio system is one of the meanest, loudest, cleanest sounding and most intricately integrated setups we've ever seen. The sub stage alone could likely blow out your back teeth with 45,000 watts of pure punishment. Yes, you read that correctly.
So, how does one get to the point of building a beast of such magnitude?
If you can believe it, Dimitriadis was heavily into imports, with a revolving obsession of Hondas that included four Preludes – his most recent being the fifth gen – which was highlighted by a classic Wings West RS bodykit. Ironically, the car was about style and performance, and very little to do with audio.
His audio builds however, date back to the mid '90s and, wanting to return to his roots with something out of the ordinary, he decided to go full out on an audio build.
"The Hummer is the first truck I've ever owned," Dimitriadis says. "I wanted to go with something different. I wanted to get a big SUV, but not any SUV – I wanted the biggest SUV I could find. It was a toss-up between the Hummer and an Escalade."
"It sat bone stock for a year. I didn't touch it. People said, 'You have so much space, put a 10 or a 12 [inch subwoofer] in it.' But I've always been of the mindset that I'm either going to go all out, or nothing at all. There's no in between. In May 2011, I decided to do my first build with the truck."
That consisted of a wall behind the second row of seats loaded with four 15s and very little in the fabrication department. Six months later, Dimitriadis decided he needed bigger, which meant ripping out the rear bench in favor of two bucket seats out of a Denali, and packing eight 12-inch subs. He dove deeper into fabricating with a custom rear center console, finished in matching materials. But again, after six months, he still wasn't content.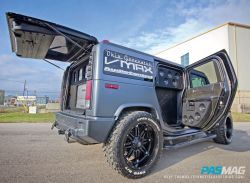 "It was loud, it looked good, but I said, 'OK, I want to do something else, but this is the last time!' That's when I decided to make it into a two-seater, move everything forward and make it what it is now."
What it is now, is something that's much more than skin deep. Front to rear, as each of the driver, passenger, rear doors and back hatch open, people are treated to an eyegasm of RE Audio and American Bass components: in the rear is an amp wall filled with 12 American Bass amps, anchored by four massive American Bass VFL 1100.1 amps and eight Hybrid 150.4 amps (stacked two deep), for 12 all together. On the sides, RE Audio components are loaded into the front and rear doors and A-pillars, complemented by custom embossed RE panels. All of this is stacked so deep the doors barely close.
Step inside and sit in the only two remaining seats, and behind them lies a black cave of sound so deep you might get lost. Designed by John Wolak of Ultimate Autosports, the fourth-order bandpass enclosure is big enough to crawl inside. If you dare, you'll be surrounded by 620 lbs. of 15-inch RE Audio XX15 subwoofers – 10 in all – firing inward into the baffled enclosure and out through the center port for truly punishing bass. Hidden behind it all are the 21 VMAX batteries, and approximately 1,000 feet of KnuKonceptz Yellow and Black OFC 1/0 wire. The enclosure is open between the front seats for proper tuning and airflow, and trust me, there is some airflow.
Dimitriadis came to PASMAG's head office to show off his musical monster. We didn't know what to expect, but when we found out, we were all a little scared.
Our offices are in a century old, four-storey warehouse filled with windows. Wanting to sample a few bass tracks and see what his system could really do, we gathered outside and he turned the volume up. Starting relatively loud, he cranked the dial, which seemed like it would never max out. The system got louder and louder (while not losing any sound quality), to the point where every window in the block-long building began to reverberate. From 30 feet away, we felt our insides shaking. People driving by were stopping and laughing in amazement. The concern of office windows breaking was real. Then, an employee from another firm told us to turn it down because they couldn't hear what was going on in their own conference room. It's nearly 60,000 watts total - the audio equivalent of sitting trackside at a V12 F1 race; so needless to say, we had to try it once more.
We're such hooligans.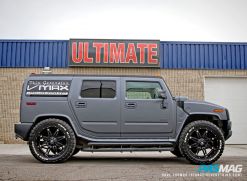 Pushing this kind of power requires a lot of know-how. Not just of electronics and audio, but also the massive sound pressure levels (SPL) that the interior handles. For a build of this magnitude Dimitriadis had to go above and beyond, building a solid sub box and battery rack to hold 21 the batteries totalling 1,575 lbs. To avoid blowing out his sunroof, front windshield and general bodywork up front, he filled the sunroof with MDF, and braced the entire front roof with stainless steel bracing, covered in a vinyl headliner.
"It's not a typical audio build," Dimitriadis says. "With the roof for example – we welded a steel cage to the roof and reinforcements with braces. There's seven layers of sound deadener in the front doors to eliminate any and all door flexing and vibrating. There's a lot done to it that's not necessarily seen. And that's part of the beauty of it."
While this may sound like a great deal of work, nowhere is it more obvious than when we found out Dimitriadis had nearly doubled the weight of his once 6,780-lb. H2. After all is said and done, it now tips the scales at a bone-mushing 12,500 lbs. That's 3,125 lbs. under each wheel. To keep the Hummer from collapsing on itself, he sourced a set of custom rear springs (courtesy of Birchmount Auto Springs) and rear coil spring spacers, aided by an Air Lift Company Air Lift 1000 helper bag kit in the rear. Next up is a big brake kit upgrade to bring the rolling sound stage to a steady halt.
Aside from that, Dimitriadis says his "Big Brute" has seen its final reno. "I might tweak it and tune it a little bit, but the overall setup won't change. The sub quantity and configuration won't change. I might change to a bigger sub or combination, but this is the final version. I can't do anything else! I wouldn't even be able to tear it down."
And why would he? From show to show, meet to meet, the reactions his Hummer garners is worth every penny.

Stage 1: The teardown, the deadening, the wiring and the charging...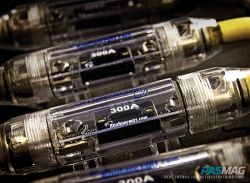 Dimitriadis tore apart the entire interior of his H2 in an effort to make it the loudest, strongest, most all-encompassing audio build possible. With thousands of extra pounds in equipment and materials yet to be added, it was necessary to ensure that the inside was gutted, because even a single rattle could grow to be a much bigger problem – and once complete, would be nearly impossible to take apart and fix.
So what was the damage? A week-long, complete interior strip to the bare metal, hundreds of square feet of 80- and 100-mil KnuKonceptz deadening, 200 feet of Knu ground and power wire, four 300A Ohio Generator alternators and eight KnuKonceptz ANL fuse holders. And that was just the start...

Stage 2: Dressing the doors

Construction on the door panels made up stage two exclusively. While it may sound ridiculous to dedicate an entire feature on cramming components in doors, consider that Dimitriadis and Co. were loading up a total of 16 – yes, 16 – entire sets of RE Audio components.
Building the design in CAD, they were properly fitted using 1/4-inch MDF, then recut as final versions in one-inch MDF and molded using fiberglass for shape and style. To match the interior, Dimitriadis chose black vinyl and matching suede, loaded the sets, and covered the grille panel inserts in cloth.
Each front door has seven 6.5-inch mid-bass speakers and four tweeters (with the remaining three tweeters housed in custom A-pillars), while the rears have four 6.5s and matching tweeters. In total, the front and rear doors are carrying 11 of the 16 sets!

Stage 3: Building the house of shake

This isn't called "Project Ground Pounder" for nothing. Stage three of the build focused on constructing (we use that term appropriately) the subwoofer enclosure. Inside, the cavernous enclosure houses 10 RE Audio XX15 subwoofers, each weighing 62 pounds, and behind it sit 21 batteries and over a dozen amps. It's a proverbial nightmare to even begin to comprehend and still, it was designed to be a musical fourth-order bandpass enclosure, opening directly beside the terrified ears of the front driver and passenger. In case it wasn't obvious already, the rear seats needed to be deleted.
To ensure the entire setup didn't implode on itself, Dimitriadis was essentially forced to use 13 sheets of one-inch and six sheets of 3/4-inch MDF for the entire assembly. The floor is 2 ¾-inches thick, the walls are two inches each, and the rear and ceiling are an incredible three-inches thick. Keeping it all together are boxes of wood glue, PL Premium adhesive and 1,500 screws (give or take), while the baffles stretch the height and length of the enclosure, acting as braces in the process.
We're pretty sure this thing would survive being dropped from a third story balcony. Instead, it's the skeleton and lungs of this ludicrous audio engineering marvel.

Stage 4: Power up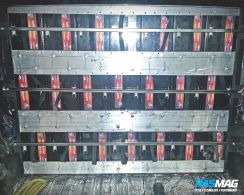 For his previous build, Dimitriadis had run multiple charging setups for his oft-proclaimed "perfect" sound setup. For Project Ground Pounder, he decided on a single 12-volt charging system, comprised of the previously mentioned four 300A Ohio Generator alternators. He has these because of the 21 VMAX Charge Tank CT 2500 batteries, which offer quick recharge rates and provide a bank of 2,600 AH for long demos.
How do you house 21 batteries in a system that's already loaded with 10 subs and 16 sets of components? Dimitriadis decided to mount them vertically, and to carry the massive amount of weight (75 lbs. each, totaling 1,575 lbs.), he used one-inch square steel tubing and 0.125-inch flat steel bar. The battery rack is bolted to the Hummer floor and rear wall to secure the three rows of seven batteries.
Once that was done, it was off to the races to install the enclosure, close up the sunroof and add the necessary bracing, but, in a last ditch effort for more sound, Dimitriadis opted for an additional five component sets to be added behind the rear doors, facing outward above the window line. Housing both mid-ranges and tweeters, the MDF was again wrapped in matching black vinyl and embedded with the RE Audio logo.

Stage 5: Ready to rumble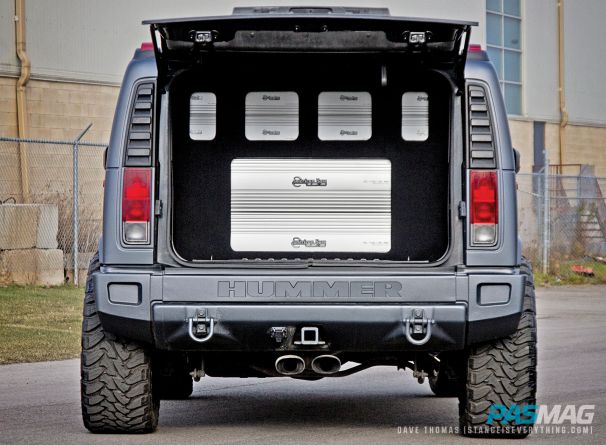 In this, the final stage of Dimitriadis' Ground Pounder build, he mounted his batteries and wired them in spaghetti-like fashion using KnuKonceptz OFC 1/0 cables. He also wired hundreds of feet of alternator charging cables to the battery bank. From there, Knu OFC power, ground and battery jumper wires were run and connected to an intuitive busbar system.
With the cabling done, CTEK was enlisted for efficient battery charging, using the Multi US 25000 charger – a system with 25-amps of charging capacity – perfect for maintenance or when the Hummer is off the road.
Next was building an amp rack strong enough to house 12 amps, including the four giant American Bass VFL 1100.1 monoblocks for the subs, rated between 10,000 to 12,000 watts each! Those were wired, and three switches were added to control and separate the system into three parts: front doors and A-pillars, rear door and window components, and lastly, the 10 15-inch subs. This allows Dimitriadis to turn off components for SPL competition, or the rear door/window components during driving. Next, an AudioControl THREE.2 EQ was installed in the front dash and paired to a 6XS electronic crossover, allowing him to adjust his settings on the fly from his front seat.
Last, but surely not least, the subs were loaded, and it was time to test out the system for the first time!
ESSENTIALS // 2005 Hummer H2 "Big Brute", Owner: George Dimitriadis, Engine: 6.0L V8, Horsepower: 325 hp @ 5,200 rpm, Torque: 365 lb-ft @ 3,600 rpm
EXHAUST // Custom center-fitted Magnaflow by Abe at Quick Muffler (exhaust, exhaust tips)
CHASSIS / SUSPENSION // Custom rear springs by Birchmount Auto Springs, Custom rear coil spring spacers, Air Lift Company rear 1000 helper bag kit
WHEELS / TIRES / BRAKES // Fuel Offshore Hostage D531 wheels – 24x11 (f/r), Toyo Open Country M/T tires – 37x13.50R24LT (f), 37x13.50R24LT (r), Upgraded brake rotors and calipers
EXTERIOR // Lumens HID headlights, Custom frosted grey plastidip on entire vehicle by Autobahn Restyling, Custom under-hood airbrushing by Gregg McPherson at Brushgroove
INTERIOR // Completely custom (front/rear door speaker panels, custom suede/vinyl wrapped panels w/ RE Audio embossed logos, suede headliner, sunroof delete, reinforced front cabin w/ steel tubing)
MOBILE ELECTRONICS // Kenwood Excelon DDX790 DVD receiver, AudioControl (THREE.2 in-dash equalizer, 6XS crossover), American Bass (VFL 1100.1 subwoofer amp (4), VFL Hybrid 150.4 mid-range amp (4), VFL Hybrid 150.4 high-frequency amp (4)), RE Audio (XX 15-in. subwoofers (10), 6.5-in. mid-range speakers (32), silk dome tweeters (32)), VMAX CT2500 batteries (21) totalling 2,600 AH, KnuKonceptz Yellow and Black OFC 1/0 wire (1,000 ft.), Ohio Generator DR44 300A alternators (4), CTEK Multi US 25000 battery charger, Custom-built fourth-order bandpass subwoofer enclosure designed and built by John Wolak
SPECIAL THANKS // Sandy, Bill and Dan at KnuKoncepts, Ultimate Autosports (Jimmy, Mike and Kevin), John Wolak and Nick Cimino at Core Industries, Mike Miller at Toyo Tires Canada, Steve Bursach at MHT Wheels, Autobahn Restyling, Sean Reid at AudioControl, Tom at Ohio Generator, RE Audio, Bob at American Bass, VMAX Batteries, CTEK Battery Chargers, Gregg McPherson at Brushgroove
Also see:
Project Ground Pounder: Phase 1
Project Ground Pounder: Phase 2
Project Ground Pounder: Phase 3
Project Ground Pounder: Phase 4
Project Ground Pounder: Phase 5