Written by Chris Nicholls | 30 August 2015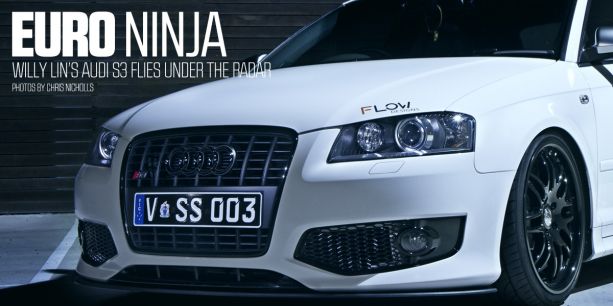 Stealth. It's a useful survival tactic, especially in a world where being spotted can mean big trouble. In the car world, with ever-tightening laws about what you can (and mostly can't) do, flying under the radar can mean the difference between enjoying your ride and taking potentially expensive trips to the shop to change "undesirable" elements. The art of stealth is something Willy Lin of Victoria, Australia has mastered. His 2008 S3 Sportback is daily driven, despite modifications that, on closer inspection, would net him a nice yellow 'defect' sticker from local police as fast as his car can accelerate.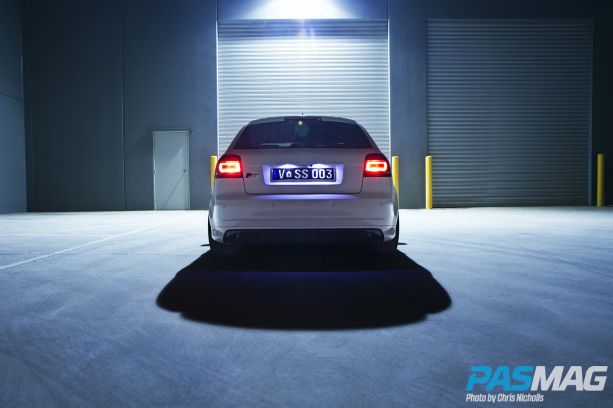 There's the custom Milltek exhaust, which is surely one of the only in the world on an S3. The quad-tip setup (complete with a custom diffuser element to accommodate it) puts out a wicked, highly-timbered sound on full noise. There are the KW V3 coilovers, which are wound down so low that there's pretty much zero travel. And that's before we get to the serious stuff, like the GT3071R turbo, JE forged pistons and Integrated Engineering rods, Wagner intercooler, and Forge Motorsport big brake kit with six-piston front calipers hiding behind iForged TE16 19x8.5-inch wheels, and so on. Yet for all of this, Lin says he's never been pulled over. Looking at the car, it's not hard to see why. The S3 may sit low on its 19s, but their classy gloss black finish paired with an almost unaltered stock S3 (save for a custom Flow Design splitter and updated 8P1 taillights) hardly attracts attention. Also, the Milltek exhaust, while loud enough, isn't really noticeable unless Lin pins it. One look at the engine bay also shows that he's gone stealth there, too. HPA intake and blue hoses aside (which Lin says were only fitted because black ones weren't in stock at the time), it's only until you get close that you notice anything is different.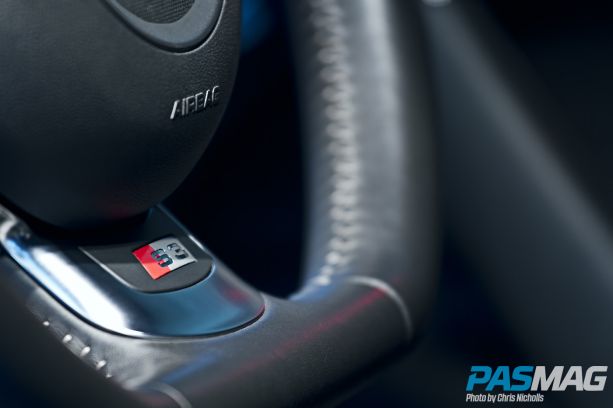 The same goes for the interior. The stock S3 is already a nice place to be, so Lin didn't mess with it. There's a P3 voltage gauge that replaces the driver's side air vent, a subtle Forge shift knob, an Alpine INE-W928E head unit and Audison Bit One controller and that's it – at least for the visible items a curious police officer might see looking through the driver's side window. The two Hertz Mille ML 1600.2 6.5-inch bass drivers and two Hertz Mille ML 280.2 tweeters are hidden in the standard enclosures. And the rest... well, you'll have to open the hatch to see that.
"LIN'S S3 SPORTBACK IS DAILY DRIVEN, DESPITE MODIFICATIONS THAT, ON CLOSER INSPECTION, WOULD NET HIM A NICE YELLOW 'DEFECT' STICKER FROM LOCAL POLICE..."
It's here that, admittedly, the stealth theme kind of breaks down, as it's hard to hide this level of magnificence. Sitting pride of place in its custom-built and flocked enclosure is a 12,000-watt Phoenix Gold 'The One' amp (number three of 100) surrounded by four Phoenix Gold Ti210D2 dual two-ohm, 10-inch subs and the Bit One controller, all of which sit in a custom 10-layer, internally-braced fiberglass enclosure. The whole lot has been built and installed by Melbourne's Phatt Audio Concepts, one of Australia's leading mobile electronics workshops, whose work we also featured in the June/July 2015 issue of PASMAG.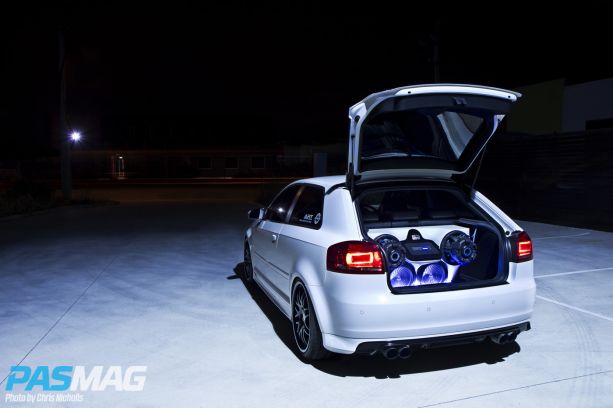 The crazy thing about this setup is that it's actually the second version to go into the car.
"The first sound system we built was fitted with 10 Boston amps and four Boston subs. Then, we changed to the current system when Phatt Audio Concepts told me about the number three of The One amp," recalls Lin.
Why change sub brands?
"I always trust the workshop I go to, and I believe in the brands they introduce to me. Phatt Audio builds a lot of show cars for big audio system brands, and when they do nice work on those show cars as well as customer cars or their own cars, you can see and understand their ability. Plus I had my RX-8 build with them too."
Ah yes, the RX-8. Lin's previous build was, if you can believe it, the complete antithesis of his current steed. It had a full RE Amemiya kit as well as half of their tuning parts catalog, 19-inch TE37s, plus a very noticeable rotor themed install. Lin's reason for switching to the S3 was all about what is under the hood.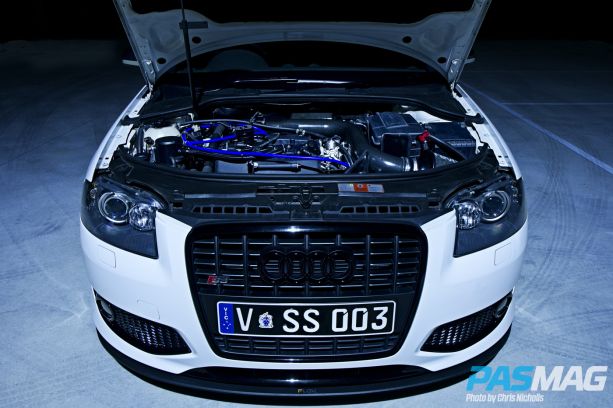 "After owning two NA cars (Lin's first build was a BMW E46 3 Series), I really wanted to purchase a turbo car. At the time, I did some research and found that people were moving from Japanese imports to Euro ones, and with it being so much easier to get power from a turbo car, I decided on a VAG machine. I was thinking of getting a Mk5 GTI or R32, but after test driving both cars, I felt the GTI had more power than the R32. At the same time, I didn't want a front-wheel-drive car, so I went to Audi and test drove the 2008 S3. I felt the car was more refined everywhere, so I decided to go for it."
As for the stealth element?
"The police are getting so strict," Lin says. "They're just pulling everyone [with a modified car] over."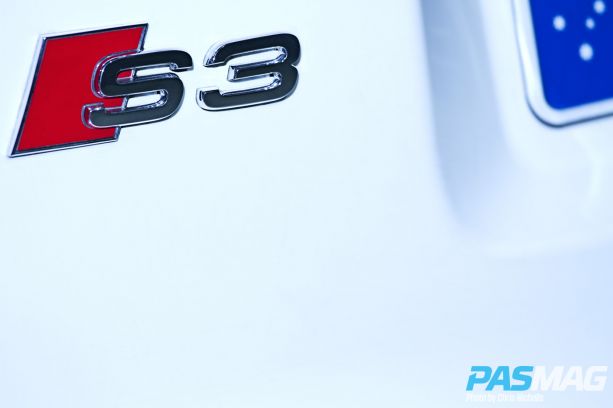 Given it's his daily, it just made sense. Having said all that, like any good project car, the S3 is not done yet. There's talk of fitting a third rear-facing sub in the fiberglass enclosure, as well as Recaro airbag seats, plus (possibly) a customized titanium exhaust, more aggressive cams and matching valve springs. Exterior-wise, Lin might even go Japanese and swap to matte blue gunmetal ZE40s, but whether that happens before or after the mooted widebody conversion is not yet decided. Yes, widebody on a stealth car. But he's got it thought out already: he's thinking of basing it on RS4 front fenders and custom-designed rears, which will add the necessary width in a nearly unnoticeable way.
Whether he goes for it or not, this S3 is already a perfect testament to the idea that stealth is sometimes the best way to survive – and even thrive – in a world hostile to your needs and wants.
"I ALWAYS TRUST THE WORKSHOP (PHATT AUDIO CONCEPTS) I GO TO, AND I BELIEVE IN THE BRANDS THEY INTRODUCE TO ME."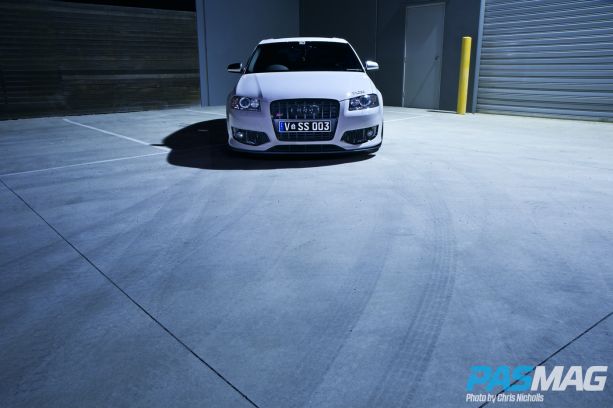 ESSENTIALS
2008 Audi S3 Sportback
OWNER: Willy Lin
LOCATION: Victoria, Australia
ENGINE: Audi BHZ/CDLA 2.0L turbocharged I-4
HORSEPOWER: 360 awhp
BUILT BY: Phatt Audio Concepts, AudVolks, Auto Racing Technik, Euro Motors, Auto Modelista, Polo Body Works
CLUB AFFILIATION: OTO Krew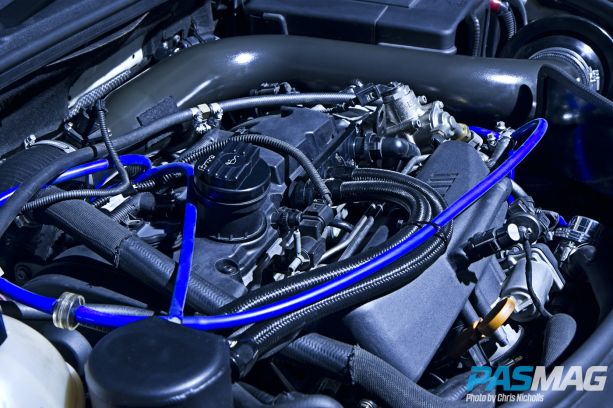 ENGINE:
Garrett GT3071R turbocharger
Wagner Germany intercooler
Custom silicone hoses Forge
Motorsport (high-flow blow-off valve, washer bottle cover, alloy oil cap, alloy water cap, oil catch tank)
TiAL external wastegate
REVO (Technik air intake, boost controller)
HPA Motorsports intake manifold
Autotechhigh-pressure fuel pump
Bosch044 Motorsport fuel pump
AudiRS4 injectors
NGK platinum spark plugs
Integrated Engineering forged connecting rods (114x20 mm)
JE(9.5:1 compression ratio forged pistons, piston rings)
ARP head studs
APRengine mount
EXHAUST:
Milltek custom quad-tip exhaust
ATP Turbo down-pipe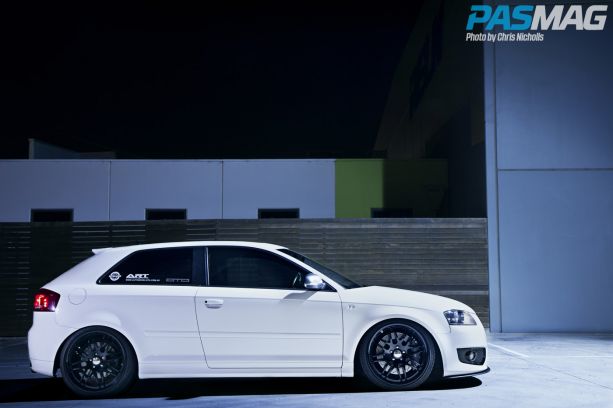 DRIVETRAIN:
South Bend Stage 3 Endurance clutch & flywheel
Forge Motorsport Quickshifter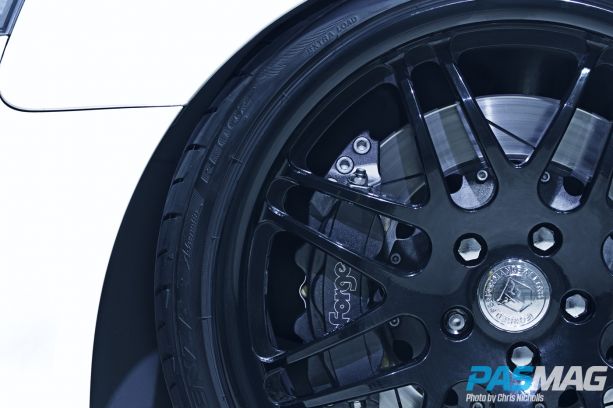 WHEELS / TIRES / BRAKES:
I-Forged TE16 wheels
19x8.5 +47 (f), 19x8.5 +43 (r)
Bridgestone RE002 tires
225/35 R19 (f/r)
Forge Motorsport (6-piston front calipers, 356x32 mm slotted discs, front braided brake lines)
DBA T2 rear calipers
EBC Yellowstuff brake pads
CHASSIS / SUSPENSION:
KW V3 coilovers
Super Pro camber top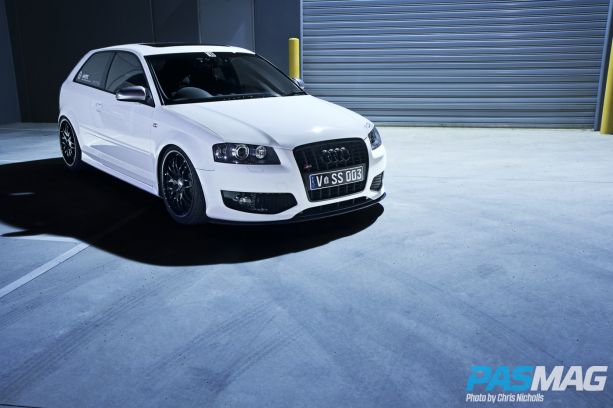 EXTERIOR:
Custom quad exhaust outlet diffuser
Flow-Design splitter
Audi 8P1 update taillights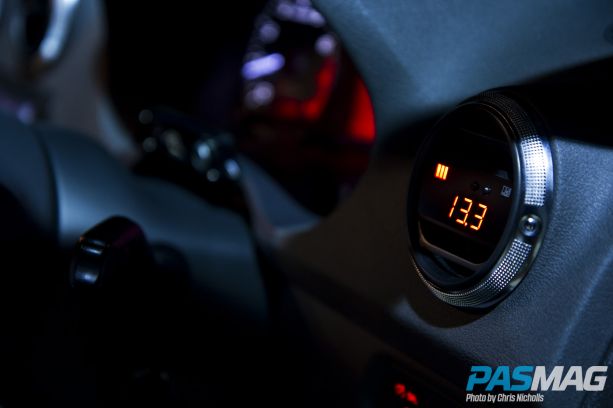 INTERIOR:
Forge Motorsport shift knob
P3 Cars gauges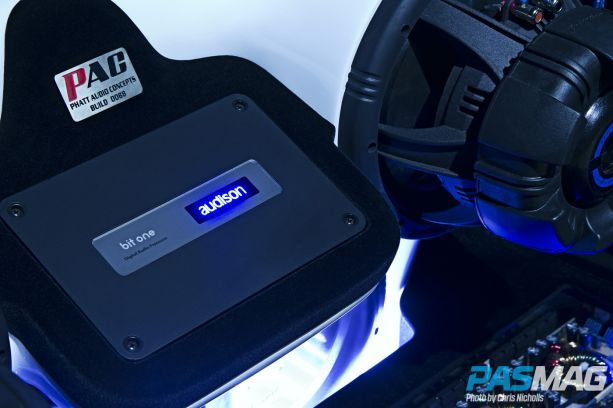 MOBILE ELECTRONICS:
Alpine INE-W928E head unit
Audison Bit One processor
Phoenix Gold ("THE ONE" Limited Edition #3 amplifier, Elite4 amplifier, T1210D2 10-in. dual 2-ohm subwoofers (4))
Hertz Mille (ML 1600.2 6.5-in. speakers (2), ML 280.2 tweeters (2))
Stinger (SPV69 batteries (2), 0-gauge ANL fuse holder, 300 A fuse, 0-gauge main power wire, Expert Roadkill sound deadening)