27 October 2015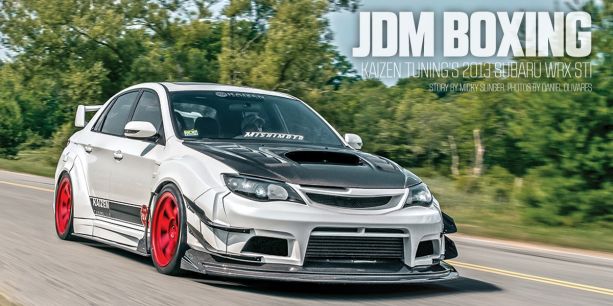 NOT FAR FROM BOSTON, in the town Boxborough (should be renamed "Boxerborough"), Massachusetts, there's a shop that's only a few years-old that operates with Japanese efficiency. Building JDM vehicles with performance and precision in mind, it's no wonder that Kaizen Tuning's fleet of GT-Rs and time attack Evos has garnered the attention of the modified car community. Their newest project, however, is a complete departure from their usual chassis and techniques, but it's still built with all of their Japanese philosophies intact.
Kaizen Tuning cut its teeth building, tuning and tracking R35 GT-Rs. Scott McIver would bring these near four-digit power-figure beasts out to shows and meets to help promote his business, but because they looked near stock on the outside, they didn't gain much traction with local enthusiasts. Kaizen Tuning has never been about providing flash without something to back it up, and McIver knew exactly which platform to build upon.
"I have owned eight Subarus, so I'm a Subaru fanatic," admits McIver. "I find them intriguing and I end up buying one, and usually, they end up breaking my heart."
However, two years after opening his shop and partnering up with Cobb Tuning and Tomei, McIver saw himself staring down the barrel of a four-door 2013 Subaru Impreza WRX STI. This Subaru wasn't to be one to attract just any Impreza enthusiast either.
"New England is maybe the largest market in the world for Subaru, there's millions of them around here," McIver says. "There are guys that run really cheap ones and guys that like to spend some money on them, and we wanted to build a car that was going to attract the guys that wanted to spend good money of these cars."
The aim was to bring to life an STI that was attention grabbing, but clean, and fitted with high-end reliable parts — something that could be either parked or driven and people would stop and take a look. One of the most instrumental parts in achieving this would be provided through Kaizen's partnership with Varis. Their D widebody kit has become McIver's favorite aspect of the build.
"The way that Varis has built this aggressive body kit, they really wrapped the rally heritage of this car in," McIver gushes. "Yes, it's a street body kit, however, you really get a racecar feel with it, and that ties into where we come in. If someone were to build one of these cars for the track, certainly a Varis widebody kit is something we'd want to talk about."
Something about the car that McIver has gotten flack for, however, is retaining the OEM wing on the trunk. Usually, when one goes all in on a Varis kit, they go all out and mount up a big GT wing, but it's a small detail that reminds McIver this is still a street car. Not that the GT wing is sorely needed anyhow. With all of the carbon fiber air-channeling happening all over the body, Kaizen is doing pretty well in the downforce department. To really wow the crowds though, McIver sprung for some crowd-pleasing audio from Boston Mobile Concepts and some custom LED lighting. The headlights proudly shine the Kaizen Tuning logo and even the door handles project the company brand for extra show points. The four corners are also well dressed, with some serious Volk TE37RT wheels in 18x11-inch fitment all around.
Now, before you think I'm describing a hard-parker, let me get to some of the good stuff. Under the hood, just about anything Perrin makes has found a home. Fuel upgrades, intercooler, intake, covers, piping, pulleys, blow-off valves – it's all there, in matching red.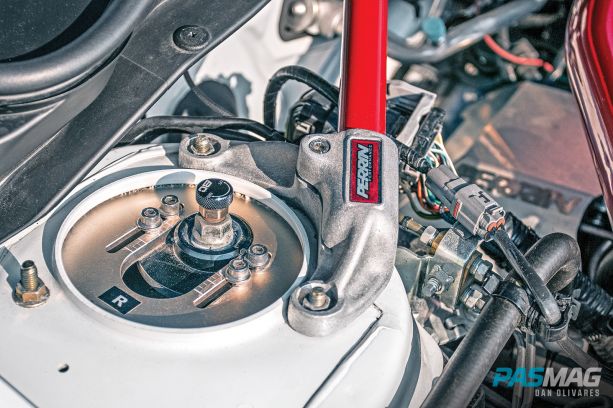 Providing the extra kick and taking advantage of the Perrin catalog in the bay is Cobb's AccessPort V3 engine management system with a custom Kaizen Tuning tune. This Impreza is pushing about 300 horsepower at the wheels and, while that might not sound like much, at the end of the day this car still has to be street driven – a fact that's been hard for McIver to come to terms with.
"The biggest challenge was holding myself back," he admits. "I'm a person that overdoes everything. Our time-attack Evolution 10 started this way — the same way this car did — and ended up being this ridiculous racecar that I could never have on the street ever again. I really held back from doing a big turbo kit, or doing anything too insane to the motor because I knew that I wanted this car to be something someone could aspire to."
Letting the car exhale a little easier is a fantastic sounding system made up of an up- and down-pipe with a UEL header (for bonus boxer burble) from Tomei, which have teamed up with an HKS Legamax exhaust to accentuate its throaty growl.
Perrin chassis bracing, sway bars, endlinks and their Super Steer kit further exploit the increased handling performance offered by the BC Racing BR coilovers under the STI's wider haunches.
Although its performance and looks are all very alluring, McIver says that it's actually what's inside that counts.
"People see the interior and they immediately want to be in this car," he laughs. "I've gone to a show, turned around to talk to a customer to sell him a t-shirt or something like that, only to find there are like five girls and a guy in this car when I turn back around. That sort of thing happens a lot."
Who can blame them? A full custom Alcantara interior with red accent stitching, custom carbon fiber work, a pair of Bride Stradia II Japan Edition seats and upgraded LED lighting make it a great place to sit.
So, after all the work that has gone into this STI, is it all worth it in the end? Well, when it debuted at Import Expo in Atlantic City, it went home with Best Subaru and runner up for Best in Show. Not bad for its first time out. The Subaru had exactly the desired effect McIver hoped it would.
"We brought a 1,000-horsepower GT-R to the same show and nobody batted an eye at it — no one even looked at it," McIver recalls. "They were like, 'Oh, it's a GT-R and it has 1,000 horsepower? Who cares, it looks stock.' But yet they went bananas over this STI! We knew we were on to something good there."
McIver credits his inspiration to build a car of this level to his obsession with the Japanese's attention to detail and pursuit of perfection. It's what lead him to name his company Kaizen, which means to "constantly improve." Building one of the nicest STIs on the planet after two years of opening your doors is quite something to top and improve upon, but knowing McIver, we should be super excited about what's to come.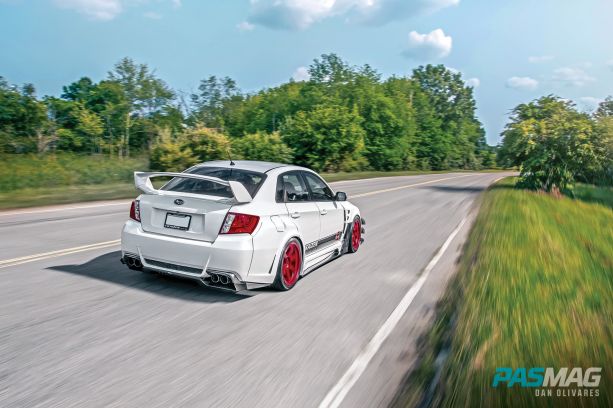 ESSENTIALS
2013 Subaru Impreza WRX STI Limited
OWNER: Scott McIver
BUILT BY: Kaizen Tuning
LOCATION: Boxborough, MA
ENGINE: Subaru 2.5L Turbocharged H-4 (EJ257)
HORSEPOWER: 300 hp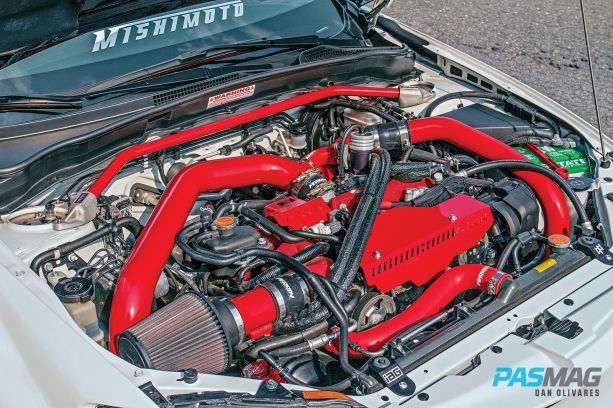 ENGINE MODIFICATIONS
Perrin (fuel rail kit, front-mount intercooler, intercooler piping, inlet hose, short intake, radiator cover, boost solenoid, boost solenoid cover, lightweight crank pulley, turbo heat shield, blow-off valve)
IAG (oil cap, radiator cap, brake booster cap, water cap, battery tie down, radiator tie down)
Mishimoto radiator hoses
DeatschWerks DW65 fuel pump
Cobb AccessPort V3 w/ Kaizen Tuning custom tune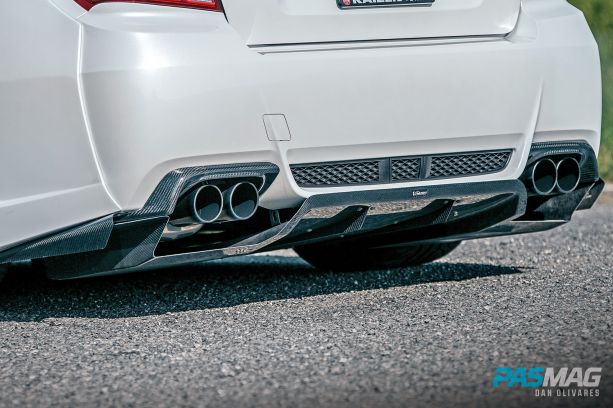 EXHAUST
Tomei (down-pipe, UEL header, uppipe)
HKS Legamax exhaust system
DRIVETRAIN
Perrin (diff lockdown, diff knob, reverse lockout)
Kartboy (short shifter, shifter bushings)
CHASSIS / SUSPENSION
Perrin (sway bars (f/r), endlinks, chassis brace, Super Steer Kit)
BC BR coilovers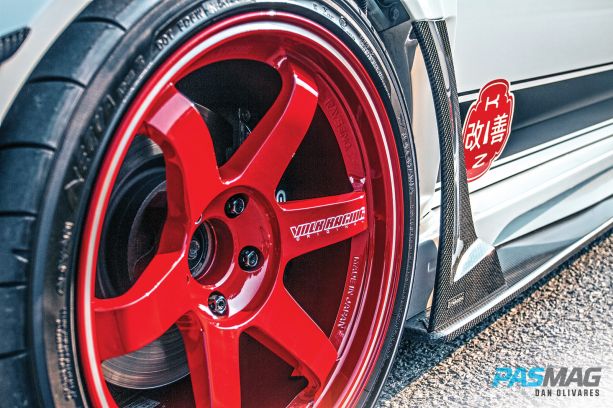 WHEELS / TIRES / BRAKES
Volk Racing TE37RT wheels - 18x11 +17 (f/r)
Project Kics R40 iConix lug nuts
Yokohama AD08R tires - 295/30 R18 (f/r)
DBA brake rotors
Hawk ceramic brake pads
Goodrich stainless braided brake lines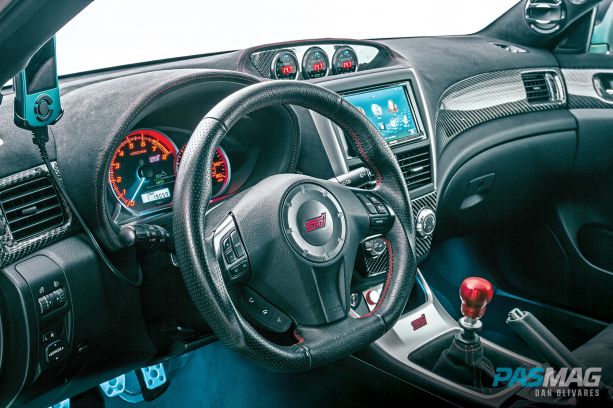 INTERIOR
Zeitronix ZT-2 gauges (wideband, water temp, boost)
GT Spec steering wheel
Bride Stradia II Japan Edition seats
BMC gauge pod
Custom Alcantara wrapped (gauge cluster, dashboard w/ red stitching, doors w/ red stitching, rear seats w/ red stitching, rear deck, shifter boot)
Custom carbon fiber (dash trim, door trim)
Custom push button start
LED (mood lighting, puddle lights, dome lights)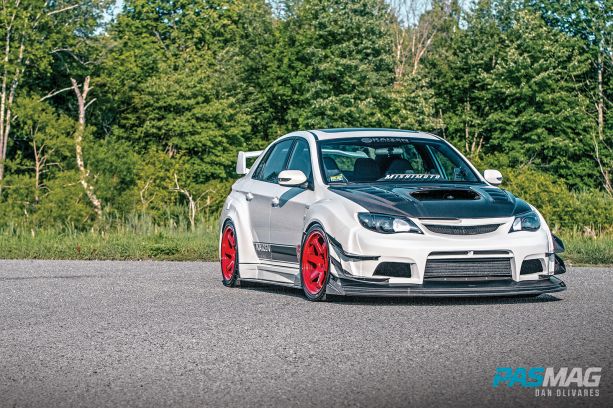 EXTERIOR
Varis (widebody kit D – fenders, bumper, side skirts, carbon fiber side spats; VSDC carbon front diffuser, carbon Hyper canards, carbon rear diffuser, carbon side skirts, carbon cooling bonnet, carbon exhaust heat shield)
Custom LED Kaizen Tuning logo (headlights, door handles)
LED (taillights, blinker lights (f/r), plate lights, running lights)
Bi-Xenon conversion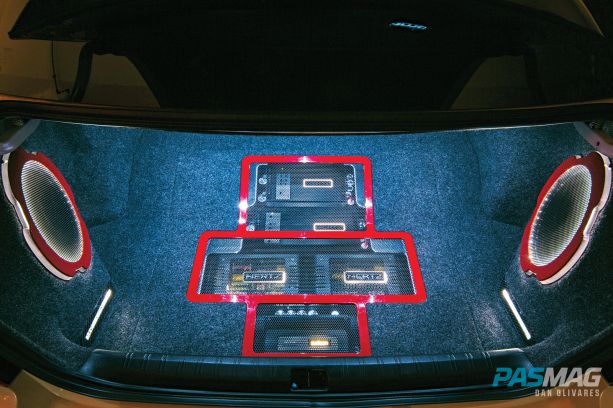 MOBILE ELECTRONICS
Kenwood Excelon DNN990HD head unit
HERTZ (Bit One.1 signal processor, Mille MLK 3PA 3-way kit, High Energy HCX165.4 rear speakers, HX250d.5 10-inch subwoofers (2), HDP 4 amplifiers (2), HDP 1 subwoofer amplifier)
Ported subwoofer enclosures
2-gauge power wire
500-amp buss bars
PARTNERS
Varis Japan, Cobb Tuning, Perrin Performance, Turn 14 Distribution, Boston Mobile Concepts, Seamless Custom Upholstery