01 December 2015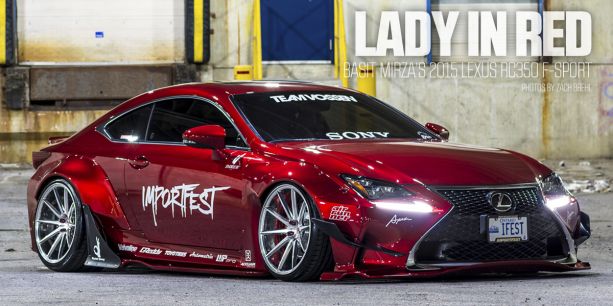 Importfest's Rocket Bunny RC from concept to completion.
Inspiration can come in many forms. Whether from failure or success, experience or the will to exceed - you can be inspired to move upwards and onwards from so many sources in life.
For Basit Mirza, the owner of the 2015 Lexus RC 350 with the hips (the car, not him), he gets by with a little help from his friends; namely the ones on his team.
"My team inspires me," he says. "Everyone on Team Importfest is very passionate about building cars, and in addition to building their own vehicles, they are always ready and willing to help others."
That's right, Team Importfest. Mr. Mirza is the man behind Importfest, the largest modified automotive show in Canada. You may know him by his last car, the 2004 645i Bimmer that was dumped on AccuAir suspension. If that's still not ringing any bells, Mirza has also graced the cover of PAS in 2002 with his MAXBOOST Civic hatch. This guy has built a few noteworthy cars in his time.
So, how did he decide to drop the BMW and pick up the new RC as his next project? Pretty much how we all do; brainstorming with friends about what to build and what to put into it. While our conversations usually end with "one day…" Mirza's conversation ended with "okay, let's do it." After speaking with his buddy Paul - who was looking to build something new also - about which vehicle to build, the two decided to build not one, but two Rocket Bunny Lexuses (Lexi?). Must be nice.
"I brought him to Lexus Downtown, introduced him to everybody and Lexus Downtown was very accommodating," Mirza says. "Maybe a few weeks after Paul picked up an RC-F, I picked up the RC 350 and we started building them. We both came out relatively around the same time – about a week apart."
After receiving the first RC-F body kit, Paul's RC received wheels, tires and a wrap in that Tiffany teal that's oh so popular this year. Then he took a step back and decided that next year he'll come out swinging. I mean, he did just drop all that cash. Mirza, on the other hand, went all in.
With the RC being a fairly new platform, and a more aspirational one at that, the aftermarket is a little narrow for the power coupe right now. With the connections that Mirza has, however, he was able to get his hands on parts that haven't been seen before, some of which are pre-production prototypes - a prime example being the supercharger under the hood.
Mirza was introduced to Clark Ishihara of VIP Auto Salon, which does a lot of R and D for Lexus and are very involved with A'PEXi. It just so happens that A'PEXi's RC supercharger was on their list. After an exciting chat with Masaki Nakayama of A'PEXi, the one-off kit was on its way to Toronto, which was then followed by more one-off JDM goodness in the form of Aimgain's quad carbon-tipped muffler system.
The wheels also stand-out, with Mirza's RC premiering his custom high-polished and brush-faced Vossen Precision Series 310 rollers on Canadian soil. Wrapped in Toyo T1 Sports rubber and housing six-piston WP Pro brakes in behind, the 310s look like they are made specifically for the RC – thanks to several painstakingly detailed phone calls and messages back and forth to make sure they were perfect when they debuted. And that's because they were. Mirza says that barring the body kit, the wheels were probably the mostdifficult detail to hammer out.
"When we got the body kit, we weren't certain of the exact dimensions; we were kind of guessing," he admits. "That took a lot of time because there's a lot of calculations you have to factor in, like the brakes and the added width on the fenders."
"The time to create a custom forged wheel, as well as the cost was something we couldn't mess up," Mirza continues. "We had one shot and it had to be perfect. Leo Mendoza from Vossen Wheels is a specialist when it comes to this; he took the time to measure and calculate the best fitment for the car."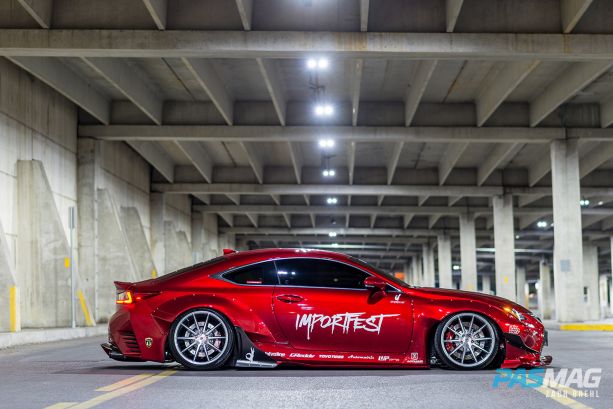 According to Mirza, when Mendoza showed up to Importfest in person, his words were as follows: "Yeah, I knew it. It's perfect." It was originally recommended that Mirza go with 19s, but moving up to the 20-inch sizing really sets the whole thing off.
Far and away though, the most awe-inducing aspect about this RC has to be TRA Kyoto's Rocket Bunny kit. The way it flows seamlessly with the OEM lines is just fantastic. The kit is made up of four overfenders, a full lip kit and diffuser, as well as a ducktail spoiler to top off the trunk. Doused in that fleck-heavy red shade from KC Auto, this really makes the Lexus a stunning lady in red. Although the kit is his favorite aspect as well, Mirza stresses that getting that look was no piece of cake.
"I mean, the body kit just looks so seamless," Mirza gushes. "It looks like it's so easy to install, but it's not. There's so much cutting involved. It was a huge process."
It's a really good thing that he had good people like Alic Kwan of AutoMatrix along for the ride. And from what Mirza tells me, Kwan was absolutely instrumental in installing most of the parts on this car. Cutting and fitting the Rocket Bunny kit, installing the Air Runner air struts and hooking up the Accuair e-level management system, bolting up the A'PEXi supercharger – it was all thanks to Kwan. Mirza says he couldn't have gotten this car done without the help of Kwan and his friends. It's super handy that they're all professionals in their respective fields.
"It's crazy because I drive the car, but I feel like I didn't really lift a finger – it's everybody," he says. "And that's the thing: there are builders that actually get dirty and build cars, but I mean for me, I take it to the experts. I like the professionals and I'm happy that there are so many here in Toronto that are actually recognized and well-known."
And that leads us to the name that came in clutch for Mirza at the end: "Crazy" Frank. Frankie owns and operates 20HZ Audio Sound & Security in Toronto, and has been a mainstay for many years. He is the madman behind that fantastic trunk build that incorporates the air ride and audio systems so well. Sunken into the hardwood flooring and illuminated by Oracle LEDs are two Sony amplifiers – one mono-block and one four-channel – to power the 12-inch Sony subwoofers taking up residence on either side of the Viair compressors, as well as the two-way components in the cabin. This clean, symmetrical install, along with the quality parts and meticulous are a huge highlight in our book.
Though this build may seem out of mind and out of wallet for some, its beginnings and conception are things we can, as car enthusiasts, relate to. We've all spent too much time firing ideas back and forth with our buddies about dream builds and parts. We've all spent too much time in the garage trying to get things done on our own and on our friends' cars. Mirza has been playing with cars with his friends for a long time and, as he puts it, "as opposed to just one guy having that nice car, there are several of us." That's squad goals right there.
ESSENTIALS
2015 Lexus RC350 F-Sport
OWNER: Basit Mirza
LOCATION: Toronto, ON
BUILT BY: AutoMatrix, 20HZ Audio
CLUB AFFILIATION: Team Importfest
ENGINE: Toyota 3.5L V6 (2GR-FSE)
HORSEPOWER: 306 hp
TORQUE: 277 lb-ft
ENGINE
Rotrex C30 supercharger
ARC intercooler
Setrab oil cooler
A'PEXi Power intake filter
MAP ECU subcomputer
EXHAUST
AimGain Carbon Loop quad-tip muffler
WHEELS / TIRES / BRAKES
Vossen Precision Series (VPS) 310 wheels – 20x9 -10 (f), 20x12.5 +35 (r)
Toyo T1 Sport tires – 235/30 R20 (f), 325/25 R20 (r)
WP Pro 6-piston brake kit (f/r)
SUSPENSION
Air Runner air struts (f/r)
Accuair e-Level management system w/ touchpad
EXTERIOR
TRA Kyoto Rocket Bunny FRP widebody aero kit
Custom paint by KC Auto
Vinyl graphics by Shinzo Media
INTERIOR
BagRiders Zaetech Digigauge pressure display
Weston Flooring wood trim in trunk
Accuair touchpad custom install by 20HZ Audio
Hard lines by Taylor'd Customs
MOBILE ELECTRONICS
Sony (XS-GS1621C 2-way components (4), XS-GS120LD subwoofers (2), XM-GS100 1-channel amplifier, XM-GS400 4-channel amplifier)
BlackVue Wi-Fi HD security camera
Dynamat SuperLite Bulk Pack sound deadening
Oracle Lighting Black PCB Flex LED 12'' lighting strips - White
Reikken (JB34UH battery (under hood), JB809 battery (trunk))
Wirez (AMPKS-4 4-gauge amp wiring (2), AMPKS-8 8-gauge amp wiring, CAPDPD-2F 2-Farad stiffening cap, PDS-8 power distribution block)
SPONSORS
Vossen Wheels, Accuair, GReddy, Toyo Tires Canada, WP Pro Brakes, Sony Canada, Air Runner, AutoMatrix Auto Service, AimGain International, 20HZ Audio Sound & Security, Chemical Guys Canada, Valvoline, BagRiders
SPECIAL THANKS
Andrew (GReddy), Leo Mendoza (Vossen), Alic Kwan (AutoMatrix), "Crazy" Frank (20HZ), Blair Taylor (Taylor'd Customs), Billy Wang (Wheels Collection), KC Auto, John Ng (Auto-Links), Christopher Lina (Lexus Downtown), Kelvin Leung (Lexus Downtown), Harvin Minhas, Navin Pillai, Asim Mirza (Team Importfest)
BEHIND THE SCENES
Rocket Bunny Body Kit Install
Contributor: Zach Brehl