Written by Eric Eikenberry. Photos by Jason Machester | 03 November 2015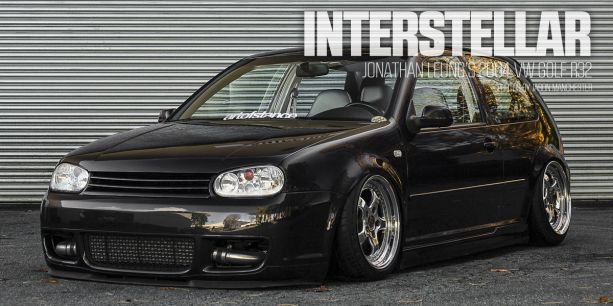 Interstellar: Out of this World R32.
If you haven't had the chance, we highly recommend a long walk. No, seriously, we do. Stroll out into the darkness at night, miles away from the nearest town, and gaze up into that sky. Once your smartphone has been stuffed into your pocket and your pupils have fully dilated, the magnificence that is the Milky Way galaxy becomes fully apparent overhead. It's possible to wonder how something of such beauty and vastness came to be.
Comparatively, we're just dust, riding a slightly larger bit of dust, around a ball of brightly-lit gassy dust. When we gaze at the deeply sparkling hues covering Jonathan Leung's 2004 VW R32, we're left with a touch of dizziness, pondering the significance of a stanced vehicle with over 400 horsepower and 458 lb-ft of torque and jaw-dropping good looks, too. We're sorry; we can't help the occasional cheesy pun (occupational hazard) so we're jumping off the cliff now and calling it "stellar." You can hate us for it later.
What is it that sets one car apart from the others, whether at a simple parking lot meet or a full-blown judged competition? A guiding vision and seamless execution, that's what! Admit it. All of your favorite cars have an overwhelming presence where, no matter how hard you look, you cannot find those flaws you'd normally expect. Leung started his modifying career with a Driver's Edition MK3 GTI with the underwhelming naturally-aspirated 2.0-liter four-cylinder making all of about 125 horsepower. The 2003 R32 models turned his head, but his north-of-the-border location and the car's unobtainable availability made ownership as unlikely as faster-than-light travel. When VW introduced the limited edition 2004.5 Jetta GLI with its host of special features, Jonathan found the last one in Canada at his local dealer and took it home. Fast forward through five years of car payments and rising premium unleaded fuel prices and we find Leung trading in his trusty Jetta and the VW community for a fuel-sipping Honda Civic, which he hated.
The silver lining in his cloud of reliably-boring transportation came in 2011, when he was involved in a two-car accident. Civic styling might look like a giant bar of carved soap, but you cannot fault their high-strength steel safety cage. With his Civic totaled, Leung turned to Craigslist and searched up a local MK4 R32, already imported. Of course, Leung snapped it up.
"It had a trashed interior, cracked windshield and damaged paint, but I didn't think twice and bought it on the spot," he says. "As I drove away, I couldn't help but feel that this was a homecoming for me."
FTL drive engaged, warp speed Mr. Sulu! We mean boost, naturally. By February 2012, he'd decided on a turbo kit.
"The guys at CTS Turbo have been actively involved in the VW community and when they heard I was looking to turbo the R, they invited me down to their shop for a tour," Leung recalls. "I was really impressed with a couple of builds in their shop and they were willing to work with me to customize the kit the way I wanted."
The heart of this star is its Precision Turbo HP6262SP-B T4 turbocharger and its alphabet-soup list of accessories. A larger front-mounted intercooler, a Bosch fuel pump with 550 cc fuel injectors and a Forge Motorsport blow-off valve top off an impressive list of solid engine modifications. The 8.5:1 compression ratio head reducing gasket spacer keeps the 3.2-liter VR6 engine from grenading into expensive paper-weight sized pieces. C2 Motorsports tuned it to 409 horsepower, delivered through a Haldex 4MOTION all-wheel-drive system packed with a taller and stronger European 4MOTION gear set.
"We ran into some challenges trying to fit the European Sharan gearbox into the R32," explains Leung. "The beefier gear set and longer gears are very welcome for large torque builds, but we realized that the transmission casing on the Euro R was made differently than the ones for the North American cars."
For ride height, Leung started with a set of FK coilovers, which have a reputation for being able to go low, but that wasn't enough. So, with the help of some friends, Leung turned to the low that only air can provide. The Airlift Performance Series front airbags and Slam Series rear bags are controlled by Autopilot V2 air management, while two Viair 444C compressors and a polished tank are integrated into the reupholstered trunk, complete with a false floor panel and coiled air hose. Seventeen-inch polished Porsche Cup wheels were fitted in rolled and pulled fenders, along with a ground-scraping SEAT Cupra-R front lip. The body is debadged, with the side markers shaved by Truline Autobody, and following another fender-bender, the signature custom-mixed Midnight Black paint was sprayed. There's normal blue flake, for a hint of color shift in the sun, and Fisker Silver Diamond Dust, which is actually comprised of recycled glass in the eye-popping finish.
"I really love the custom paint job," gushes Leung. "The recycled glass layer in the paint catches the light so much better than traditional flake and it gives the car some extra dimension. This gives the car a dual personality. It looks stock black in the shade, but in the sunlight the blue flake and glass shimmers."
And just think: this was once a beat-up ride. Now look at it; it's better than brand new! It goes faster, lower and harder than a new GTI, while still carrying faultless appointments galore. And Leung is happy to again be at one with his "dubberz" pals.
"The car is very much a product of the local tuning community on the West Coast," he says. "Nik and Clay at CTS Turbo, Jeff at PG Performance, Patrick at Truline and Tim with Velocity Upholstery aren't just business vendors, they're friends and fellow VW enthusiasts. I am happy to say that whenever this car is being shown, it represents the best talents of my friends."
Finally, after years of hard work, it shines like the star it is.
ESSENTIALS
2004 Volkswagen R32
OWNER: Jonathan Leung
LOCATION: Richmond, BC
BUILT BY: CTS Turbo, PG Performance, Truline Autobody, Velocity Upholstery
CLUB AFFILIATION: Dubberz
ENGINE: Volkswagen 3.2L V6 (VR6)
HORSEPOWER: 409 hp
TORQUE: 458 lb-ft
ENGINE
Precision Turbo (HP6262SP-B T4 68AR turbocharger, 46 mm V-band wastegate)
CTS Turbo (FMIC750 intercooler, hoses, air filter, Stage 4 intake kit, CTSR32T4 intake manifold)
Forge Motorsports 008DV blow-off valve
Bosch (044 fuel pump, 550 cc fuel injectors)
NGK DCPR9EIX spark plugs
Headspacer 8.5:1 head gasket kit
HS Tuning gaskets
Raceware head studs
INA baffled oil pan
C2 Motorsports 550 cc tune
EXHAUST
CTS Turbo CTS-EXH-MK4R32 exhaust system
DRIVETRAIN
Clutchmasters (FX400 clutch, lightweight single-mass flywheel)
Haldex 4MOTION AWD system
VW Euro 4MOTION gearset
WHEELS / TIRES
Porsche Cup wheels (3-pc., chromeplated) – 17x8.5 +20 (f), 17x9.5 +20 (r)
Achilles ATR Sport tires – 205/45 R17 (f), 215/45 R17 (r)
CHASSIS / SUSPENSION
Airlift Performance (Performance Series front airbags, Slam Series rear airbags, Autopilot V2 management)
Viair 444C compressors (2)
Megan Racing adjustable control arms
Unibrace XB chassis reinforcement
EXTERIOR
Truline Autobody (shaved side markers, rolled & pulled fenders, filled hood notch)
SEAT Cupra-R front lip
JOM badge-less grille
DEPO M3-style smoked taillights
Custom-mixed Midnight Black w/ blue flake, Fisker Silver Diamond Dust (recycled glass flecks) paint
INTERIOR
Velocity Upholstery (black leather & carbon fiber-look vinyl reupholstered seats, headliner, pillars, parcel tray, false trunk floor)
TWM Performance shift knob
VW Euro FIS gauge cluster
PODI electronic boost gauge
Contributors: Eric Eikenberry, Jason Machester