02 September 2015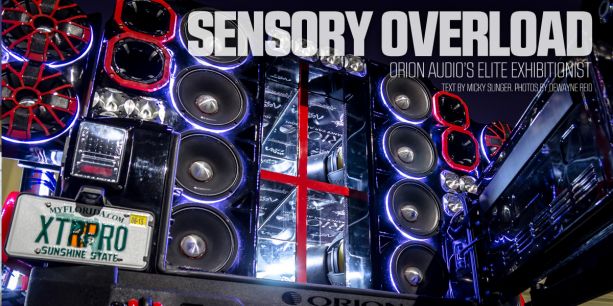 When you build an audio-focused vehicle for show, you better have two things: the sound and the look. These two things are essential to pulling people in. Someone could hear your setup from across the venue and come running over to check it out, or you could grab their gaze as they walk on by. People will take pictures and videos. Soon - one way or another - you're getting noticed.
The engineers and installers at Orion Audio in Miami may have just perfected the art with this Jeep Wrangler. It has a presence unlike any other with its fold out "wings," amp racks and earthshaking performance. It's almost like a peacock when it's all folded out and bellowing, attracting the attention of bass heads from all over.
According to Edgar Cedeño, the head hauncho at Orion Audio, the Jeep was the best and only choice for what they had planned.
"For the kind of build that we wanted to do, it just fit because you can take off the doors, you can take off the roof, you can take almost everything off the car." Explains Cedeño. "It just fit the vision perfectly."
The Jeep's tear-away features were perfect because of what was going to occupy the space. When all was said and done, the Jeep housed two amplifiers per side rack, as well as two on the roof and two inside the rear roofline; all of which are Orion's newest top-of-the-line offerings: the HCCA series.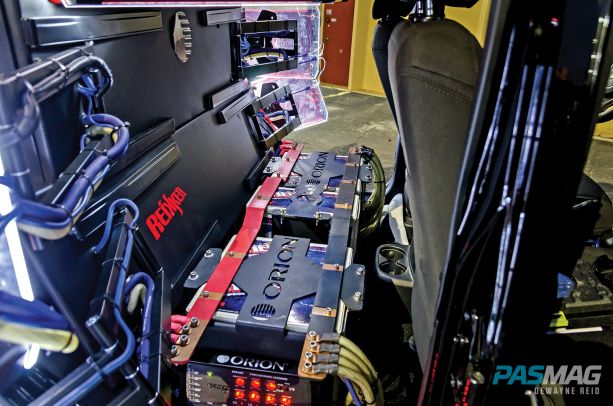 On the inside, where the rear seats used to be, is an impressive arrangement of power wires, bus bars, crossovers and the five Reikken HO 3209 batteries that help to power this beast. It's like looking into the command center and seeing where all of the assignments go.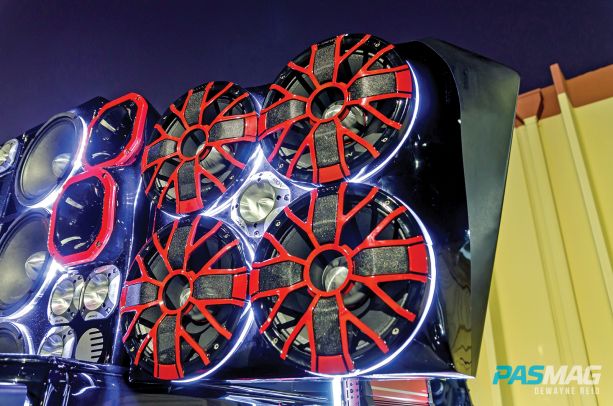 Bass performance is what this build is all about and it has a shocking amount. Four 15-inch XTRPRO subwoofers sit inside the gorgeous, open and mirror-finished box that takes up the Jeep's trunk. That's clearly not enough, so the box is lined with XTRPRO XDM104MBF subs, four per side. Ten HCCA tweeters take up residence on the box to seal the deal.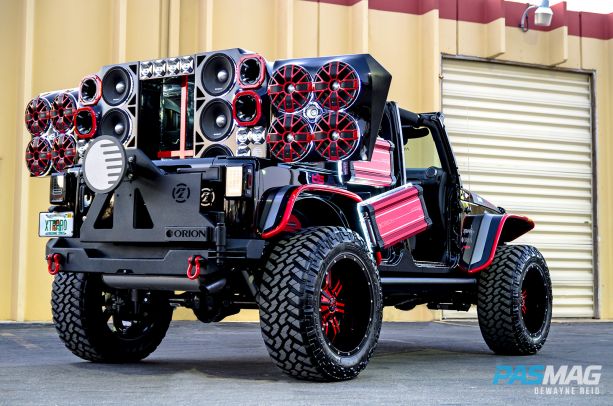 But wait, there's more! The features that you've most definitely been drawn to would be the two wings, which swing out on either side of the colossal enclosure. Each one is armed with four HCCA midrange speakers and one HCCA tweeter for the musical cherry on top.
Above all else, the best thing about this Jeep is the fact that it's a daily driver. You'd think with those speaker wings and amp racks sticking out, it would be stowed, towed, showed, and then stowed again. Everything actually folds up into the back by way of TV stand mounts. The mounting mechanism and swivel heads are perfect for the job. In the words of Cedeño, "You put your soft top up and move on!"
"What I like the most about it is the reaction of the people when they see it," he exclaims. "When you go to a show and people look at it, there's just jaws dropping. They're like, 'What the hell did these people do?' Even other brands during CES came over to say that we went over the limit with this Jeep."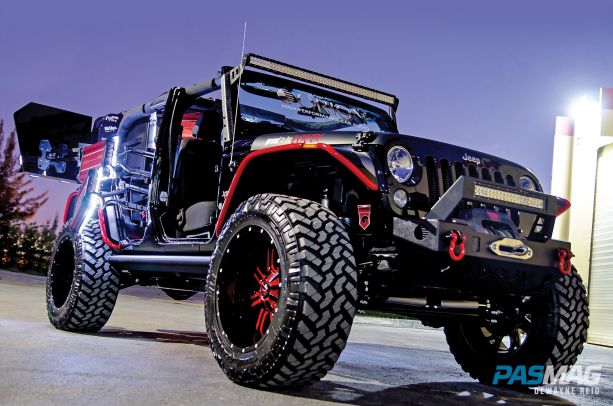 Oh yeah, this Jeep was a hit as CES. It probably helped that Orion's booth was more party than business, and once they demo'd the system on the Wrangler, it was a swamp of people. It shook the hall. Go ahead and search for videos online, but it won't do as much justice as getting your organs rearranged in person.
"At CES we put [the volume] halfway once, but we were afraid because the booth next to ours had some glass stands and every time we played music, the glass started shaking really hard," laughs Cedeño. "We certainly didn't want to get sued."
So, if half power is enough to worry about breaking your neighbor's glass, what is full power supposed to be like? The truth is, only four people know because they just had to experience how insane it is. They took it out to the desert where it wouldn't cause much trouble to let it rip. Cedeño says that's the first and possibly last time they do it, as there's no way it would be allowed to play anywhere else. There's no word on just what kind of output this monster is capable of.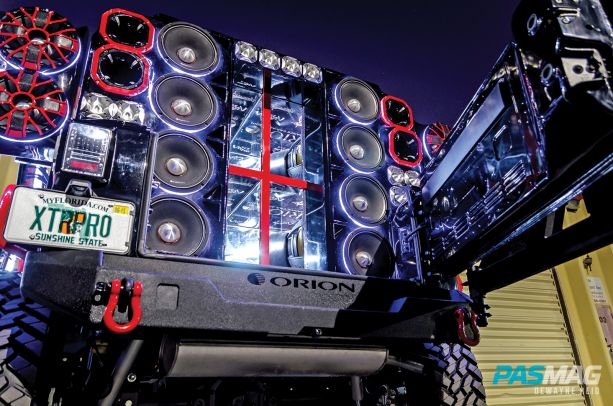 Besides a safe place to play, there was one other issue with the build: the weight. When the numbers were crunched, the installers found that they had slapped about 2,500 pounds onto the back of the Wrangler. Next came the fun of finding a suspension that would work.
"We went through five suspensions," exclaims Cedeño. "The Jeep wasn't meant to take that kind of weight. Everything kept failing."
Eventually, Orion struck gold with Bilstein, who made up specially valved shocks and custom springs to hold the monumental weight of the system. Adjustable control arms and extended sway bars also lend a hand to sort out the suspension conundrum.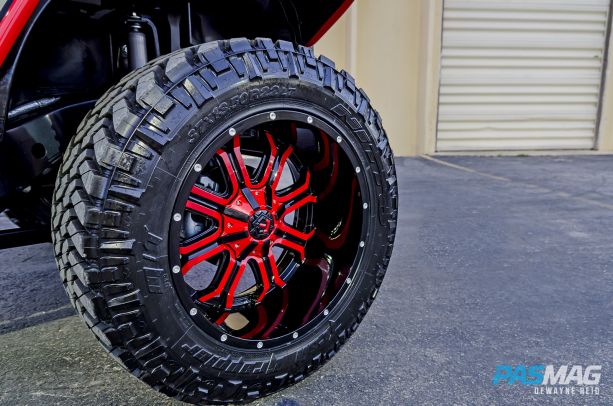 Orion wanted it to be a showstopper, but they didn't want to hide the Jeep's off-road roots. It sits on some suitable 22-inch TIS wheels, which are wrapped in some seriously meaty 37x12.5 Nitto Trail Grapplers. Proline did a serious solid and manufactured some custom cast iron bumpers and custom fenders, just for the Wrangler.
The Jeep is always poised to pull in an audience. When it's not drawing in all in attendance at a show, it's getting some love from the authorities as well.
"We had four police cars stop us one day," Cedeño cracks up. "After they took pictures with the Jeep, they let us go!"
On the street, on exhibition, wherever it goes, whether good or bad, this Jeep reigns supreme in the attention-grabbing department. Orion is hoping to get out to a few more shows this season like Slamology, a couple NOPI gatherings, and eventually SEMA. Don't worry because, whether it's your eyes or ears, you'll find it.
Order the PASMAG Tuning Essentials: Trucks (2nd Edition) issue online at www.pasmag.com/backissues. (On newsstands November 2014)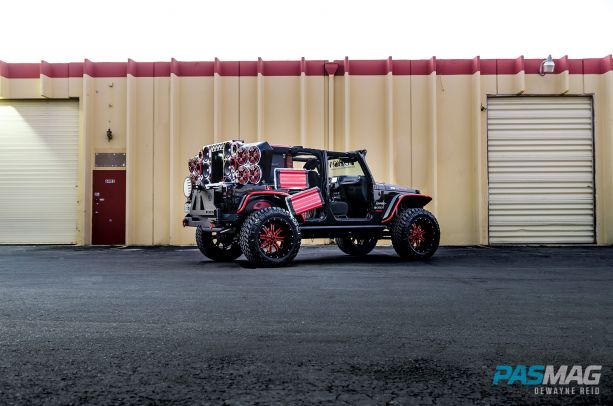 ESSENTIALS
Vehicle: 2015 Jeep Wrangler Sport
OWNER: Edgar Cedeno
BUILT BY: Orion Car Audio, Champion 4x4
LOCATION: Miami, FL
ENGINE: Chrysler 3.6L Pentastar V6
HORSEPOWER: 285 HP
TORQUE: 260 LB-FT
WHEELS / TIRES
TIS wheels – 22-in. (f/r)
Nitto Trail Grappler tires – 37x12.5 R22 (f/r)
CHASSIS / SUSPENSION
Bilstein 5160 special valve shocks (f/r)
Custom springs (f/r)
Adjustable control arms
Extended sway bars
EXTERIOR
Proline ("Orion" custom cast iron bumpers (f/r), custom fenders)
Oracle (LED headlights, LED taillights)
0208 Graphics (aluminum finish vinyl, custom vinyl graphics)
MOBILE ELECTRONICS
Pioneer AVH4600 head unit
Orion (XTR X4R crossover, HCCA 5000.1D amps (2), HCCA 3000.4H amps (2), HCCA 2000.4 amps (4), XTRPRO 154D subs (4), XTRPRO XDM104MBF subs (8), HCCA 108NHP midrange (8), HCCA TN-1 tweeters (12), 0-gauge power wire, distribution blocks)
Optima under-hood battery
Reikken HO 3209 batteries (5)
Contributor: Dewayne Reid