27 June 2016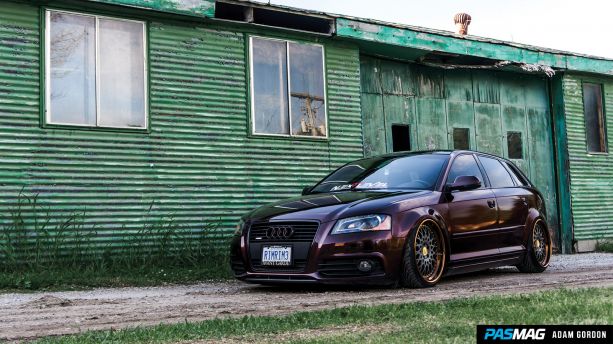 PASMAG's newest team member has one cool Audi.
The collective car stables of the PASMAG office gained yet another vehicle with the addition of our newest employee. It is with great pride we introduce our newest team member, Kevin Tay, and his awesome Audi A3 Quattro. He chose the Audi as his first project car because he wanted something different than the typical show tuner. Built partially in his own shop, Team RimRim's Specialty Garage, Tay's A3 has been taken a step above your average street-driven Audi.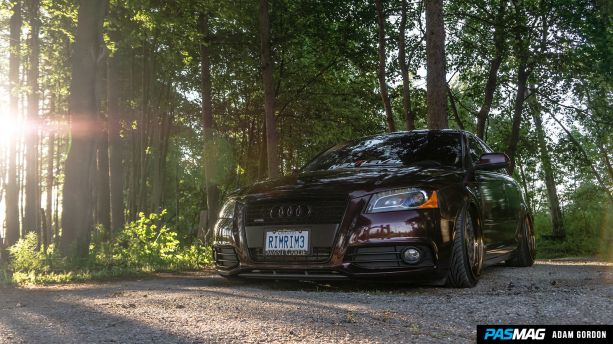 One look at the Gloss Black Rose exterior and you know this is a tuner's car. This color is subtle, but it makes the car stand out from all angles, albeit with some help from a stunning set of Avante Garde wheels – an addition that Tay says is his favorite aspect of the build. His AG F141 wheels feature a mesh-style Techa Titanium face surrounded by an attention-grabbing Mirror Bronze lip, which looks even better than usual in the sunlight. Adding the finishing touches to the wheels' spec is a batch of 24-karat gold hardware and center caps, a perfect match for the Audi's color scheme.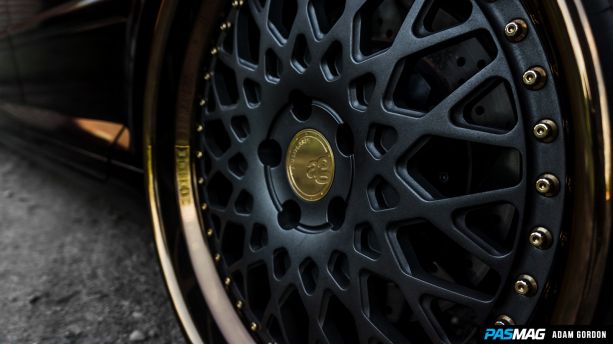 Assisting in the tucking of the wheels behind the fenders is an AirLift Auto Pilot V2 system which, when paired with the Megan Racing rear camber arms, allows for maximum lowness and a show-ready stance. The custom trunk setup cleanly tucks the air tank up against the rear seats, leaving room for practicality and cargo transport even with the 10-inch JL subwoofers on either side. Despite the full Focal and JL audio system hooked up to a Kenwood 990HD deck, this A3 isn't just for show.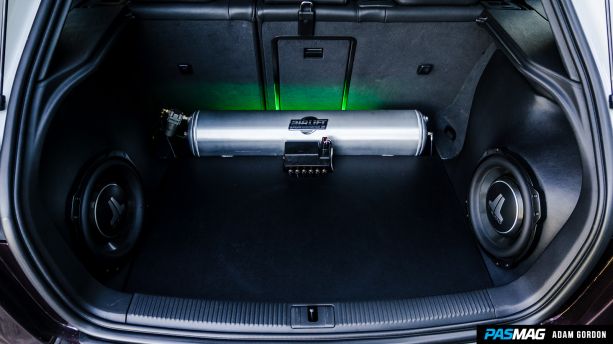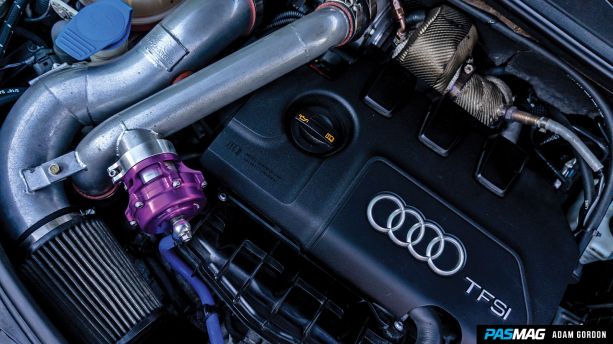 Under the hood sits a custom one-off turbo system designed and built by Eurocharged Canada, one of Ontario's premier European car tuners. The turbo system utilizes a Precision Turbo 5558 turbocharger and a custom intake system to make a healthy 460 horsepower at all wheels. These 460 horses scream at high revs thanks to a custom stainless 3-inch turbo-back straight pipe and screamer pipe fed by a custom exhaust manifold which was also fabricated by Eurocharged. With Audi's Quattro system in play, this all equates to a pretty quick launch and impressive all-around performance.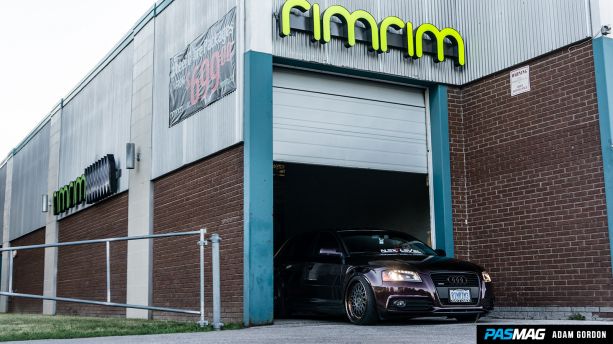 Tay explains his 'stance' on the car's combination of form and function setup. "I was never a stance guy. I slowly grew into that scene; however, performance still is my priority. I have tracked it a few times prior to my setup with my new wheels, and I've loved every second of it. Now I have an in-between car, mostly geared towards show, but it can definitely handle its own on the track!" No compromise. We like it.
In closing, Kevin thanks the inspiring people behind his build, extending special thanks to his team, NextLevel car club, his girlfriend Nicole for the constant support, and two of his best friends: Sawm for helping him find his inner car enthusiast, and Walid for the support and wrap idea. "This scene wouldn't be what it is today without friends, family and teams. We spend sleepless nights getting our cars ready to show off at shows. We build them for ourselves, however at the end of the day what I enjoy most is sharing the memories with friends who I now call family."
Welcome to the family, Kevin! #PASMAG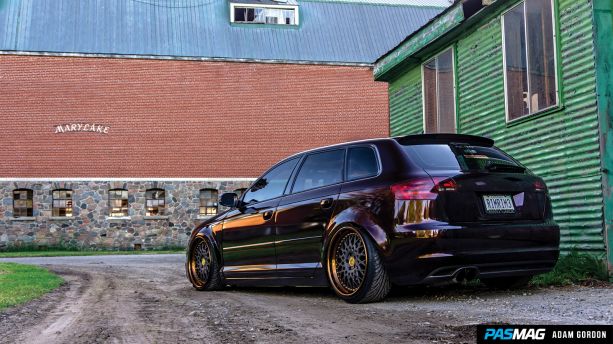 ESSENTIALS
Owner: Kevin Tay
Vehicle: 2012 Audi A3 S-Line
Location: Richmond Hill, Ontario,Canada
Horsepower: 460 AWHP
Club: Team Nextlevel, Team RimRim
SOCIAL
Instagram: rimrima3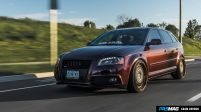 ENGINE / PERFORMANCE
Precision Turbo 5558 turbocharger
Custom 44mm wastegate
Tial BOV
Turbo oil lines
Custom front mount intercooler
Custom exhaust manifold
Custom downpipe
Custom cold air intake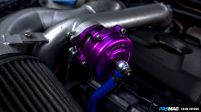 EXHAUST
Stainless 3-inch turbo back straight pipe
Screamer pipe
PERFORMANCE ELECTRONICS
Eurocharged Canada custom tune
DRIVELINE
OEM Quattro
WHEELS / TIRES
Avant Garde F141 wheels – 19x9 (f), 19x10 (r)
24K gold hardware (bolts, l center cap)
Nankang Ns2 tires – 215/35R19 (f), 225/35R19 (r)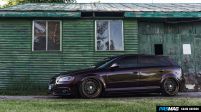 CHASSIS / SUSPENSION
AirLift Auto Pilot V2
Megan Racing rear camber arms
BRAKES
D1 Spec BBK Conversion - 4-piston w/ 2-piece slotted rotors (f/r), 4-piston w/ 2-piece cross-drilled/slotted rotors (r)
EXTERIOR
3M Gloss Black Rose Wrap
INTERIOR
Wrapped Carbon Fiber Trims
AUDIO / MULTIMEDIA
Kenwood 990HD deck
10-inch JL subwoofers (2)
Focal P165 speakers (4)
Custom trunk setup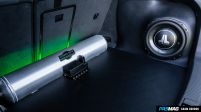 SPONSORS
Team RimRim's Specialty Garage
Avant Garde Wheels