Written by Micky Slinger. Photography by Brian McGee | 02 March 2018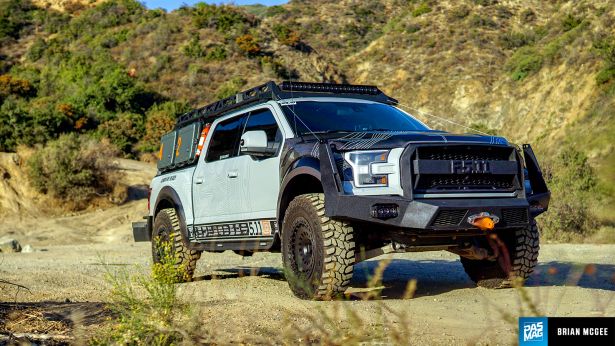 A combination of situations combined to produce a truck that could handle any situation. Ernie Manansala Jr.'s Ford F-5.11 Raptor brings a new meaning to "stay frosty" by being the coolest tactical truck out there.
The birth of the Ford F-5.11 Raptor was thanks to a combination of situations put together by the truck's owner, Ernie Manansala Jr. of Kolab Agency. Through Kolab, he had one client, Volant Performance, who wanted an amazing vehicle to occupy some of their booth space at SEMA, while another client, 5.11 Tactical, wanted their foot and product in the door at the big show. Combining these two wishes and taking the idea to the talented team at Phrenetic Concept Studios to completely design the truck via 3D rendering, Manansala then approached Streetwise Motorsports, specialists in anything with dirty tires, to bring this truck to life. To start off, however, the team had to face their biggest roadblock.
Read the full feature in PASMAG Tuning Essentials: Trucks Vol. 8. ORDER YOUR COPY HERE