Written by Dave Pankew Photos by Alastair Richie | 10 March 2010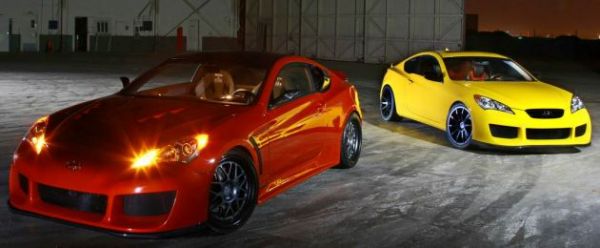 When a plan comes together, the results speak for themselves. We had all seen the teasers for Rhys Millen's Genesis Coupe build in the weeks leading up to SEMA, but we were all unaware at how he would cap it all off. The fabrication work was impressive, but if the look and the accents of the car didn't work, all of the forward progress made would have been lost in translation. Well, the critics were silenced when Millen unveiled this jaw dropping RMR460 Genesis Coupe, which pushed every boundary it could possibly find.
The mission was far from simple; crank up the horsepower without a supercharger or turbo and sleeve the engine into the middle of the Genesis Coupe.
As if the exciting Genesis Coupe hadn't done enough to improve the Hyundai brand image already, Millen took another Hyundai powerplant and show-horned it into the nimble FR chassis! As you can see, the real bold move (or crazy idea) was to totally skip trying to make engine fit in up front and completely re-engineer the entire car to accommodate the powerful V8. Dubbed the "Tau" engine by Hyundai, the 4.6L mill powers the flagship sedan and produces 375hp in stock form. The mission was far from simple; crank up the horsepower without a supercharger or turbo and sleeve the engine into the middle of the Genesis Coupe.
With that, the build process split up into two teams and got to work. One group would focus on the engine build and the other on the extensive chassis modifications to give this sport coupe a real super car makeover. The V8 was shipped to RMR and torn down to have it all machined in prepara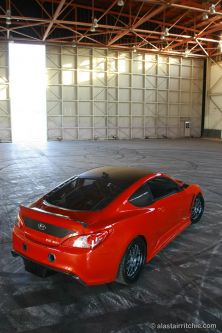 tion for new internals. High compression JE pistons were added and the heads were ported and polished. The parts were reassembled with new gaskets and fortified ARP studs. The fuel system got a bump with a pair of twin Bosch 44 pumps draining a Fuel Safe tank to feed thirsty 480cc RC Engineering injectors. The engine got some more breathing room with an elaborate RMR individual throttle body system with sandwich filters taking in huge gulps of Cali air. The exhaust heads into RMR stainless steel headers and a massive exhaust piping system crafted by RMR from stainless steel.
According to Millen, the net horsepower is an estimated 475-500whp put to the ground! The obvious weight distribution advantages will make this particular version of the Genesis run with a few of the most outrageous exotics in a straight line and in the corners. Putting the power to the ground was obviously an issue, but a Mendeola S5 sequential transaxle with LSD fit the geometry perfectly and the Driveshaft Shop axles will prevent breakage.
The performance of the car in the apex also received some attention. Millen installed a set of his off the shelf RMR sway bars to reduce the roll in the car. He also sourced out a set of KW Variant 3 coilovers for all of the adjustments the car would require including independent compression and rebound.
Even the factory Brembo brakes were surely not enough for this kind of power, so Millen ended up with a large set of StopTechs all around. The fronts are 6-pistons with 355mm rotors and the rear helps out with 4-pistons clamping down on 345mm rotors. Finally the connection to the ground was made with some Toyo R1R tires measuring 255/35R20 and 285/30R20 wrapped around some super-sexy HRE 560 forged alloys.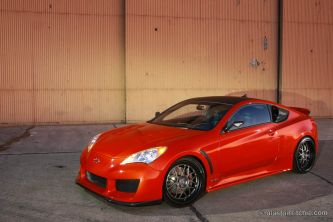 THE ESSENTIALS
Owner: Rhys Millen
Location: Huntington Beach, CA
Vehicle: 2010 Hyundai Genesis Coupe
Power: 500whp (est.)

ENGINE
Hyundai 4.6L Genesis Sedan V8

ENGINE MODIFICATIONS
RMR Individual Throttle Body Induction
RMR Exhaust Manifolds
RMR Exhaust System
JE Pistons
Fuel Safe Racing Cell
Bosch 44 Twin Fuel Pumps
RC Engineering 480cc Injectors

ENGINE MANAGEMENT
AEM EMS Version II

DRIVETRAIN
Driveshaft Shop Axles
Mendeola LSD
Mendeola S5 Sequential Shift Transaxle

WHEELS, TIRES, BRAKES
HRE 560 Series Wheels
F: 20x9-inch
R: 20x10-inch
Toyo T1-R Tires
F: 255/35R20
R: 285/30R20
StopTech 6-Piston 355mm Trophy Sport
StopTech 4-Piston 345mm

SUSPENSION
KW Variant 3 Dampers
RMR Sway Bar Kit

EXTERIOR
Candy Max Orange (BASF Paints)
RMR Carbon Fiber Intake Scoop rear side windows
RMR Carbon Fiber vented Rear Hatch and Rear Panel Grille
RMR Signature Edition Body Kit with Rear Diffuser
RMR Carbon Fiber Side Mirrors

INTERIOR
Carbon Fiber Accented Steering Wheel
Sparco Chrono Sport Seats Wrapped in Alcantara
AEM Serial Gauge
Gear Selection Gauge
Interior Rear Glass Window with Sound/Heat Insulation

RMR then got to work on a few tasteful yet functional aero parts that any Hyundai Genesis owner would be proud to purchase for their own car. An RMR Signature Edition aero kit with rear diffuser was added to manage air around the fiery red coupe. A set of RMR carbon fiber mirror were added before the serious custom work got underway. A carbon fiber intake scoop was fabricated for the rear quarter window to cool the coupe down. The vented rear hatch and rear panel were built to keep engine temps at bay and showcase the fabulous custom fabrication for all to see. It really takes a special custom vehicle to stop us dead in our tracks, but the RMR460 was love at first sight and one of the 2009 SEMA show highlights we had to feature. Thanks to its top notch production quality and solid fit and finish, we're sure it'll turn head wherever it goes.

Since a raging 500 horsepower V8 right behind your head might not be so welcome at all times, RMR got to work on the barrier behind the driver. The sound proof firewall and thick safety glass keeps the noise and heat out, but allows the view and glorious revs to fill the cabin with an incredible note. A pair of Sparco Chrono seats in black Alcantara made it into the cabin along with subtle carbon accents to the steering wheel. An AEM Serial gauge keeps tabs on the engine vitals and a sequential gear indicator keeps the driver in the know.
As a Formula D Champion and accomplished rally and stunt man, Rhys Millen isn't going to settle for anything that is less than terrifying fast. The question is, will we see Rhys doing anything as messed up as his inverted truck jump in his creation or is it really just pretty to look at?