Written by Dave Pankew Photos by Alastair Richie | 10 March 2010
Page 2 of 2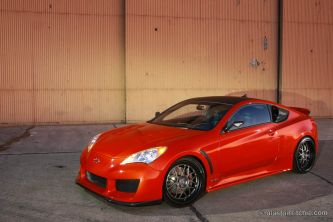 THE ESSENTIALS
Owner: Rhys Millen
Location: Huntington Beach, CA
Vehicle: 2010 Hyundai Genesis Coupe
Power: 500whp (est.)

ENGINE
Hyundai 4.6L Genesis Sedan V8

ENGINE MODIFICATIONS
RMR Individual Throttle Body Induction
RMR Exhaust Manifolds
RMR Exhaust System
JE Pistons
Fuel Safe Racing Cell
Bosch 44 Twin Fuel Pumps
RC Engineering 480cc Injectors

ENGINE MANAGEMENT
AEM EMS Version II

DRIVETRAIN
Driveshaft Shop Axles
Mendeola LSD
Mendeola S5 Sequential Shift Transaxle

WHEELS, TIRES, BRAKES
HRE 560 Series Wheels
F: 20x9-inch
R: 20x10-inch
Toyo T1-R Tires
F: 255/35R20
R: 285/30R20
StopTech 6-Piston 355mm Trophy Sport
StopTech 4-Piston 345mm

SUSPENSION
KW Variant 3 Dampers
RMR Sway Bar Kit

EXTERIOR
Candy Max Orange (BASF Paints)
RMR Carbon Fiber Intake Scoop rear side windows
RMR Carbon Fiber vented Rear Hatch and Rear Panel Grille
RMR Signature Edition Body Kit with Rear Diffuser
RMR Carbon Fiber Side Mirrors

INTERIOR
Carbon Fiber Accented Steering Wheel
Sparco Chrono Sport Seats Wrapped in Alcantara
AEM Serial Gauge
Gear Selection Gauge
Interior Rear Glass Window with Sound/Heat Insulation

RMR then got to work on a few tasteful yet functional aero parts that any Hyundai Genesis owner would be proud to purchase for their own car. An RMR Signature Edition aero kit with rear diffuser was added to manage air around the fiery red coupe. A set of RMR carbon fiber mirror were added before the serious custom work got underway. A carbon fiber intake scoop was fabricated for the rear quarter window to cool the coupe down. The vented rear hatch and rear panel were built to keep engine temps at bay and showcase the fabulous custom fabrication for all to see. It really takes a special custom vehicle to stop us dead in our tracks, but the RMR460 was love at first sight and one of the 2009 SEMA show highlights we had to feature. Thanks to its top notch production quality and solid fit and finish, we're sure it'll turn head wherever it goes.

Since a raging 500 horsepower V8 right behind your head might not be so welcome at all times, RMR got to work on the barrier behind the driver. The sound proof firewall and thick safety glass keeps the noise and heat out, but allows the view and glorious revs to fill the cabin with an incredible note. A pair of Sparco Chrono seats in black Alcantara made it into the cabin along with subtle carbon accents to the steering wheel. An AEM Serial gauge keeps tabs on the engine vitals and a sequential gear indicator keeps the driver in the know.
As a Formula D Champion and accomplished rally and stunt man, Rhys Millen isn't going to settle for anything that is less than terrifying fast. The question is, will we see Rhys doing anything as messed up as his inverted truck jump in his creation or is it really just pretty to look at?