Written by Text By: Dave Pankew Photos By: Dave Pankew and BP Imaging | 22 March 2010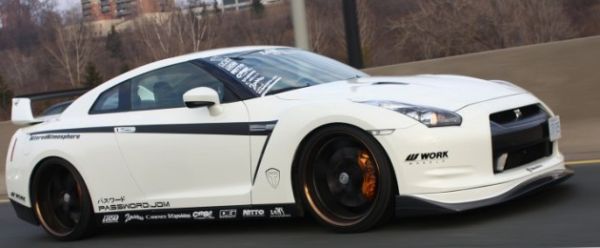 There is nothing more refreshing than partnering up with people who can get results. In an industry full of dreamers notorious for over-promising and under-delivering, you tend to side with the people who can make good on their promises. When Mike Tran of Toronto, ON contacted us about his R35 GT-R build, we knew that this former cover car owner would deliver the goods. With that, the contracts were signed and the new team set out to build one very special R35 GT-R.

Tran made huge strides with his last project build, a Top Secret widebody G35 that was featured back in 2007. Sponsored by Alpine, his G35 featured some elaborate custom work like a motorized samurai sword holder in the console. The end result was something that was very successful for Alpine and Tran, and the Issue that featured it on the cover sold well. It all left us wondering, how can he top that?
I had to wait about a year before Nissan gave me a call to come and pick up my new GT-R but it was worth every second.
"I previously had an Infiniti G35 project that I completed building a while ago and was beginning to get bored with modifying it," admits Tran. "I heard about the GT-R being released to the North American market and instantly decided that I needed to have one. The very next day I went into my local Nissan dealership and laid down my deposit. I had to wait about a year before Nissan gave me a call to come and pick up my new GT-R but it was worth every second."
Well, he has topped his G35 project but in a different sense with performance, power and functional aerodynamics as the mission statement as opposed to a wild multimedia install. At the core of the build is Altered Atmosphere Motorsports (AAM) gear that is designed and built in the US. An AAM GT800-R twin turbo package was added to the forced induction system that beefs up stock turbos. The kit also included a fuel pump, billet rails and 800cc injectors to ensure adequate fuel was piped in.
To haul in more air, AAM V2 intakes were added with a healthy front mount intercooler, which is vented with twin HKS SQV3 blow off valves. The exhaust gases head out through a Powerhouse Amuse R1 Titan Extra STTI exhaust and an Amuse RS STTI R1000 straight pipe. The entire job was completed by MS Auto in Toronto, ON; a shop that has quickly made a name for itself  in the R35 and all the way back to R32s and R33s which are legal for sale in Canada.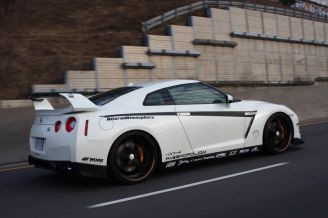 "As soon as I took delivery of the GT-R, I made a promise to myself that I would never mod it," said Tran. "But, like the saying goes 'never say never' because as soon as I saw the amount of parts being released for the car, I couldn't resist."
The engine work was only the beginning because as Tran describes, he just couldn't stop. As one of the best handling cars in the world, the GT-R needs nothing but for Tran he knew that this super-car could become a hyper-car with the right modifications. The hunt was on for a monumental set of rollers and Work Wheels Canada stepped up to the plate. Distributed by REV Competition, the BC-based company was eager to get involved and had a custom set of Work Equip E05s made in Japan. The custom matte black face with bronze lip treatment was given to the 22-inch wheels which are 10-inches wide up front and 11.5-inches in the rear. The 22s were wrapped in Nitto Invo tires, a 255/30R22 matched with a 295/25R22 in the back.
The right stance was achieved with a Bilstein Damptronic system and the Amuse R1 suspension kit. The car could now be lowered to make the new rubber fit flush with the body work and allowed for all the necessary tweaks for improved handling at top speeds. With the athletics of the car firmly established, the need to manage airflow around the car and improve the look of the car both inside and out became top priority.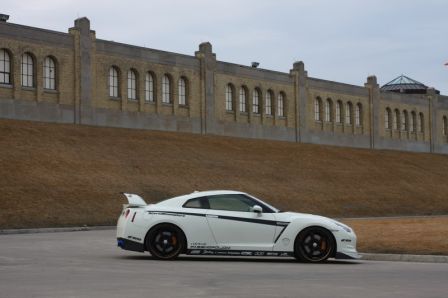 Tran contacted one of the top players in development for the GT-R, Powerhouse Amuse. The Japanese company shocked the tuning world in October 2007 where they released a GT-R with an aerokit at the same time the world was viewing the production version at the Tokyo Motor Show. Tran added an Amuse front lower diffuser and a dry carbon spoiler in addition to JDM clears. Inside the cabin, Tran's GT-R received the first ever Technocraft dry carbon fiber racing seats in production. The seats are draped with Takata 4-point harnesses to hold occupants firmly planted during the wild ride.

Finally, Tran wanted more than the factory Bose system could offer. He went with Cadence gear throughout the car, that would work in conjunction with the factory LCD / Nav headunit. The mids and highs are belted out with a pair of Cadence ZRS2002 2-channel amps connected to Cadence CVL6-KN 6.5" Neodymium component speaker system and Cadence CVLS69C 6x9-inch speakers. For the lows, Tran spec'ed out a pair of ZRS C1 class D mono block amps to drive a pair of Cadence DCX12-1500-2 subs in a custom enclosure.

As the builder of custom homes in the Toronto market, Tran didn't garner the funds for this build easily. The hard work invested in his business has financed this nine month build that holds its own in an increasingly crowded group of modified GT-Rs. Since Tran never seems to be done and might be selling his G35 to raise more funds, this may not be the last we see of this car yet.

THE ESSENTIALS
Owner:     Mike Tran        
Location: Toronto, ON     
Vehicle: 2009 Nissan GT-R
Power:    708whp

ENGINE
Nissan 3.8L VR38DETT V6 Twin Turbo

ENGINE MODIFICATIONS
AAM GT800-R Turbo Package
AAM V2 Intake
AAM Fuel Rail
AAM Fuel Pump
AAM Front Mount Intercooler
HKS Super SQV 3 Blow-Off Valve
HKS Plugs
AAM Wastegate
AAM 800cc Injectors
Amuse R1 Titan Extra STTI Exhaust
Amuse RS STTI R1000 Straight Pipe
AAM High Flow Catalytic Converter
PasswordJDM Dry Carbon Cooling Plate
PasswordJDM Dry Carbon Engine Cover

WHEELS, TIRES, BRAKES
Volk Gramlights R57GT with OEM Bridgestone Tires
Work Wheels Equip E05 (Flat Black with Bronze Lip)
F: 22x10-inch
R: 22x11.5-inch
Nitto Invo tires
F: 255/30R22
R: 295/25R22
STILLEN Stainless Steel Brake Lines

SUSPENSION
BILSTEIN DampTronic
Amuse R1 Adjusting Suspension Kit

EXTERIOR
Amuse Front Under Diffuser
Amuse Dry Carbon Spoiler
JDM Front Clear Corners

INTERIOR
Technocraft Front Seats
PasswordJDM Dry Carbon Rear Seat Delete
Takata Harnesses

AUDIO / MULTIMEDIA
Cadence ZRS2002 amp x 2
Cadence DCX12-1500-2 1500W 12-inch Subs x2
Cadence CVL6-KN 6.5-inch Neodymium speakers
Cadence CVLS69C 6x9-inch 3-ways

SHOUTOUTS
AAM Competition
MS Auto
PasswordJDM
Work Wheels
Nitto Tires