Written by Dave Pankew Photos By: Jacob Leveton | 29 March 2010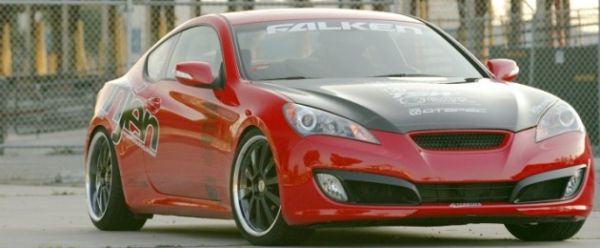 Being away from home in the military is probably the toughest job out there if you can call it that. It's more of a new life away from friends and family in a foreign land where nothing is familiar. The military takes careful measures to ensure the troops get a taste of home and ensure the families are able to offer their support and, of course, a special homecoming. In the case of Mikal Meekins of Los Angeles, CA the week he was deployed, he dropped off his car to Injen for some prototyping and was stunned to see what he ended up with.
The first time he saw his car was in the Injen booth, completely modified.
"He dropped his 2009 Hyundai Genesis Coupe off at Injen before he was deployed in Iraq," says Jerry Lee at Injen "Six months later he came back and went to SEMA. The first time he saw his car was in the Injen booth, completely modified. Everything on the car was done by the Injen staff while he was gone. We were all very emotional about his reaction and proud we could accomplish this for him."
At the core of the story is that Injen wanted to prototype a V6 intake, which of course is #00001 of the production run. The team also added an Injen dual exhaust with striking titanium tips poking out the back. The motor was filled with some Amsoil 0W racing oil to keep the internals ready for some high RPMs afforded by the Poweraxle ECU reflash and the RPM lightweight crank pulley. The balance is all potent Hyundai technology in their angry 3.8L V6 mill.
The exterior treatment was light in order to focus on the muscular factory lines. A Seibon carbon fiber hood was added in addition to a trunk lid to trim some weight. The M&S foglight inserts and a Luxor grille insert completed the look before the car was plastered with some sponsor love.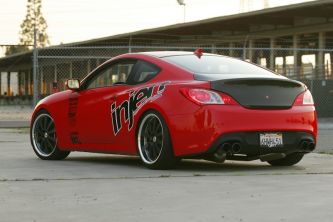 THE ESSENTIALS

Owner: Mikal Meekins
Location: Los Angeles, CA
Vehicle: 2009 Hyundai Genesis Coupe 3.8GT

ENGINE MODIFICATIONS
Injen Intake
Injen Dual SS Exhaust
Amsoil 0W Racing Oil
Secondary Cat Delete
RPM light weight crank pulley

ENGINE MANAGEMENT
Poweraxle ECU Reflash

SUSPENSION
GT Spec Strut Bar
K-Sport Kontrol Pro Coilovers

WHEELS, TIRES, BRAKES
TSW Londrina Wheels
F: 20x8.5-inch
R: 20x10-inch
Falken FK452
F: 245/30R20
R: 275/30R20

EXTERIOR
Seibon carbon fiber hood
Seibon carbon fiber trunk
M & S fog light inserts
Luxon Front grille

INTERIOR
Aero Design adjustable bucket racing seats
Poweraxle Brushed Aluminum Pedals

AUDIO
Custom Dual Sub Enclosure
Reskined rear deck with etched Injen Logo
Memphis Audio 10-inch power reference subwoofers,
Memphis Audio 1000.1 Power Reference amps x2
Memphis Audio 1 power reference 200.4
Infinity Component Speakers

The rollers were a careful consideration and Hyundai made sure the wheel wells could accommodate some oversized stock. A set of TSW Londrina wheels sized in 20x8.5-inches up front and a healthy 20x10 rear were installed. The wheels were wrapped in the venerable Falken FK452 meats measuring 245/30R20 with a 275/30R20 on the drive wheels. The correct stand was dialed-in with K-Sport Kontrol coilovers and the chassis was cinched up with GT Spec strut bars.

Then the Injen crew turned to the interior treatment to provide a comfortable ride for the new veteran. The stock seats were pulled in favor of the Aero Design adjustable racing buckets. The rear deck was reskinned and etched with the Injen logo before the audio install commenced. A custom twin subwoofer enclosure was built to house a pair of Memphis Audio 10-inch Power Reference subwoofers. The subs are powered by a pair of 1000.1 Power Reference amps for a bass line that pounds hard. The factory Infinity speakers were up to the task of handling the juice delivered by a Memphis Audio 200.4 amp.

Meekins' Genesis Coupe isn't going to bag horsepower records or a Best of Show at the next Spo-Com show but it is a tight everyday driver. On top of that, it was one of the coolest stories we had heard this year and quite and honor for someone who has served his country. The car that Injen built gave Meekins a sense that the people back home care about the sacrifice he made for his country and they appreciate the freedom it affords. Remember that when you're enjoying your ride, and when it comes time for the next upgrade, that Injen has done their part.