Written by Dave Pankew | 01 April 2010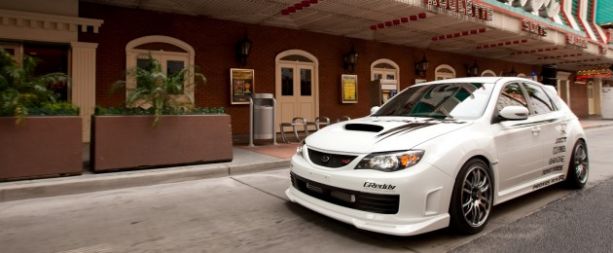 Written by Dave Pankew | Photos by Chris Robinson
When your average enthusiast with a few bucks to throw around gets a hold of a Subaru they can really make some jam easily. But when you are an enthusiast and have the backing of major aftermarket player such as GReddy Performance, the possibilities are well endless. More than three decades of high performance know-how and products galore were at the disposal of this project and the results are impressive. GReddy always debuts highly anticipated shop cars and when we heard there was a new STi on their stable, we wanted to see where the renowned Japanese tuner had taken the 5-door.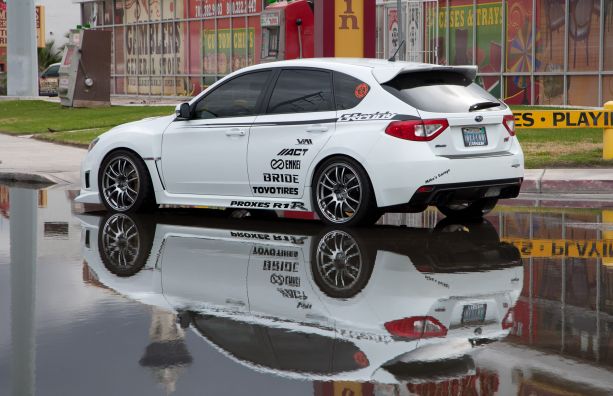 The GRB chassis STi has received a bit of a polarized response in the Subaru community. Sure, it's created for families in 5-door trim, but why is the new STi only available in wagon form? Regardless, the buying public has warmed up to it and any new STi you see on the streets usually has some degree of modifications done to it. It is not uncommon to see new STis rolling around with new wheels, aero parts and almost always an upgraded exhaust and intake. GReddy was banking on the GRB becoming a success and got to work on the JDM model, long before we even saw press vehicles here in North America.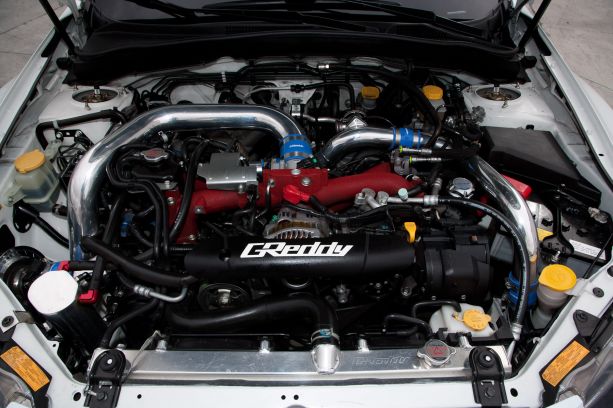 At the core of the project is GReddy's TD06 20G turbo. The upgrade kit replaced the tiny IHI unit the car is shipped with and includes an SUS manifold to bolt up to. Air is hauled to it via a GReddy Airinx intake and post-combustion is chilled with a GReddy Spec-R front mount intercooler kit. On the hot-side, gases head down into the GReddy Spectrum Elite exhaust for that sweet 50-state legal note. GReddy also added their outstanding 10-row oil cooler kit to keep the STi lapping and an oil breather to keep oil out of the combustion chamber.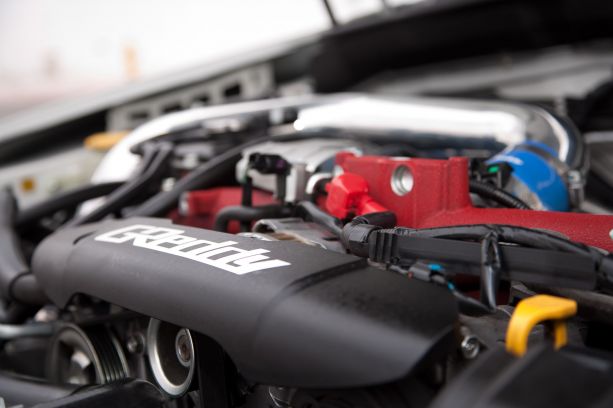 When it came to tuning, GReddy relied on its own ECU, the e-Manage. With a few tweaks to the e-Manage to deal with all the new air and the addition of the GReddy v-Manage variable cam timer, an estimated 420whp was extracted. The new found power needed an ACT HCSS clutch and a matching lightweight aluminum flywheel to get the power down.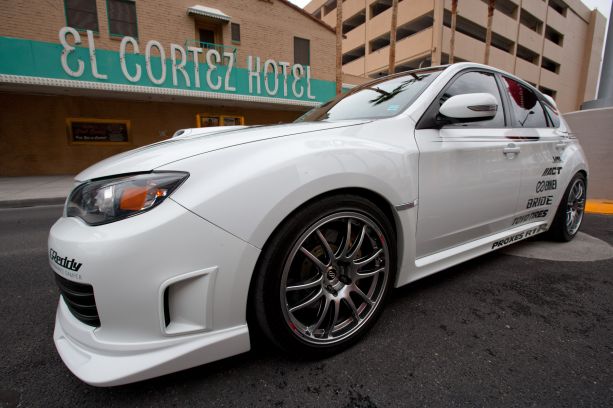 The suspension and braking systems received a few upgrades over the capable STI gear. A prototype GReddy Type-R Full Suspension Kit was added for all kinds of adjustability in order to adapt to different conditions and uses. As well, the factory Brembos were pulled off in favor of the GReddy 6-piston/330mm brake system. The end results are outstanding handling characteristics with the brake force to scrub off speed in a hurry.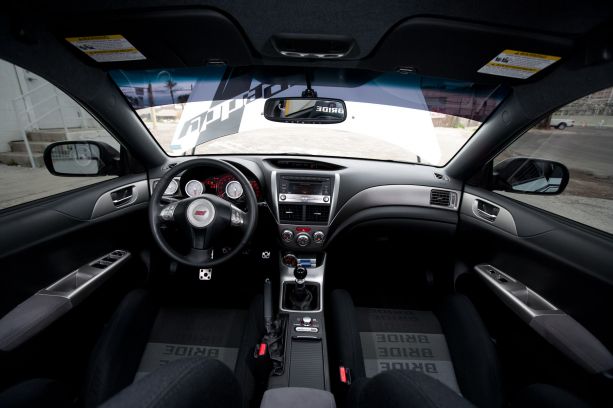 As with any GReddy shop car, the exterior is all business. The car features only a GReddy GRacer front lip for aero add-ons. Then Vinyl Mayhem stepped in to give the sponsors some love from every angle. The rollers are understated Enkei GTC Wheels measuring 18x9.5 all around with grippy Toyo Proxes R1R Tires 265/35R18s on all four corners.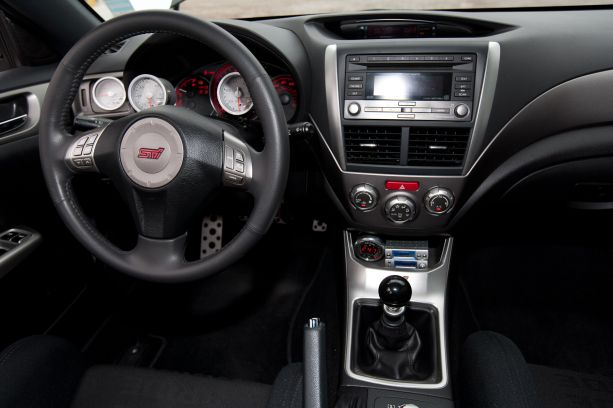 The inside of the cabin is mostly Subaru but a few key moves were made. Bride racing seats replace the STi gear using Bride rails and OEM belts. GReddy offered up some of their electronics for the project including a PRofec B-Spec 2 - Boost Controller and a Full Auto Turbo Timer. The engine vitals are monitored with GReddy 60mm Warning Meters with an Innovate wideband O2 sensor to monitor A/F ratios.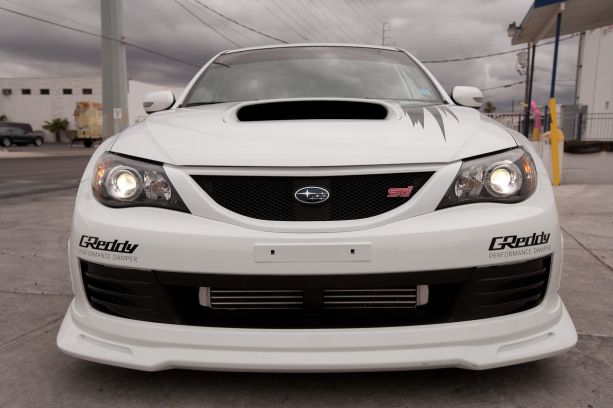 Another simple and tight project that outlines the scope of what GReddy offers was put together by Marketing Director, Mike Chung. We're always eager to hear from Mike about what's coming up to next and they never fail to impress us.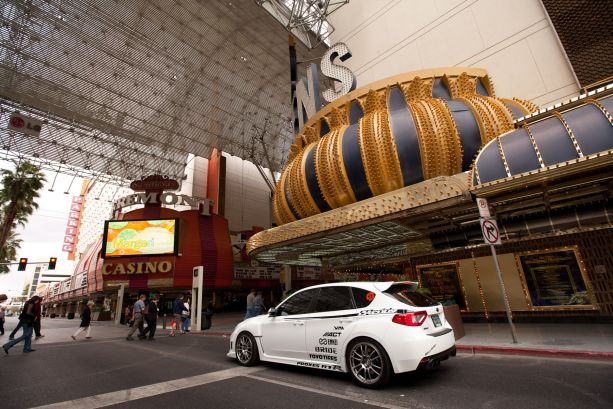 ESSENTIALS
Owner: Marcus Kong
Location: Las Vegas, NV
Vehicle: 2009 Subaru STI
Power: 420whp (est.)
ENGINE
Subaru 2.5L EJ25 Boxer-4
ENGINE MODIFICATIONS
GReddy Total Tune Up:
TD06 20G Turbo Upgrade Kit
SUS Exhaust Manifold Header
Type 28 Spec R Front-mounted Intercooler Kit
Airinx Air Intake
Spectrum Elite SE Exhaust System
Aluminum Racing Radiator
Oil Breather Tank
Racing Oil Filler & Hi-press Radiator Caps
10-row Oil Cooler Kit
GR-2 Full Synthetic Oil & Sports Oil Filter
ENGINE MANAGEMENT
GReddy e-Manage Ultimate Engine Control Unit
GReddy v-Manage Variable Cam Timing Controller
GReddy PRofec B-Spec 2 Boost Controller
DRIVELINE
ACT HCSS Clutch
ACT Lightweight Aluminum Flywheel
WHEELS, TIRES, BRAKES
Enkei GTC Wheels 18x9.5-inch
Toyo Proxes R1R Tires 265/35R18
GReddy Brake System 6-piston/330mm
GReddy Racing Lug Nuts
SUSPENSION
GReddy Type-R Full Suspension Kit (prototype)
EXTERIOR
GRacer Aero Lip Spoiler
INTERIOR
Bride Racing Seats and Rails
Innovative Wideband Air/Fuel Meter
GReddy 60mm Warning Gauges