Written by Erickson Obiacoro | 26 August 2008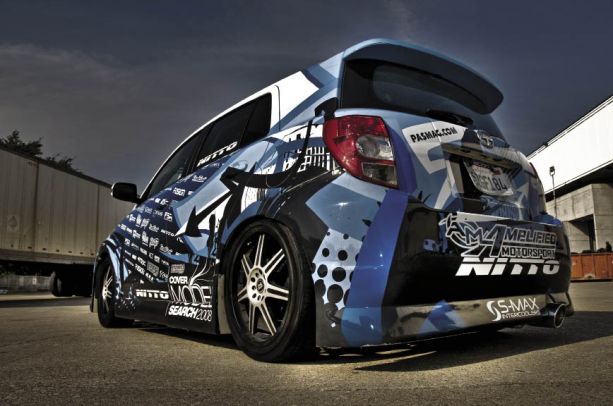 Written by Erickson Obiacoro | Photos by John Jackon
There are key industry people out there that say you're only as good as your shop car build. This mantra is repeated over and over and will drive companies to true greatness just to out-do their rivals. So each year at SEMA, we see project after mind-bending project that blows away what the company put out last year. Here at PAS Magazine we believe our project cars range from modest mods to complex installs, but one thing is for sure... they improve year over year.
In late summer '07 we sat down with Scion and introduced them to who we are and how we roll. Ironically, at the time LA-based Scion wasn't too familiar with our product and the number of loyal readers we have, but afterwards they realized much like Anchorman Ron Burgundy, PAS Magazine is kind of a big deal. As 2008 unfolded, it became clear our publication was a major player in the tuner game, well ahead of other struggling magazines. We were thrilled to partner with Scion and our various 2008 PAS Model Search to build a project car and knew it would benefit everyone involved and be a fun build.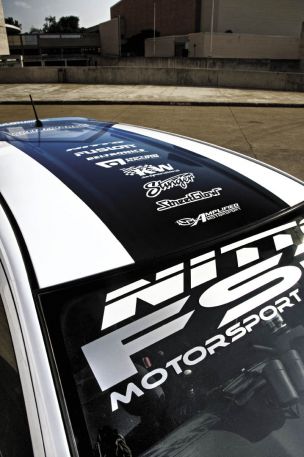 Scion certainly got more than they expected when we completed our xD project. The outstanding vinyl designed by our Graphic Designer guru Patrick "PB" Beltijar and the turbo motor build coordinated by National Marketing Manager JP Kongas went beyond expectations. Then our Sales and Marketing Director, Matt Adolfo put together a deal that would see the PAS Scion xD appear center stage at each and every HIN Show across the country for 2008 as our official Model Search Promo vehicle! While on tour, PAS Event Jedi-Master Randi Bentia ensured the Scion was delivered on time and detailed to perfection. Bentia also positioned the car perfectly as part of our successful Hot Import Nights PAS Magazine Model Search that saw thousands of young hotties take portfolio snaps in front of the sponsored ride. The amount of viral marketing that happened while these photos circulated around the web was unprecedented, and made us and our project partners very, very happy.
We contacted FSR Motorsport Creations in Montclair, CA to work alongside long-time PAS supporters Speedmax Performance (S-Max) to get some forced induction in the mix. "When S-Max called us with the idea of building the PAS Magazine feature car for HIN in a matter of just three days, we thought they
had completely lost it," says Ian of FSR Motorsport Creations. "You see, when S-Max and FSR do a project, we really DO a project! Neither of us take performance lightly, and we knew even though this was going to be a show car, no corners were going to be cut."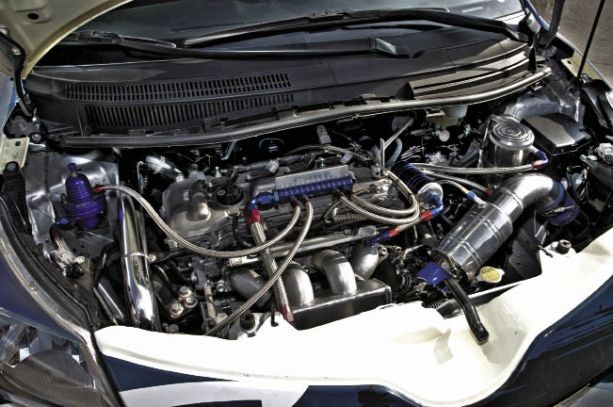 They started off with high quality parts choosing from the SPA Turbo line that S-Max offers. FSR was capable of putting together 10 and 11-second street cars on the regular and insists you can't get away with using lesser quality parts on a high performance car, it will only cause problems later on. Since there was a lot of custom work involved, they would be critical about the measurements. The fitment was tough, as the new Scion has the engine situated with the exhaust side towards the firewall. FSR had to fit the turbo, wastegate, downpipe, and manifold in the tiny space between the engine and the firewall! They added a custom tubular manifold using a turbo with a T3 hot-side and a T4 cold-side. This 50-trim turbo features a 4-inch anti-surge inlet which would spool up fast and have power to spare. From there the gases head down into a custom downpipe with V-band and a 3-inch SS exhaust.
On the cool side the compressed air is directed to S-Max's gigantic 4-inch thick core under the bumper support! With a really menacing look, it provides
tremendous intercooling and FSR noted inlet temperatures just a few degrees above ambient, and that is without even spraying the Co2! From there, FSR put together stainless braided fuel feed lines utilizing the S-Max Cool Can to drop the temperature of the hot fuel which is heated slightly by twin Weldon pumps. FSR then plumbed in an S-Max adjustable fuel pressure regulator to keep pressure steady under boost. FSR beleives very strongly that tuning is the key to power and reliability, not just the parts. So often do tuners throw together a "kit" that comes without fuel and ignition management. So AEM came onboard to supply the AEM UEGO wideband and AEM FIC. The FIC is a unique unit that, unlike the popular A'PEXi S-AFC, alters the fuel delivery changing the injector signal. Most piggybacks alter the MAP or MAF signals, but that leaves a lot to be determined by the ECU.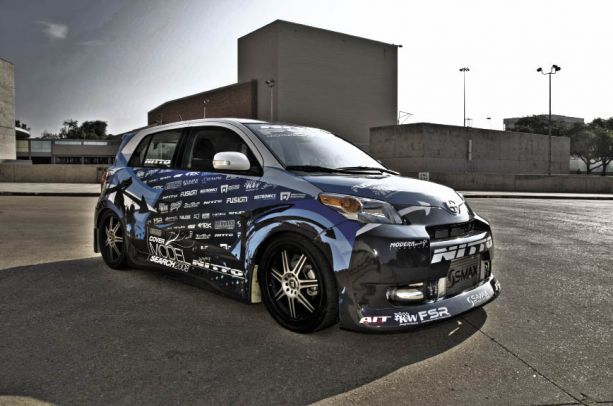 The exterior of the PAS Scion xD had to have the looks that would wow the crowds and look as good as the many hot models near it. The exterior of the car was fitted with an AIT 4-piece Presidente kit and finished in factory white. Then the car was plastered in a custom vinyl wrap made by our boy and in-house PAS designer Mr. PB.
A set of Motegi SX7 18x7-inch wheels were wrapped in Nitto Invo 225/40R18s to keep the Scion grounded. A set of KW Variant 2 coilovers keep the Scion slammed to the ground but with an improved grip of the road surface.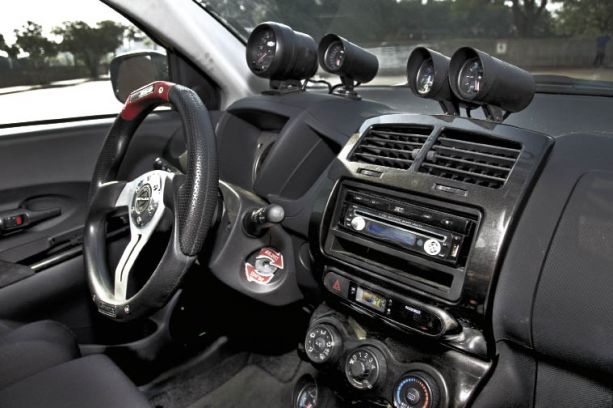 At PAS we know the interior would have to look tight too. Our Scion was fitted with Corbeau racing seats wrapped in a deep black fabric with high bolsters. The OEM steering wheel was replaced with a Shutt Sport wheel connected to an NRG hub with quick release. Surrounded by a variety of reliable GlowShift gauges, the driver is aware of engine vitals at all times. The Beltronics GX65 radar detector keeps our turbo'd Scion on the right side of the law at all times. Then on to the audio install, as we partnered up with a few of our dedicated Model Search Sponsors. An ACT headunit was selected for its single DIN flip configuration to relay navigation and DVD info. The audio signals were plumbed together with Stinger wiring and powered up our durable Stinger battery which logged some serious hours juicing our system at events all over the country.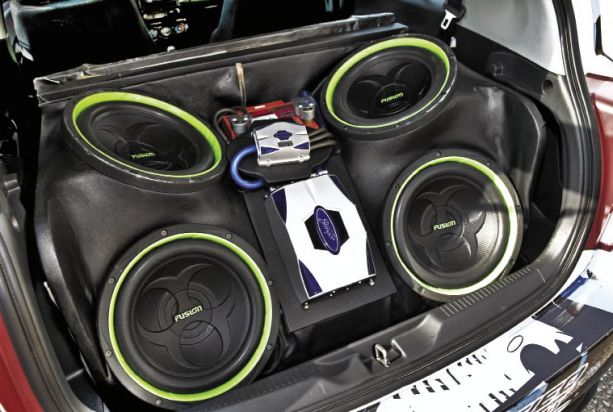 The sound system is all Fusion Car Audio as their components are found throughout the cabin powered by a Fusion PP-AM1600.4 amplifier. To get the party started, bass signals from an elaborate enclosure with four Fusion subwoofers was custom fitted in the rear cargo area. The Fusion woofers pound out the lows thanks to the Fusion mono amp we installed. And of course we added a little video in the hatch with twin ACT LCD monitors.
All said and done, FSR had three days to get the motor built and worked around the clock to accomplish that. Our audio team worked tirelessly to get all of the gear fitted up and tuned in time for the HIN tour. But like all good builds, we are on to the next big thing to tour for 2009…so stick around!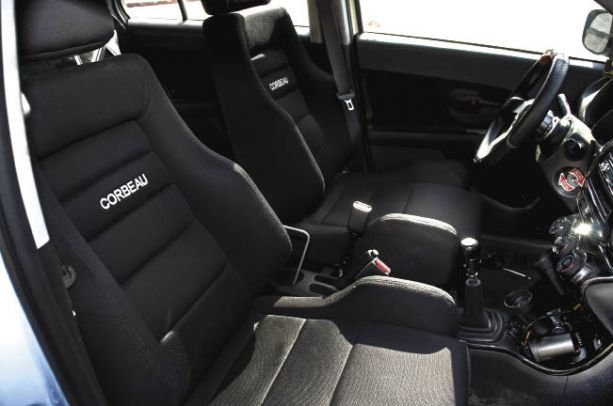 THE ESSENTIALS
Builder: PASMAG
Location: Toronto, ON
Vehicle: 2008 Scion xD
Power: 330whp (est.)
Engine: Toyota 2.4L 1NZ-FE inline-4
ENGINE MODIFICATIONS
S-Max SPA Turbo T3/T4 50-trim S-Max 4-inch intercooler S-Max Cool Tube FSR intercooler piping FSR downpipe FSR exhaust
ENGINE MANAGEMENT
AEM FIC AEM UEGO wideband
WHEELS, TIRES, BRAKES
Motegi SX7 18x7-inch wheels Nitto Invo 225/40R18s
SUSPENSION
KW Suspension Variant 2 coilovers
EXTERIOR
AIT Presidente Vinyl wrap by Patrick Beltijar Modern Image vinal graphics
INTERIOR
Corbeau Racing Seats Glowshift gauges Shutt Sport wheel NRG hub NRG quick release
AUDIO / MULTIMEDIA
ACT LCD flip headunit ACT 7-inch LCD x2 Fusion Audio component speakers Fusion Audio PP-AM1600.4 sub Fusion Audio mono amp Fusion Audio 12-inch subs x4 Stinger battery Stinger power wire Stinger distribution blocks Stinger capacitor
SHOUTOUTS
Scion, S-Max, AEM, FSR Motorsport, Motegi, ARK, Corbeau, Stinger (Gentec), KW Suspension, Shutt, Glowshift, ACT Audio, Fusion Audio, NRG, Nitto, Stinger, Beltronics, Weldon, AIT Racing, Amplified Motorsports, PAS Crew (Dave Pankew, Erickson Obiacoro, JP Kongas, Randi Bentia)