Written by Dave Pankew | Photos by Jeremy "G-Lover" Glover | 26 August 2008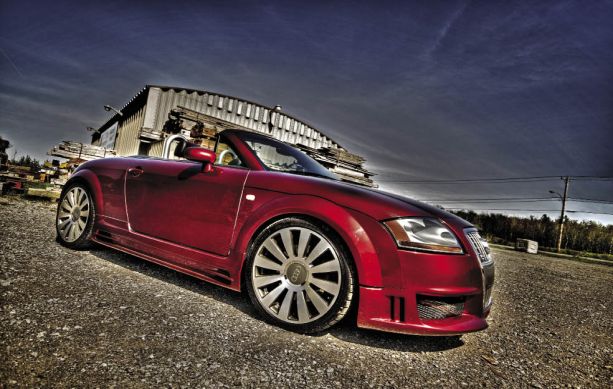 Back in the 80s, the cars coming out of Audis' plants were fairly mundane. Before the Audi 5000, the cars being produced looked archaic compared to other manufacturers. The lines were boring, they were underpowered and reliability was in question. My old man used to have an Audi 100, an awkward looking quad headlight creation that was just as slow as it looked. This thing struggled uphill, never started in the winter and I don't know how many times I had to sit out there in the cold holding the flashlight during driveway repairs. It seemed like only 10 years later, Audi had jumped lightyears ahead in design and engineering compared to what they used to pump out. These days Audi is amongst the most technologically advanced in the world and came out of virtual obscurity with a killer line up in the last decade.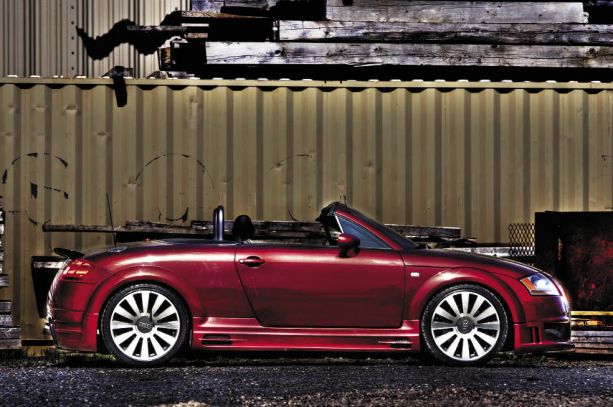 One of those ground-breaking platforms came in the form the Audi TT. A stunning roadster or coupe that was so well engineered that it looked like it was cut from a solid chunk of metal. The car was exciting in stock trim with a turbo motor and Quattro all wheel drive with a few other variations and horsepower bumps over the years. Owner Vincent Simard was possessed with the styling of the vehicle and got to work on his 2002 3.2L VSR-powered machine right away.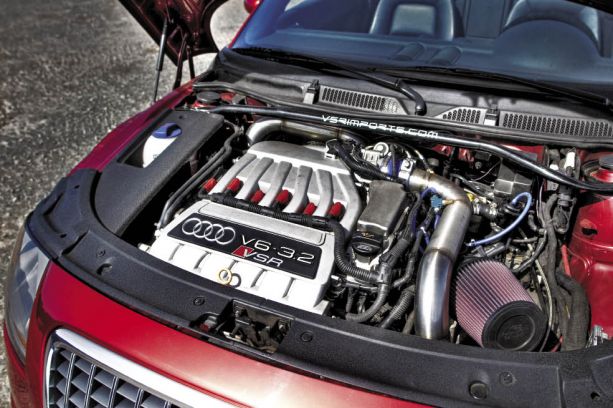 His car had the Quattro AWD system and torque of the larger displacement 3.2L but it still was lacking the scaled up potential of the turbo motor. So Simard and the team at VSR Imports went to work on the motor to fortify it in preparation of a turbo kit. The compression was lowered to 9.0:1 allowing the chamber to be crammed with compressed air. A VSR-spec Garrett GT35R breathing through a K&N cone filter was custom plumbed into the system with a VSR intercooler core to chill the charge air. The excess air is vented by a Forge blow-off valve and the turbo is regulated by a TiAL 38mm wastegate. The exhaust heads into a custom VSR exhaust and twin 3P high-flow cats. After the parts were bolted up, the car was sent over to chip experts Unitronic for some tweaking pushing it close to 500whp!
All that power meant that they must keep the lightweight roadster under control. The control factor came in the form of V-Maxx adjustable coilovers from Grand Prix Import on all four corners to dial in the suspension. He swapped in the larger brakes from a 2004 TT and then turned his attention to the wheels. Simard found a set close to home with some turbine style 19-inch alloys from the big A8 sedan. He then grabbed a set of impressive Marangoni Mythos UHP tires in 235/35R19 to harness all those wild horses.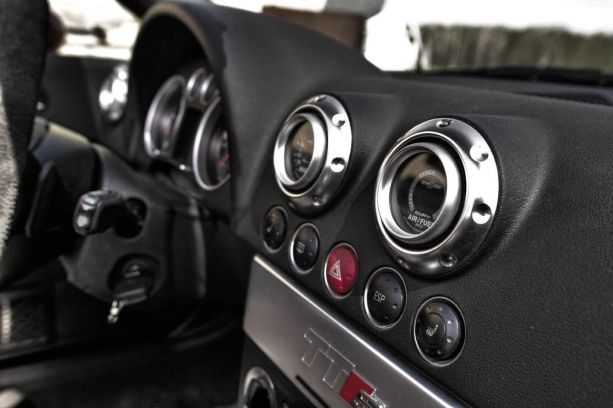 Attention then turned to the exterior of an already dynamite body style. The first gen TT still looks like it is current today but Simard wanted to ramp up the looks of the car. He started by sourcing out a 4-piece Reiger body kit that would alter the presence of the car. A front lip, sideskirts and rear valance were fitted to the car before it was drenched in several coats of Candy Red paint. Afterwards a rear wing was fitted to the car right above a subtle 'turbo' script logo borrowed from the Porsche 911.
We don't see many modded TTs pop up in our inbox and this time we're glad we did. Its original looks and turbocharged 3.2L V6 separate it from the crowd. Without a test drive we can only imagine what a scary ride this must be, top-down hurling at triple digit speeds. However, Simard assures us it is more than fast enough and is leaving it alone for now.
THE ESSENTIALS
Owner: Vince Simard
Location: Montreal, QC
Vehicle: 2002 Audi TT
ENGINE
Audi 3.2L VR6 V6
ENGINE MODIFICATIONS
Built VR6 motor with 9.0:1 compression
Garrett GT35R turbo
VSR Intercooler
VSR Intercooler piping
VSR exhaust with high-flow cats
Forge blow-off valve
TiAL 38mm wastegate
ENGINE MANAGEMENT
Unitronic chip
WHEELS, TIRES, BRAKES
Audi A8 19-inch alloys
Marangoni Mythos 235/35R20
2004 Audi TT brakes
SUSPENSION
V-MAXX coilovers
EXTERIOR
Reiger 4-piece body kit & wing
Candy Red 3-stage paint
Porsche 'TURBO' badging
INTERIOR
AEM UEGO wideband gauge
Suede steering wheel