Written by Garry Springgay // Photos By: Manufacturers | 26 August 2008
Page 1 of 2
Yeah, I know we're an aftermarket performance oriented magazine, and almost every article has something to do with making a tuner car faster, louder and generally more fun. But, as much as I love high performance cars, I realized another type of performance vehicle is also very popular with readers and we're known to think outside the sport compact box on occasion.
At one time or another, most of us who tinker with cars either tow our toys or haul some parts. And in this part of the world, that job falls almost exclusively to pickup trucks. After recently witnessing a Hemi-powered Dodge Ram doing a very impressive parking lot burnout, this reminded me that for some enthusiasts, their trusty trucks also double as their performance machines. But we seldom see articles about such utilitarian vehicles in a magazine dedicated to aftermarket performance and audio like PAS, so I thought it was time to give truck owners some respect and research a few audio system upgrades.
A quick internet search confirms that the faithful Ford F-150 is the most popular selling pickup in North America, and several surveys actually put it at the best selling vehicle period for the last 25 years. In continuous production since 1948, and now in its 12th generation, it's estimated there are over 25 million F-150 trucks registered in North America. With numbers like that, I thought the 2008 F-150 Supercab would be a great foundation for a budget build. Keep in mind even if you're a Chevy, Dodge, Nissan, or Toyota fan, these same basic premises apply
to upgrading those systems too.
Speakers Options: Bang for your buck
When upgrading the factory sound system, the first place to start is with the speakers. Replacing the generally dreadful OEM speakers will always net you the biggest improvement per dollar spent. The Ford F-150 uses very popular 5x7 / 6x8 size in both the front and rear doors, and has for over 10 years. I suggest using the same make and model replacement speakers in both locations, to maximize sound quality and minimize unwanted "coloring". Depending on the thickness of your bankroll, you literally have dozens of great choices available for the Ford. If you are on a limited budget and want to get the most improvement for as few dollars as possible, you have several good options.

Pioneer TS-G6842R
For around $60 bucks (USD) a pair, you can pick up the Pioneer TS-G6842R 6x8's, featuring an injection-molded polypropylene composite woofer cone with cloth surround and a 1-3/16-inch polyetherimide film dome tweeter. With a wide frequency response and a power handling of 30 watts continuous and 180 watts peak, these would be a great upgrade if you intend to keep the rest of the system in fairly stock form. The Pioneer TS-G6842R speakers will easily handle the OEM amplifiers output and sound a lot better! Do both front and rears, and you'll soon find this is probably the best $120 bucks you've spent since the last 'night out with the boys.'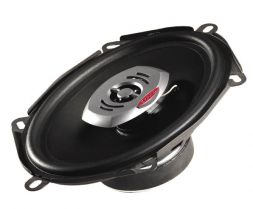 Boston Acoustics S85
If your budget allows a bit more leeway, and especially if you're going to add some power along the way, another great upgrade would be the excellent Boston Acoustics S85's. The S85 6x8-inch speakers feature a sturdy copolymer woofer cone and a durable butyl rubber surround to deliver tight, clean bass with minimal distortion. And thanks to the built-in crossover network, the all important transition from woofer to tweeter is blended smoothly. A ¾-inch tweeter with a built-in Ferrofluid cooling provides long term reliability and excellent power handling. A contoured tweeter plane guides high-frequency output to create a larger listening "sweet spot," while Boston's Amplitude Modification Device (AMD) reduces harshness in the upper mids for clear, detailed sound.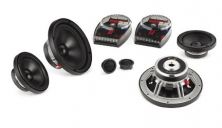 JL Audio Evolution C5
Of course the sky's the limit when it comes to component loudspeaker systems, and if you have the budget for a truly high-end system, I can vouch for the very good JL Audio C5-570's. At about $500 per pair, these are not cheap speakers, but oh, they do sound great! With impressive fidelity and power handling, the JL Audio Evolution C5's are smooth and balanced, and sound equally great with any type of music. JL Audio built the 5x7-inch woofers with extended cone travel using the same patented cooling technology developed for the ZR Series speakers, allowing the C5 speakers to play with a wide dynamic range at all volumes. The C5-570 5x7-inch component system features a pair of silk dome tweeters, and the crossovers feature 4-position tweeter and 3-position midrange levels that give you 12 possible adjustment combinations for exceptional control over the final sound. Sure, a couple of pairs will set you back a cool grand, but if you're a real music lover, you'll understand why they were worth it every time you go for a drive.