Written by Troy Sumitomo and Mark Pereira // Photos by Five Axis | 31 August 2007
Since the launch of the Scion brand back in 2005, Five Axis has been active on the Scion scene creating some over the top concept cars to help define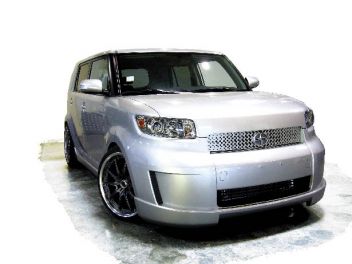 the upper limits of these highly customizable platforms. The partnership between Scion, Pioneer Electronics and Five Axis has been responsible for some of the most memorable tuner creations we've ever laid eyes on. The revolutionary designs from Five Axis and leading edge products from Pioneer Electronics have worked together smoother than a glass of Vodka and Redbull, which made them a perfect match for Scion's modern marketing campaign.
Naturally, when Scion came to market with the second generation models, the 2008 xB and xD, Five Axis was asked to take a look at these fresh new platforms from an aftermarket, consumer perspective. When we heard our boy Jaed Arzadon at Pioneer USA bought a new 2008 Scion xB, it didn't take long for his once 'stock box' to end up in the install bay at Five Axis for a lip kit fitting. We dropped by to kick it with our home boy Troy Sumitomo at Five Axis to get the inside scoop on this new project build and the new products from the Five Axis team.
The original concept for the Five Axis Design 4-piece lip kit was conceived for the private unveiling of the next generation Scions at an exclusive owner's event held in South Beach, Miami Florida back in December 2007. Five Axis was asked to create two mildly modified vehicles for the event that would allow the audience to see the potential for the next gen Scion models with a little creative influence. Five Axis was given a blank canvas in which to create an enhanced look for the new Scions.
"Our goal was not to go over the top as with our previous endeavors, the DJxB, Widebody tC, and Speedster xA but to create a tasteful modification that would give the new cars a sportier and more aggressive look…. As with all our (Five Axis) projects we begin by studying the existing lines and surfaces on the subject at hand, the new xB," explains Troy Sumitomo of Five Axis.
Unlike the previous xB, the second generation is much softer, and not as edgy or boxy, and is proportionally very different. The greenhouse is much smaller and the beltline (the imaginary line that defines the bottom of the windows) is much higher than the previous model making it appear much like a chop top....kinda like the orange Five Axis xB…hmmmm.
"To enhance the sides, our goal was to bring the body sides down and around, wrapping the bottom of the car back underneath the vehicle instead of just extending the sides downward and abruptly ending them with a sharp edge, typical of most aero kits.  Looking at the xB body side, this same treatment is evident in the original design in which the body side is rather flat breaking over, just below the beltline, into a gentle curved surface making up the secondary transitional surface between the body side and the greenhouse as well as the hood," said Sumitomo.
The current Five Axis production kit differs slightly from the prototype shown in Miami. Five Axis fine tuned the kit for production, so that installation would be as smooth and trouble free as possible. They rebuilt the front and rear lip spoiler into a one piece design allowing for better manufacturing and an overall more concise looking part. Five Axis maintained the rear dual openings in case a dual exhaust was ever desired. In fact, they're in the process of creating an exhaust system to work specifically with their rear lip.
Construction is OE grade urethane in natural black. The kit comes unpainted and the surfaces are clean enough, right out of the mold, that a simple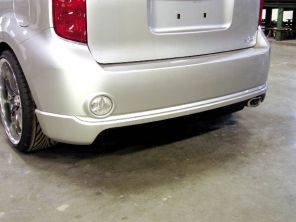 scuff, seal, and shoot is all it really requires. Five Axis advises a pre-fit, before painting, to insure that all the gaps are even and surfaces mate up. Although the molds are very precise, there is always that thing called tolerance that even on a production car, can vary ever so slightly.
Installation is relatively simple provided the installer reads and fully comprehends the enclosed instructions. The biggest learning curve is grasping the 3M foam tape application technique which requires a specific process that, when followed, will result in a flawless application. Five Axis says 99% of the installations that have problems are because of lack of understanding this technique.
The kits are currently available at Scion Dealerships nationwide through the Optomize program and also available at participating tuner shops as well as directly from Five Axis through their website, www.fiveaxis.net. Along with the Five Axis Design Scion lip kits for all 3 current Scion models, xB, xD, and tC, Five Axis plans to offer additional accessories such as grill inserts and interior goods. Recently, Sumitomo and his team have been hard at work launching their new Five:AD wheel line which includes applications for popular Import and European fitments. They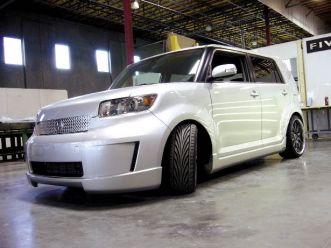 are also in the process of creating some unique accessories for the Lexus line, concentrating on the IS and IS-F models.
When we asked about the next steps to global domination, Five Axis answered, "Our goal is to eventually take what we have done with Scion and carry it through the Toyota family as well as other unique applications in the Import market. Wheels are a great start especially since they are not brand specific. We do take caution not to overdo it and to be very selective as to which products to offer. Regardless of whether we are building the latest concept car or aftermarket aero enhancements we always pride ourselves on making sure we remain focused on design, quality and detail. Likewise we look for the same characteristics when choosing our next subjects to modify or enhance."
Much respect goes out to Five Axis for doing what they do and our boy Jaed Arzadon at Pioneer Electronics who can finally get his roll on thanks to his "oh-so-fly" body kit which fit like a glove.