20 June 2012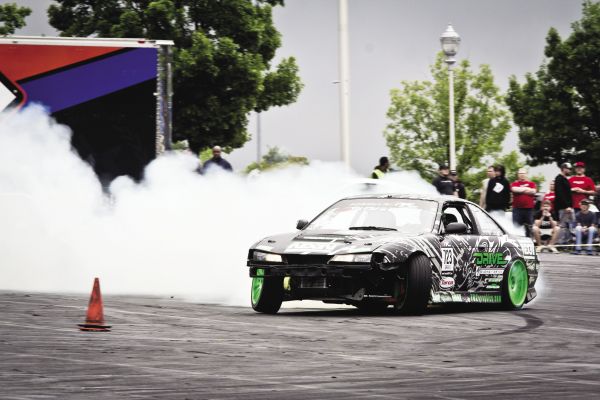 It's has become tradition for the pro drivers who are in town to stop by the local grassroots event which is held in a parking lot at the major league baseball stadium in downtown, known as Turner Field. Atlanta has long had a large group of grassroots drifters and events, but a proposed city ordinance would specifically ban drifting inside the city limits. The ordinance was proposed just a week before the Atlanta event, and the drifting community from across the country has come out loudly to oppose the motion. This year's post-FD Turner Field event became not only an opportunity for young drivers to learn from the professionals but a rally call as well. Nearly 5,000 signatures were collected on a petition to overturn the ban prior to the event, and that signature list has grown to more than 9,000 signatures in the weeks after the event.
What confuses many is that the ordinance specifically calls out drifting as being loud and obnoxious, but other automotive events including SCCA Autocross and gymkhana events are excluded from the ban despite having earlier start times and the same amount of noise. Drift organizers have also cited that more than half of the nearly 80 Braves home games are evening games which feature fireworks at the end of the game. The fireworks have been measured at over 110 decibels on a sound meter, while the drifting registers just under 90db (well under most sound ordinances of 95 db), further complicating the matter.
In the mean time, a record turnout both of drivers and spectators came to the final scheduled event at Turner Field in support of the sport. Many grassroots drivers noted that the feedback from the FD pros was monumentally helpful in developing their driving skills. S2 Drift events hopes that this won't be the last event at the location, and plans to continue to fight the ordinance. A Facebook page has been created in support of the events, as well as a petition on Change.org. Be sure to show your support for drifting by signing the petition!