23 May 2013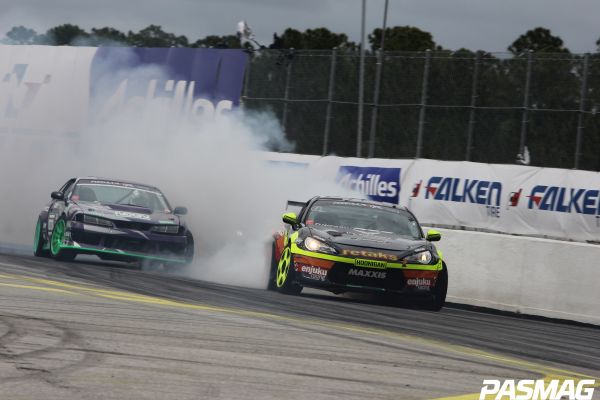 As Formula D enters its 10th season of competition, there have been a number of off-season changes. From new championships to changes in sponsorship, keeping up with the shuffling has been hectic to say the least. PASMAG is proud to be a major media partner for the 10th consecutive year in 2013, and you can expect more of the best coverage of North America's biggest professional drifting series throughout this season. Let's take a look at 10 new changes in Formula D's decennial year.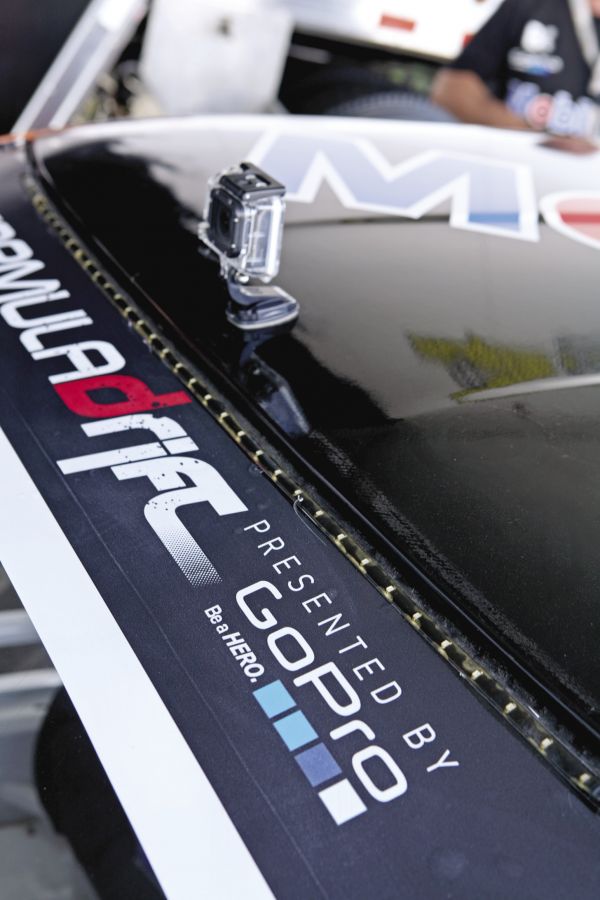 1. GoPro Rises to Presenting Sponsor
GoPro has been a partner with FD for several years, but now acts as the presenting sponsor. GoPro signage will be on all cars and marketing material, as well as providing unique video content for every event. Additionally, GoPro cameras will be used exclusively on all cars.
2. New Track – Texas Motor Speedway
Formula D visited Texas in 2004 and 2005, but this years event at Texas Motor Speedway (just outside of Dallas) marks the first time the series will drift competitively on a track in the Lone Star state. Texas replaces Las Vegas on the calendar as the sixth stop, between Seattle and Irwindale, on September 14.
3. New Qualifying System
In past years, each driver used their best score of two runs to rank into the top 32. This season, the top 16 scores after the first qualifying pass will count for the top half of the bracket (positions one thru 16), while the second qualifying pass for the remaining drivers will determine positions 17 thru 32. No driver taking a second qualifying pass will earn a tandem ranking higher than 17th, and only the best score will stand. Additionally, drivers will make passes based on their championship position, with the championship leader making the first pass each round.
4. Car Manufacturer Championship (use same graphic as program guide)
At each round, the top two drivers for each vehicle manufacturer will earn points towards that manufacturer. The drivers don't need to be pre-determined, nor do they need to remain the same from round to round. For the purpose of the competition, cars are allowed engine swaps from the same manufacturer only. A Scion car with a swapped Toyota motor is allowed, but a Nissan with a swapped Chevy motor is not.
5. Tire Manufacturer Championship (use same graphic as program guide)
This season, the top two drivers on each tire manufacturer will earn points towards this cup. Drivers earning these points do not need to be predetermined, nor do they need to be the same for each round. With eight tire manufacturers set to compete at each round, this competition will be as tightly monitored as the drivers championship!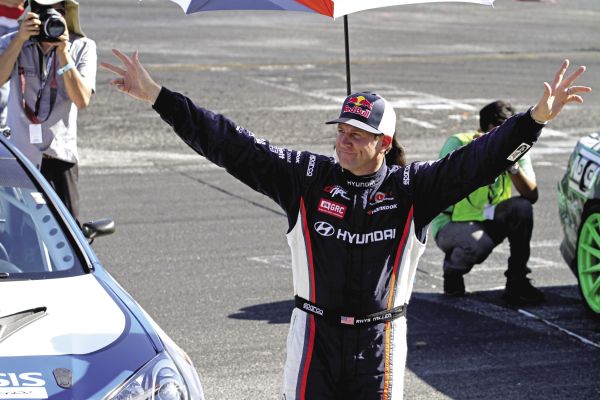 6. Rhys Millen is Out
Long time competitor Rhys Millen will not be competing in 2013. With Hyundai motorsports pulling back its sponsorship, Millen was unable to find enough funding to continue his program. Millen leaves with a series championship in 2005, seven event wins and 12 podium finishes. We wish nothing but the best to Millen in his future motorsport endeavors!
7. Returning Drivers – Kearney / Rydquist / Wang
Several drivers are returning to the series this year after taking some time off. Dean Kearney is back behind the wheel of a Viper (although this car is a different chassis than the Sam Hubinette Racing car in 2011). Carl Rydquist is piloting a 350Z that was previously campaigned by Robbie Nishida in 2009, and Forrest Wang is in a freshly-built S14 chassis. All three drivers are running their own programs after previously driving for other team owners.
8. New Title Sponsors – Pat Mordaunt / Matt Powers / Odi Bakchis / Vaughn Gittin Jr.
Each year, several sponsorship changes occur behind the scenes. For 2013, four drivers stand out as having the most significant changes. Pat Mordaunt signed Diamond Lighting Solutions to the title spot on his Lexus SC430, Matt Powers will drive with Fatlace as his title sponsor, Odi will have Nexen as his title sponsor, and Vaughn Gittin Jr. is now driving under the Nitto Tire banner alongside returning sponsors Monster Energy Drink and Ford.
9. New Cars – Mertzanis / Tuerck / Denofa / Angelo
Our May 2013 issue covered five new cars on the grid in various states of their builds (Mike Essa - BMW E46, Toshiki Yoshioka - Subaru BRZ, Conrad Grunewald - Chevy Camaro, Andy Hateley - BMW E30 and Otto Graven - Scion FR-S). We arrived in Long Beach to find several additional cars too. Dennis Mertzanis teamed up with ARK Performance to build a Hyundai Genesis Coupe, Ryan Tuerck debuted a Scion FR-S powered by a 2JZ motor, Chelsea Denofa piloted a four-door E46 chassis, and Tony Angelo brought his 2AR-powered Scion FR-S to the competition. All four of these drivers also made it into the top 32.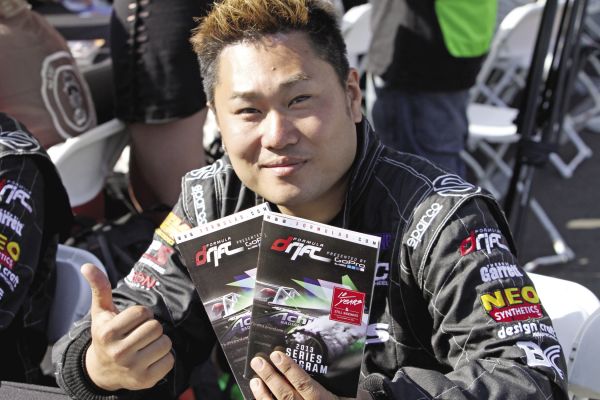 10. New program guide – PASMAG
Fans will be able to collect the 10th edition of the Formula D fan guide at any FD round and, for the third consecutive year, PASMAG is responsible for producing it. You'll find driver profiles, judging and qualifying information, as well as exclusive interviews and articles that you won't find anywhere else. Be sure to pick up a copy, and a second for a friend!