Written by Dave Pankew | 29 October 2010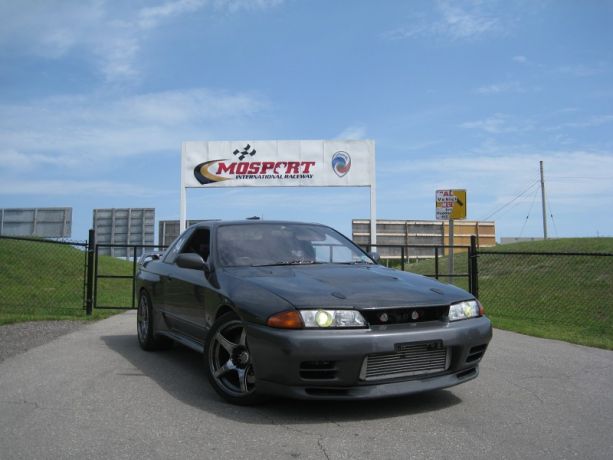 It's been a long time in the works but we finally found the time to wrench on Project R32. With a busy travel and track day schedule, there never seemed to be an ideal time to start the surgery on the RB26. After a late summer '09 visit to Mosport though, one of the turbos (the infamous rear turbine) decided to call it quits. With no boost on tap, the GT-R was castrated and didn't have the jam to keep up with a Camry considering it was now essentially a low-compression NA 2.6L! Luck was on our side because when we tore down the turbo setup at our shop and were actually excited about the damage we found. We discovered the turbine shaft had sheared clean off and the wheel flew out the exhaust instead of shattering because it wasn't in the housing anymore. It was the difference between a turbo upgrade and a whole motor upgrade!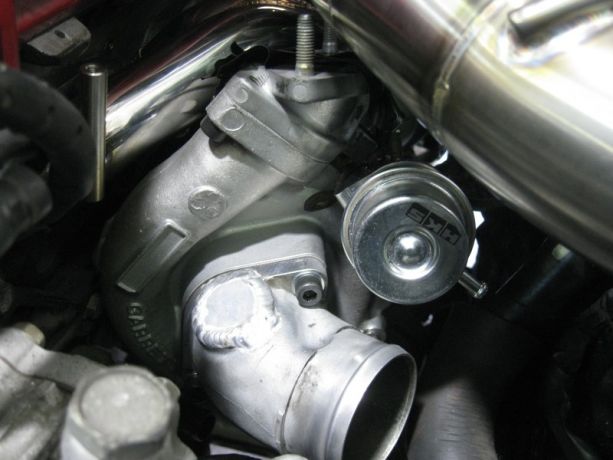 We turned to the right partners to assist with the turbo upgrade and our first move was to acquire a turn-key pair of Garrett GT ball-bearing twins. We spoke with Kyle Snyder over at Garrett Turbo and he maintained that the highest horsepower with minimal lag combination was the venerable GT2860R turbo upgrade. The "dash-5" version is a direct bolt-on for the RB26DETT with its T25 flange, and air flow up to 320hp…each! The ball bearing center cartridge meant the boost would come on quick and pull all the way to the redline. We opted for the .42A/R combination which would yield the response GT-Rs are known for... rocketing out of the apex nice and early.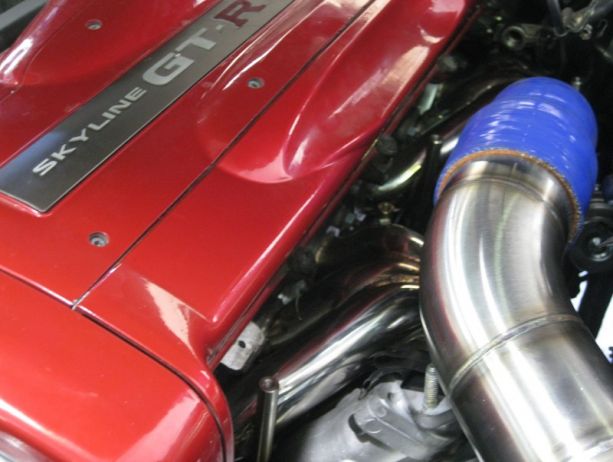 The only change in plans was for the supplied Garrett actuators to be pulled in favor of adjustable HKS racing actuators we had in stock to handle more boost. The stock exhaust manifolds on the RB26 are heavy and restrictive. Sure they will never crack and can be port-matched to flow better but seriously, they were rusty relics of a bygone era. We contacted Riki Endo at Tomei USA to ship out a pair of the absolutely stunning eXpreme stainless steel manifolds for the RB26. The 2-piece design is made from SS304 stainless, which will outflow and resist cracking far beyond any of that junk you can buy online from brand X. The construction and welds are second to none and we decided to add a set of Tomei dump-pipes as well. Most people skip the dump-pipe upgrade (go figure, a pair of elbows is $500) or go cheap and end up regretting it because it will be the difference between over 500whp or below 500whp. Tomei supplied their latest design of dump-pipes that are completely cast, then ported and polished as opposed to welded flanges. While we agree Tomei has some of the prettiest welds around, this new design is progressive and more than one step ahead of counterfeiters.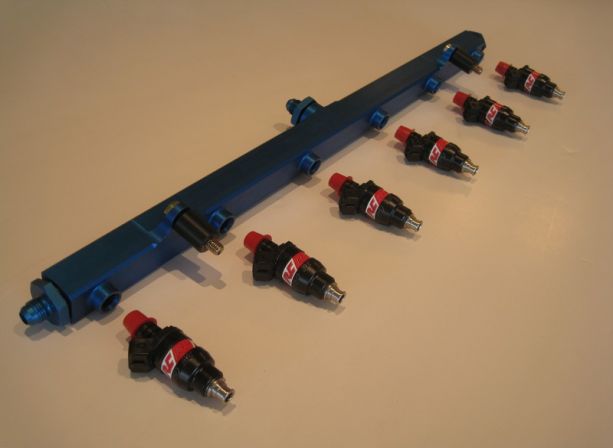 Our GT-R's fueling was also a concern in a high horsepower build like this. All the right parts are there to make power but without enough fuel, there will be problems. You will melt a piston if you cram more air in your combustion chamber because the resulting temperatures of the intense explosions cause detonation. Turbo cars are at their fastest just before they blow up – remember that. We turned to Tomei again for one of their heavy duty 300LPH fuel pumps and a sexy billet rail with the larger 11mm bores to accommodate injectors other than Nismo and JECS, which are both 10.5mm. We decided on RC Engineering 750cc injectors, a top-feed, low-impedance type that would drop right in. The RC Engineering injectors shipped flow-tested and labeled for identification allowing us to put the fattest one in the leanest cylinder (No. 6) at the back of the motor and scale down from there. The intake manifold on the RB26 causes a leaner condition at the back of the motor as the charge air slams into the last cylinder. There is currently only one aftermarket intake manifold that addresses this, the Nismo but they cost $1,500 and with no chance of a hook-up price!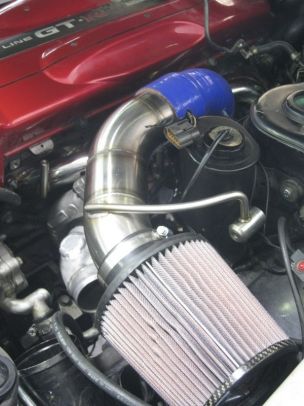 Next up, we needed to convert the intake to speed density, and our options were scarce. We decided to take matters into our own hands and took the twin 3-inch K&N carbon fiber cone filters to fabricate something. We fastened the cone filters to a pair of custom fabricated intakes with Vibrant 4-ply silicone couplers and Vibrant T-clamps. The end result was tailored fit in the engine bay which looks much cleaner without MAFS and awkward snorkels. After the intake was customized to perfection, we installed our supplied AEM intake air sensor (IAT after the intercooler and the AEM 3.5bar MAP sensor to the firewall). These new sensors would relay the temperature and air pressure data to the ECU. As a rule you want to select a MAP with 0.1 to every psi of boost. Would we run 35psi? Well, not yet but you never know!
Next, we installed the AEM EMS standalone that our boy Greg Nakano from AEM supplied. Nakano had been hounding us about when this project was going to deliver. Well, this one is for you Greg because the GT-R makes more power on three cylinders and one turbo than your whole car! The AEM EMS he supplied also came with the onboard wideband O2 sensor to read AFRs and an optional boost control solenoid to regulate the boost pressure. The wiring of any AEM is a snap with a simple plug'n'play operation with only a couple more wires to tap in for the O2 sensor.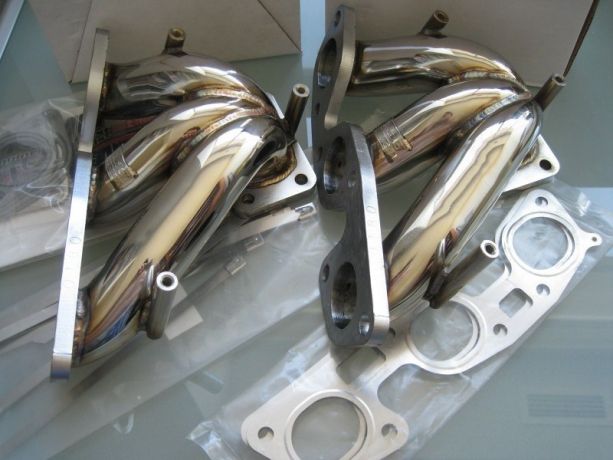 The mechanical work itself had taken only a week. The turbos were now primed and everything was torqued to exacting specifications, so it was time to get the GT-R on the rollers and see what it would lay down. As with any AEM EMS standalone, they are provided with base maps to get your car up and running right away. You won't be making the maximum power and there is still plenty of tuning and setup to complete but at least it can be moved around. We hit up Advance Power House (APH) in Toronto, ON to properly tune the AEM. They bolted the car up to their Dynapak and lead tuner Ed Wong got to tapping away on the lap top. APH has done some very complicated tunes that other shops either were not capable of doing or died trying.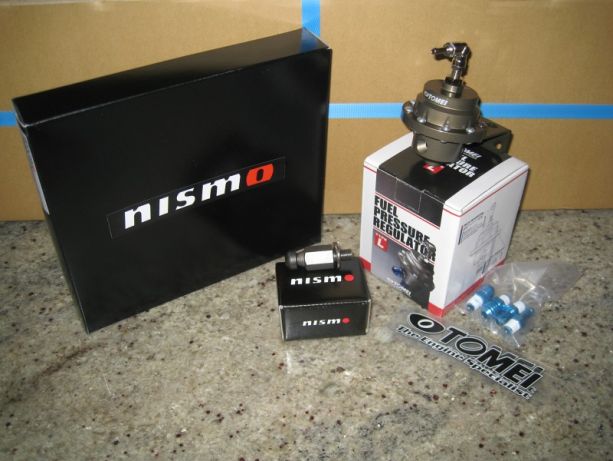 With a goal of instant-on power, Wong began tweaking the maps and the boost to play nice with pump gas. The highest octane pump gas around these parts is 94 (RON+MON), which by Japanese standards would be around 98. We are also working on adding additional maps for our fuel partners, VP Racing fuels which offer a number of blends but decided C16 (117 octane) would reach our horsepower goals.
The APH style of tuning is progressive as they want each sub-system of the engine to be perfect, so they raise the boost and advanced the timing gradually. They wanted to ensure adequate fuel, lubrication and cooling would be present for the engine. As the tuning went late into the night, both the PAS Crew and APH were eager to see how much power the Garrett setup would produce on a motor that we knew zero about since the car was imported from Japan. At 24psi, the car was able to put down a respectable 450whp with 401lb-ft and our desire to push harder was cut short. The 20 year old ignition coils decided they did not want to be forced any further and began breaking up.
Armed with new coil packs, the next stage will see a couple added tweaks to unlock the extra ponies in the car. With an AEM water-methanol injection kit and some VP C16 in the works, the GT-R is on track to touch 600whp. Since the old setup was only 360whp and put the hurt on almost the entire field at our Mosport day last year, we expect the GT-R to be difficult to overtake in 2011.
Garrett Turbo
GT2860R-5 RB26DETT turbos
www.turbobygarrett.com
Advance Power House
AEM EMS Tuning and Dyna Pak
www.advancepowerhouse.com
K&N Filters
Twin 3-inch carbon fiber filters
www.knfilters.com
Vibrant Performance
4-ply silicone couplers
T-clamps
Universal vacuum block
www.vibrantperformance.com
AEM
EMS standalone ECU w/O2 Intake air sensor
3.5bar MAP sensor
Boost solenoid
52mm serial gauge
www.aemelectronics.com
Tomei USA
RB26 eXpreme SS manifolds
RB26 dump pipes
RB26 billet fuel rail
300LPH fuel pump
www.tomeiusa.com
RC Engineering
750cc injectors top-feed, low-impedance
www.rceng.com
Turbokits.com
HKS adjustable wastegate actuators
GT2860R-5 RB26DETT turbos
www.turbokits.com
VP Racing Fuels
C16 (117 octane) fuel
www.vpracingfuels.com