13 October 2015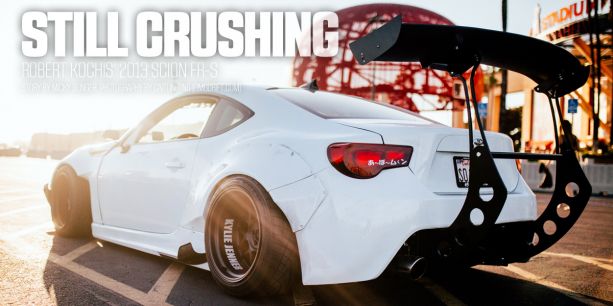 Robert Kochis is one of those guys that just can't leave his car alone, but in the best ways. If you look at the orange car that graced our April/May 2013 cover and was featured inside of one of our 2014 issues and we told you it was the same as this beastly white one you see here, would you believe it?
Going from Rocket Bunny's V1 kit to V2 and then adding a Big Country Labs wing and the DAI canard set would be the FR-S's guise for SEMA 2014. With a Vortech supercharger and blow-off valve paired with a full Borla exhaust, it sounded as mean as it looked. Kochis actually drove up to SEMA without a place to go and R1 Concepts picked him up as a booth car at the last minute!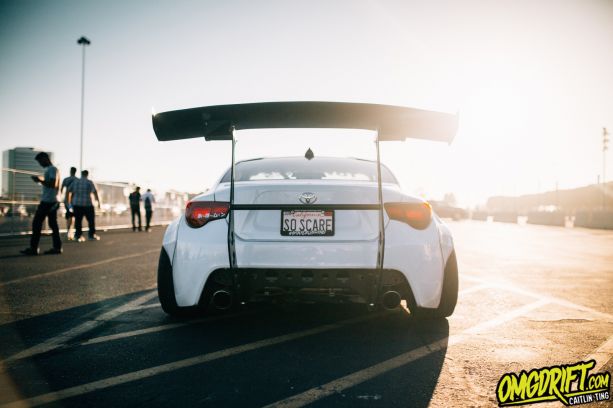 For those that don't know (or can't remember) the Stay Crushing FR-S was white once upon a time, so he must have been feeling nostalgic. After he shipped it off to his friends at Platinum VIP for a makeover, Kochis got into talks with fellow 86 owner and Street Shark, Daniel Covarubbias, about his chassis-mount GT wings. When the car came out of the paint shop, it was sporting a stunning white paint job with powder-coated black wheels and some black eyeliner under the headlights, earning it the affectionate name of "Emo Bunny" at its debut show. Covarubbias hooked up the matching black Arcane Manufacturing chassis-mount wing as a finishing touch and here we are.
As for what's next?
Kochis hopes to rework his trunk audio situation with OEM Audio Plus and add some track supportive mods for a bit of playtime on the circuit soon. After being the first Rocket Bunny in the States, he's still crushing.