18 July 2011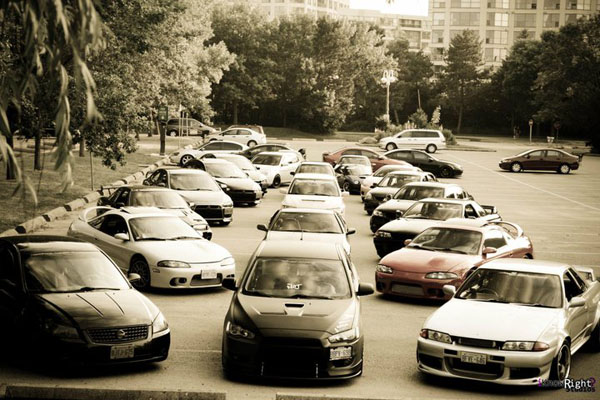 Club name: Toronto Tuner Syndicate ( TTS )
Year Established: 2009
Website: www.torontotunersyndicate.net
Facebook Group page: Toronto Tuner Syndicate
Twitter : @infamous_tts
Pasnation Team User Name : Toronto_Tuner_Syndicate
Locations/chapters: Members are located all over Toronto and the GTA
# of members: Currently 480
President and founder: President and founder - Shane (Infamous) V.P. Curtis (Hydrolikz)
Team Sponsors: Motorcity Mitsubishi, Graphiti, GT Custom Exhaust, iKnowRight Studios, Blackcat Custom Gauges, Exclusive Wheel and Tire, DEI Design Engineering Inc, Tool Tyme Car Stuff, Mid Toronto Mitsubishi, Seductive Sounds, Formula Traffic Tickets, Nextmod, Standard Auto Wreckers, Stage 3 Studio, Aero-Hill Engine Rebuilders
Individual Vehicle Sponsors: All club sponsors are also member sponsors.
Introduction: Toronto Tuner Syndicate was started in 2009. We are an automotive enthusiast club that is made up of all types of rides from cars to bikes and trucks, show rides, street rides, track rides, imports, domestics, euros, exotics, and super cars to some of the rarest cars you have ever seen or heard of before. Our members are not looked at as members of a club, they are all looked at as family and that's what makes TTS so unique.
Club/Team History: TTS started in 2009 with one idea and only a few members. Our meets were only about 3-5 people but we never gave up. Founding members were myself (Infamous), Curtis (Hydrolikz), G (Just G), Ron (Rontam). In almost two years, we have grown our member base to almost 500 members and have been able to attend multiple meets every week all over the city and almost every show in Toronto and the GTA. We do not shut down in the winter/off season; we keep going all year remain very active despite the weather. Our meets have since grown to 40-50 members each week, rain or shine.
Awards/Accomplishments: The biggest accomplishment so far to date has to be being a feature club in PASMAG. TTS was the first and only club to ever be sponsored by DEI Design Engineering Inc. Our members are winning awards in every show they attend from 1st to 3rd place at shows like CSCS, XTS, and Performance World. Members have (had) their rides on display in the Pickering Town Centre Mall.
Media Coverage (Feature/article): So far just PASMAG.
Shows Attended: CSCS, Performance World, XTS, Too Fast Motors Custom Car Show, Niagara Tuner and Truck Showdown, and Summer Sizzle.
Community Involvement: TTS members have had their rides on display in the Pickering Town Centre to help promote a charity Show and Shine car show called, Wastegate. All profit from this show went towards Durham West Special Olympics. TTS also hosted a charity barbeque and car wash at our sponsor, Motorcity Mitsubish's, dealership to help raise money for Durham West Special Olympics. TTS also has an exclusive flip key fundraiser to help donate to the Canadian Red Cross for their relief efforts in Japan. All flip keys are custom with members forum names, edition number and TTS/Japan on the tag. All flip keys are wrapped in carbon fibre and have an attached dog tag with all the info on it. All profit from this is donated towards the Canadian Red Cross. TTS has also helped out Nextmod and their Japan relief efforts purchase 'Pray for Japan' stickers from Nextmod. All profits went towards the Canadian Red Cross. We will continue to help out the community by hosting more events and helping out other charities.
Future Plans: The sky is the limit, we will stay on this ride as long as it lasts and keep pushing to stand out from the rest and keep helping the community when and where we can.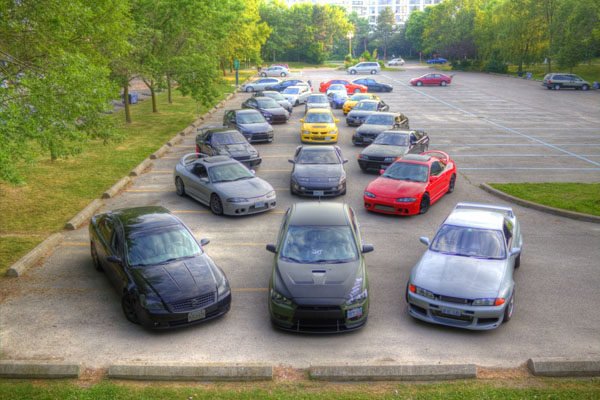 Organized Meets: TTS has meets every week, along with attending other various meets around the city. To find out more on our meet visit our forum.
Membership/Modeling Details: TTS is free to all members no matter ranks, and we will always remain free and will never ask for donations. Everyone is treated just like the next person and every member's input matters just the same as the next persons, no matter how long they have been with the club.
Club Vehicles: This list can go on forever, to name a few, Toyota Supra, Mitsubishi Eclipse/Lancer/Ralliart/Evolution, Mazda RX7/RX8/3/AZ-1, Nissan Skyline/Altima/Maxima/Sentra/350Z/370Z/300ZX, Dodge Viper/Challenger, Acura Integra/RSX, BMW, Audi, Chevy, Pontiac, Datsun, DSM, Hyundai.
Final Thoughts: From all of TTS we would like to thank PASMAG for taking the time to feature us in the magazine and giving us a chance to display to everyone what TTS is all about. To tuners out there being in PASMAG is like the Super Bowl. We would like to thank all the TTS family, without them none of this is possible. Hopefully this will spark more interest in tuners everywhere and influence them to follow the same route we are taking by helping out the community, keep racing off the streets and trying to change the street racer image. Also, thank you model, Ria for her work in the shoot for this feature, she can be found on twitter @riadeluna and on PAS Nation at riadeluna.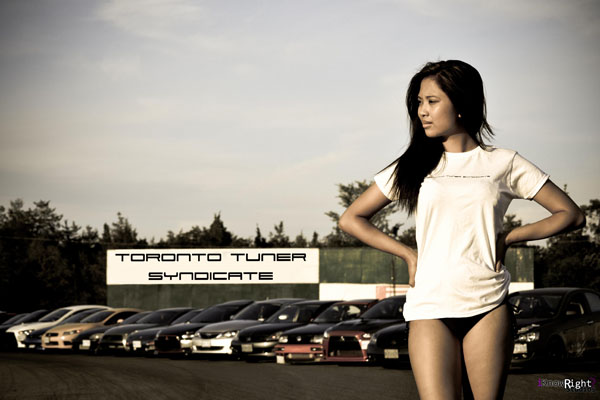 General Questions
How long was the club operating? When did it start?
TTS has been around for almost 2 years, we started in September of 2009.
How did it start?
I was in a brand specific club and had come up with an idea and talked about it with another member of that brand specific club and then decided to go forward with it.
How did you come up with the name?
All meets we attended was in Toronto so that is where Toronto came from and is the city we wanted to represent, we are all tuners and modify our rides, so Toronto Tuner sounded good, but we needed something that meant variety and bringing everything together . I had a drum and bass CD I was listening to and it was called Vinyl Syndicate, and syndicate just sounded like it fit for what we were looking for and had a ring to it too, so that's how Toronto Tuner Syndicate happened .
How many members are in your club?
Current member numbers is 480.
What kind of cars are in your club?
Everything from import to domestic, euros, super cars, exotics, street rides, show rides, track rides, bikes, trucks, stock rides, and those just starting out in the tuner world.
Where is the club based?
TTS is based out of Toronto, Ontario, Canada.
Are there any chapters/offshoots?
There are currently no other chapters of TTS, we do have members from all over Toronto and the GTA but close enough to not need other chapters.

What is your club all about?
TTS is about bringing the tuner community together no matter what you drive or what other club you may or may not be part of. We have meets every week where we get together and talk about the club and shows and events that are coming up. We have a goal to get away from this street racer image and take all of our racing to the track where it belongs. As a member of TTS, you will be exposed to professional photography at all of our meets and events, have access to all of our sponsors and vendors and the TTS discount with them, the chance to enter and win our monthly contests and have your ride displayed as our main website image for a month and have an article write up in our feature members section. Our media department is now filming all of our cruises in regular film and in 3d film. As a TTS member you can also purchase TTS clothing at the discount price for members. TTS member are looked at like family not members of a club, everyone is supportive and treats each other with respect.
Tell us anything else unique/ of interest to our readers about who you are:
When it comes down to it TTS is about the people, and we are just a bunch of regular people, male and female, different races, backgrounds, religions, and we are all brought together by one thing, our passions for cars. Our members are as various and unique as the rides we have. That's what keeps us standing out from the rest and keeps the family attitude within us. To really understand us and how we are you just have to check out our forum and attend some of our meets. Follow us on Wwitter, check us out on PAS Nation and YouTube. Toronto Tuner Syndicate - Get Tuned, Stay Tuned!
Event Schedule:
Test N Tune Shannonville - July 9th
Wastegate - July 16th
CSCS - July 17th
Import Expo - July 23/24th
TTS Dyno day - July 24 @ Engineered Automotive / Velocity Injection
Battle of the boarder - August 14th
CSCS - August 21st
Import Expo - August 28th
XTS - August 28th
DMCC - September 18th/19th
CSCS - September 25th