Written by Daniel Ponzini | 29 April 2010
Car Club – Team MENACE
Established: 1999
Facebook: "Team MENACE"
Location: Seattle, Washington, USA
Number of Members: 11
Team Sponsors:
Babe BLVD (www.babeblvd.com)
Babe Talent (www.babetalent.com)
Compustar (www.compustar.com)
Dunlop Tires (www.dunloptires.com)
INTEC Racing (www.intecracing.com)
Speed Lawyers (www.speedlawyers.net)
SNP Designs (www.snpdesigns.com)
Mishimoto (www.mishimoto.com)
Stoptech (www.stoptech.com)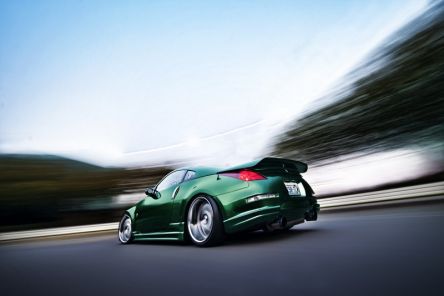 Introduction:
Team MENACE has been repping the WA area hard for over a decade now!  Many rides within the crew have come, gone and retired, but that their members are on many new projects!  Be on the lookout for Team MEANCE's newest rides this year: Mario Chan's Lancer Evolution X, Ken Edward's Twin Turbo 350Z, Richard Furigay's BMW 545i, and Kenji Nishimura's VIP style Lexus GS300.
Club / Team History:
The Crew, based in Seattle, Washington, started with five friends who all had a passion for their cars and the "Import Scene" back in '99. Each members status is solidified by having strong friendships amongst the other members. This is why they choose to keep their crew small and tightly knit with only 11 members. All of their members dedicate themselves to create cars that are unique, with the "Show and Go" mentality. Team MENACE is constantly evolving and recreating their rides to always push the envelope to the next level.
Awards / Accomplishments:
Team MENACE prides themselves on the Team Awards that they have been winning year after year. The latest team awards they have won are:
Overall Best Team - Car Toys Traffic Jam Car Show (Tukwila,WA) - 08.16.09
Best Team Overall - Jtuned Show (Monroe,WA) - 08.08.09
Overall Best Team Representation - Battle of the Imports (Kent,WA) - 08.23.08
Hottest Club/Team Representation - Hot Import Nights (Seattle,WA) - 08.02.08
Shows Attended:
Team MENACE makes a point to get out to Battle of the Imports, Driven to Perform, Formula D, Hot Import Nights, Import Motion, Car Toys Traffic Jam, SEMA, Spot Compact Nights, and Tuner Bash.
Community Involvement:
They also provide a lot of help in the community with donations, drives and BBQs for Hurricane Relief and Toys for Tots Toy Run.
Organized Meets:
Each member gets out and actively supports and participates in the many local import meets/events that happen in their own specific communities.
Future Plans:
Team MENACE just wants to continue doing what they love best, and that is modding their cars tastefully and enjoying all the great times that they spend together. They don't see an end in sight and hope to be at all the big shows year after year supporting the Industry!
{yoogallery src=[/images/phocagallery/CarClubMENACE] width=[150]}