Written by Dave Pankew | 09 June 2010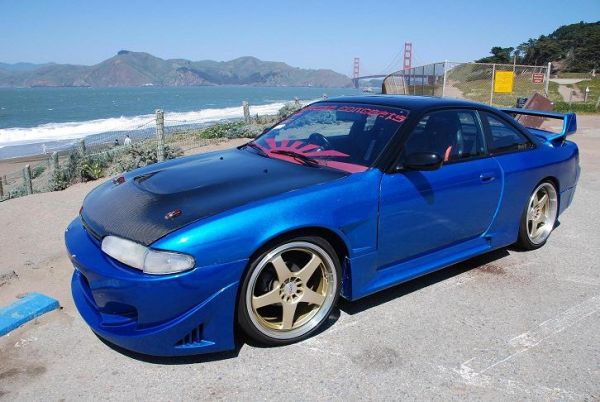 Owner (First/Last): Dwayne "MonkeyKing" Nix
Location (City, State/Province): San Francisco, CA
Vehicle (Year Make Model): 1995 Nissan 240sx SE
PAS: What was the first vehicle you ever owed? Did you modify it? If so, what modifications were performed?
Owner: HaHa man a 1994 Nissan Sentra. of course i tried to modify it I did some basic audio work adding subs and stepping it up to a cd player, then removed my interior pieces and sanded them down and painted them white (not a good idea without clearcoats after) then I wanted to do a kit but there was none offered for my car so i found one for an Extreme Dimensions kit for a 91 Accord since the dimensions were the same.
PAS: What is your dream car? Why?
Owner: I've always been big on Nissans since my first car was a Nissan, so Nissan Skyline of course. More Specifically R33 400R, or R34 GT-R V-spec II Nür. Growing up in America I've always wanted to own a real Skyline like most other tuners but wasn't given many chances. I even ordered one before and had it shipped to Canada and went to pick it up, saw it and everything. Only to be told I could not bring it across the U.S. border and by the time I was able to go back and pick it up was told it had been sold even though i still had the paperwork. So I still hold onto my real Skyline dreams not that new toned down American version.
PAS: Any Shout-outs?
Owner: My parents, the 12v Spotlight team,Miss Lynna and Lynna's Lovelies,Kaori Ann, Xtreme Concepts, Team Downeshift (first team based LGBT/LGBT friendly). NRT racing in L.A., my photographer Adam Park, Mach III, Vision Performance,Zankoku Performance,Khoa Tran, Percy's Signs in Redwood City, Tikko, Jesse "Panda" Chan,Mark Cymanski & KBR Performance Tuning,  Em-C.D.L and Beat On Desk Records. Lastly all those garage tuners doing it with your own money. lol
---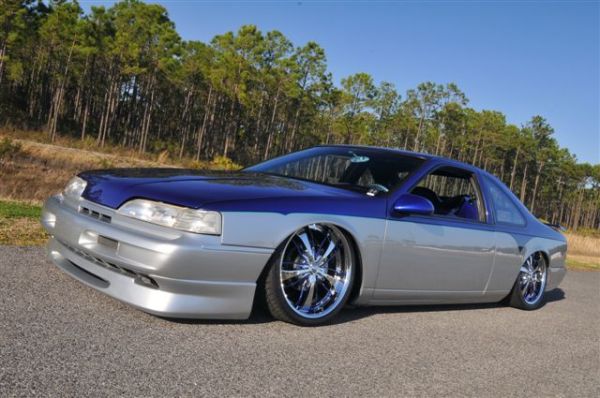 Owner: Carl & Lynda Spivey
Location:  Wilmington, NC
Vehicle: 1992 Ford Thunderbird
PASNATION Username (http://pasnation.pasmag.com): NeptuneFantasy
PAS: What events have you competed in? Where?
Owner: Multiple Car Shows and Stereo Competitions ranging from New Jersey, Indianapolis, Pennsylvania, Kentucky, Tennessee, Virginia, Georgia, Texas, Florida, South Carolina, to our home state of North Carolina, and most notably SEMA 2008 in Las Vegas, Nevada
PAS: What will be your next performance modification/upgrade?
Owner: Not into the performance with this one, we would like to upgrade to 22's in the back for more tuckage, I think that is a word, thinking about a black and white tattoo mural of a real life mermaid on the center of the hood. We think it would go with the aquarium/underwater theme we have going on the inside and in the trunk.
PAS: Any Shout-outs?
Owner: I would like to give thanks to my wife Lynda, our sons William and Carlton, Jeff Cayton, Brandon Poirer, Daniel Krepps, Shane Clements, and all our friends and family who have helped and supported us on this 16 year endeavor.
---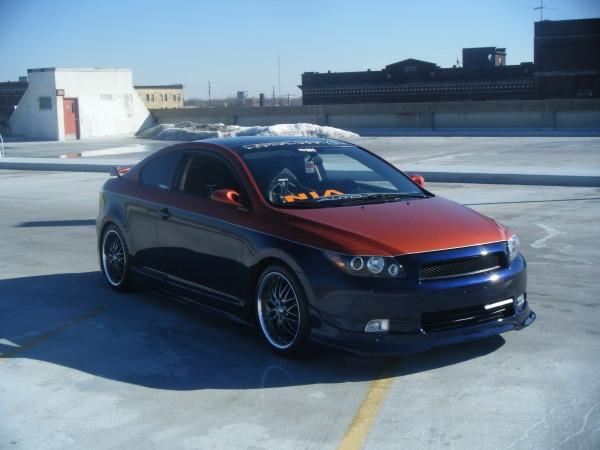 Owner: Chris Gosda
Location: Decatur, IL
Vehicle: 2008 Scion tC
PASNATION Username (http://pasnation.pasmag.com): gosda_C
Car Club Affiliation: Obsessive Custom Designs
PAS: Are you part of a car club? Which one?
Owner: I've been a member of Obsessive Custom Designs for about a year and a half now. It's a local club based out of Peoria, Illinois of a variety of cars and has varied quite a bit since I joined. When I started it was made up of a few scions, charger, hummer, an aztek, firebird, and a few other cars. And now consists of a few more highly modified cars including a G8 and a new camaro. So there's a nice variety of cars. The club's site is still being worked on, but information is still accessible through myspace (myspace.com/obsessivecustomdesign)
PAS: What events have you competed in? Where?
Owner: i've competed in quite a few car shows in the last 3 show seasons from local shows, large tours, cruise-in's, charity/benefit shows and scion exclusive shows. Some of these shows include: HIN/Nightshift Chicago, Nightshift Columbus, Slamology, DUB Memphis, DUB Chicago, various Scion shows in Iowa Missouri Chicago Area and Indy; as well as many, many local shows in the Central Illinois region. I've also competed in USACi and IASCA sanctioned stereo competitions and local audio store competitions.
PAS: Any Shout-outs?
Owner: Obsessive Custom Designs, Brownlee's Autobody (Blue Mound, IL),  Kevin at NIA AutoDesign, R1Concepts, Andrew Modahl at Corbeau Seats, Aaron Vaccar at ACVMailOrder.com, Nate Leon-REMIX Events, John Ramos-DUB Show Tour
---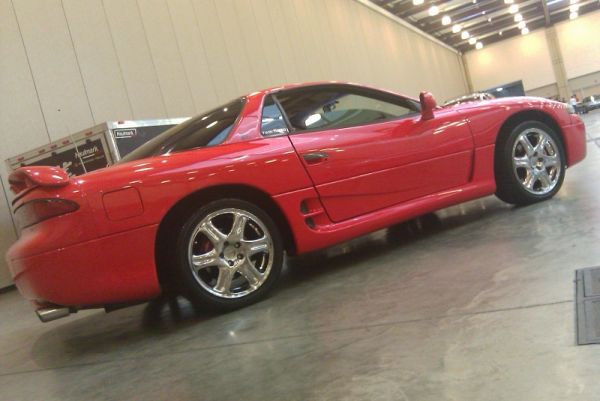 Owner (First/Last): Daniel Wingard      
Location (City, State/Province): Cleveland, TN
Vehicle (Year Make Model): 1995 Mitsubishi 3000GT VR4
PASNATION Username (http://pasnation.pasmag.com):BoostReliance08
Car Club Affiliation: BoostReliance in Cleveland, TN
PAS: How long have you been a car enthusiast?
Owner: I would say when I turned 5 years old my parents bought me my own power wheels Jeep and I rocked it out till I could no longer ride it blew off 4 sets of plastic tires lol. I even took a real floor jack and would raise it in the air to think I was working on something lol.
PAS: What is your dream car? Why?
Owner: Now when I turned 10 years old my dream cars where a 3000GT VR4, Supra and a NSX I got this one later when I turned 24 years old I bought this 3000GT VR4 and totally stole it from the guy that was selling it lol. You will have to ask me how much I bought the car it totally was worth it J. Will I would like to have to be is Lambo or a Dodge Viper. I have always loved both cars and they are both super sexy style on the body lines.
PAS: Any Shout-outs?
Owner: I have to give a shout out to my wonderful wife Sarah she has helped me build the car and always give great idea's for the car. My parents they brought me up in a wonderful life since I'm adopted they have been awesome. To my family that has supported everything that I got into as a child or adult lol. This is for my grandfather that passed away recently he said that one day a dream would come true and be apart of this is amazing. Thank you PASMAG you all rock keep it up bc I have always bought the magazine and love it thanks again!